I always feel a bit nostalgic after the new year. Thinking back over 2016, I've had some extraordinary adventures. It was an incredible year that took me from South America to South Africa and beyond.
Searching for some 2017 travel inspiration? Check out some of my favorite trips of all time and a few destinations I can't wait to check off my bucket list.
Here are 17 unforgettable trips to take in 2017!

Visit the USA National Parks
The national parks of the United States are underrated. From Alaska to Maine, the US is full of must-see natural attractions. One of my favorite National Parks is Yosemite in California.
Other greats include the Hawai'i Volcanoes, Hawaii; Olympic, Washington; Zion, Utah; and Yellowstone, Wyoming. Even if you can't see them all, why not try to see one new national park every year?
More on USA Travel:

Cruise The Galápagos
Sure, it's far, but it's so worth it! With striking natural beauty, a fascinating history, and some of the world's best diving, The Galápagos Islands deserve a spot at the top of every traveler's bucket list.
Visiting the Galápagos is also a great excuse to explore Colombia, Ecuador, and some of the other treasures of South America.
More on Galápagos Travel:

Fly Over the Blue Hole
The Blue Hole is definitely one of the most amazing things that I've ever seen. It is the world's largest underwater sinkhole, and the only way that you can really experience it is from above.
After you've flown over it, dive in to check out the underwater caves along the Blue Hole, and then head back to the mainland. Beyond gorgeous, Belize is a beach lover's dream.
More on Belize Travel:

Blogging Retreat in Bali
I'm excited to announce an incredible all-inclusive blog mentorship retreat in Bali! Have a blog but looking to grow your audience and social media following? Learn the fundamentals of WordPress blogging and social media strategy so that you can gain the skills and confidence to grow.
Working one-on-one daily with a team of experts will ensure you have a deep understanding of blogging, a clear strategy on how to effectively tell your story and a plan on how to better connect with your audience.

Take a Trip to China
China is such a diverse and unique country. From taking a selfie with the Terracotta Army to climbing Mt. Huashan to trying legit Chinese food, you could spend years exploring China.
I've visited the Shaanxi province as well as Qinghai, and have many more places on my list. With a rich history and culture, this place is ripe for exploration!
More on China Travel:

Go Wine Tasting in Stellenbosch
Exploring Africa is at the top of my to-do list, and I'm so glad that I got the chance to experience South Africa last year. One of the highlights of my experience there was exploring Stellenbosch.
While very underrated, South Africa could easily be called one of the best wine regions on the planet. Discover all that Cape Town has to offer, and then make your way to this beautiful region. And come thirsty!
Join me on my Photography Tour in South Africa!
More on South Africa Travel:

Head to The Ski Week
Between skiing, snow shoeing, mountainside yoga, and the Snocuzzi, The Ski Week is an action-packed adventure.
With so much to do and such a fun and diverse group of people to hang out with, this is something I would seriously consider making into an annual tradition. If you have never been before, it's time to see why people from all over the world block this week off on their calendar.
More on The Ski Week:

See Elephants in Sri Lanka
Far too many travelers visit India and miss out on all that its vibrant neighbor to the south has to offer. I went on a safari in Sri Lanka last year, I got to see everything that I've been missing all these years. Get over there in 2017 to take in all of the sights, sounds, colors, and tastes that make Sri Lanka unforgettable.
More on Sri Lanka Travel:

Discover the Deserts of Dubai
Take in the glitz and glam of Dubai, and then get out to see another side of the United Arab Emirates. Travel by camel into the desert and see what life was like in the surprisingly recent past. Take in the local culture and have some fun playing in the sand.
Tip: The summers in Dubai are so hot you could literally die. With temps breaking 110 degrees, this is not a place for the faint hearted. If you need a mid-winter escape, however, Dubai is the place to be!
More on Dubai Travel:

Drive the Ring Road in Iceland
There's no better place to get back to nature than in Iceland. One of Europe's top spots for road trips, Iceland is remarkable. There are just so many natural wonders that you've got to circle the entire island to take it all in.
More on Iceland Travel:

Dive Komodo National Park, Indonesia
You guys already know how much I love diving. One of my favorite parts of exploring is seeing the world below the surface. While I've dived some epic locations, Komodo National Park was the best diving of 2016 for me, and it's a must-see for any diver.
More on Komodo National Park Travel:

Explore French Polynesia
Another beach lover's dream come true! While you've probably already heard of Bora Bora, there is so much more to see in French Polynesia. Get out there and experience Taha'a and Moorea for a dream tropical escape.
More on French Polynesia Travel:

Plan a Girls' Trip to Tokyo
Tokyo is absolutely crazy, and it's even better when experienced with your bestie. This place was on my bucket list for way too long, and trust me, it did not disappoint. Make 2017 the year that you grab your girl and experience all that is Tokyo.
More on Tokyo Travel:

Spend the Winter in Canada
From Vancouver to Montreal, show a little love for our neighbors to the north. Learn the art of dogsledding or go on a ski break in some of North America's most impressive locales.
If you are a skier, you have got to get to Canada this winter and see why Montreal is one of North America's top cities. Hop on the slopes of Whistler and Banff, and then make your way to Quebec where you can take on Mont Tremblant.
More on Canada Travel:

Relax in Isla Holbox
Forget Cancún! Isla Holbox is one of Mexico's best-kept secrets. Get off the beaten path for friendly people, fab beaches, and a bit of authentic cultura Mexicana. While I'd love to keep this place all for myself, Isla Holbox is a secret just too good to hold onto.
More on Isla Holbox Travel: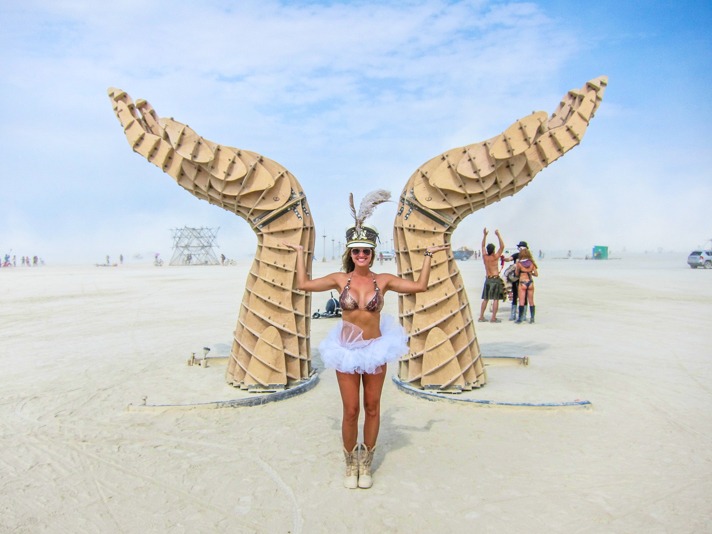 Go to AfrikaBurn
I've been going to Burning Man for the past few years, and every year is better than the last. If you love this Nevada extravaganza as much as I do, it's time to upgrade to AfrikaBurn. South Africa's answer to the world-famous American Burning Man… this is a totally surreal experience that you can't miss.
More on AfrikaBurn:

Spend New Year's Eve in Brazil
Have you kicked off the celebration in Australia and seen the ball drop in New York? It's time to experience celebrating the New Year Brazilian style!
These guys are serious about New Years and they party for ten days straight. Get down to the island of Florianópolis just off Brazil's southern coast for a once-in-a-lifetime party.
More on Brazil Travel: