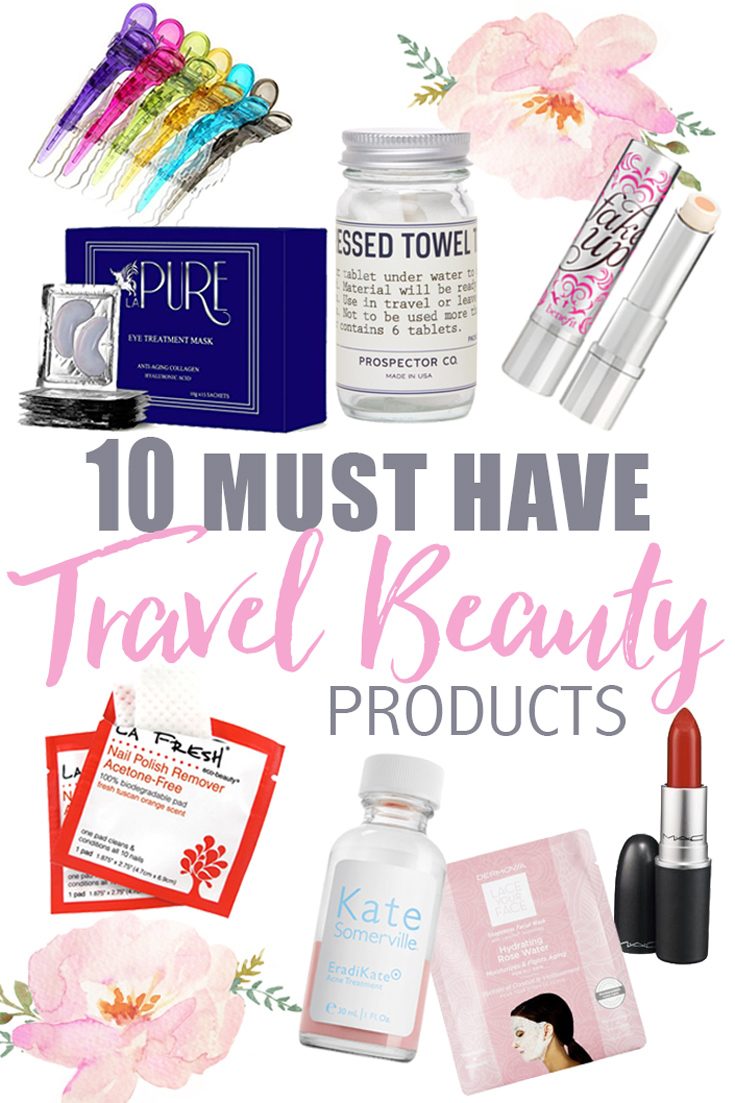 Want to look less jet lagged and more jet-set? From impeccable tresses to wrinkle-free clothes to well-manicured nails, you don't need an arsenal to travel in style. Feeling gorgeous and refreshed is all about packing smart. Here are my favorite beauty products that will transform your travel style. Trust me, you'll never leave home without them again!
Check out these 10 travel beauty products for your next trip!

When it comes to hair products, I pretty much just rely on a decent brush, the hotel's hairdryer, and alligator clips. These ultraversatile tools can hold a ton of hair but won't slide off of fine sections.
My trick with the alligator clips is clipping a twist bun on the top of your head, sleeping in it, and having a natural wave when you wake up.
These eye masks are so travel-friendly. They stimulate and regenerate skin cells, and restores elasticity and firmness to your skin– goodbye puffy eyes after a long haul flight! They even reduce wrinkles and fine lines, do I need to say anymore?
My trick is to put these on about an hour before landing on a long flight so I land feeling refreshed and ready to go!
Who says only first class gets warm towels? Stash these ultraportable towels in your bag to freshen up anytime, anywhere. All you need is a bit of water and these awesome little compressed towels will expand and leave you feeling like a million bucks.
My trick when traveling in hot destinations is to place one in a glass of ice water for instant cooling satisfaction!
Another quick and easy TSA-friendly product is La Fresh Eco Beauty Nail Polish Remover Pads. These acetone-free wipes will pull off your polish, moisturize your skin with aloe, glycerin, and vitamin E, and then leave you with a fresh orange scent. What more could you ask for? Rather than traveling around the world with chipped polish, clean up your act!
Call me partial, but I just don't think there is another company out there that can compete with the quality of Benefit products. The only concealer that I've found to stick with me through long, sweaty days is Benefit fakeup. Not only does this stuff have serious staying power, it looks totally natural under any light.
My trick is to apply a few minutes before the rest of my makeup to give it time to set and dry on to my face!
As someone who has struggled with acne my whole life, I couldn't be happier about this product. It's hard to keep up with a skin regimen constantly on the road, so EradiKate is specifically formulated to prevent future breakouts.
This treatment helps to clear up pimples and significantly reduces any redness so you don't have to sweat a thing!
My trick is to apply to spots before bed and I typically see dramatic results when I wake in the morning.
Formulated to replenish and hydrate, this instant skin softening mask helps to eliminate the appearance of dehydrated and dull looking skin– which is perfect after long travel days. The rose essence leaves the skin visibly smooth and glowing. Simple, and mess-free!
My trick is to reuse these masks twice each. It'll save more room in your toiletries bag and get your moneys' worth!
I love this nail file. I've been using my new one for months and months on the road– the double-sided filing surface allows you to file your nails with a lighter touch, and in any direction, without damaging the nail. Not only is it a handy space saver, but also it lasts for ages.
A red lip is probably my favorite travel hack! Having a bold, red lip is an instant transformation to dress up any outfit– just in case you get surprised with the opportunity to go to a fancy dinner or decide to head out to the club on a whim.
My trick is to apply a layer of chapstick a few minutes before the lipstick to avoid any cracking or dryness affecting the lipstick application!
This coconut oil is awesome for your skin and hair while traveling. Made especially to promote thicker & stronger hair, it also helps to smooth wrinkles & improve skin tone.
You do NOT want to use cooking grade coconut oil on your face, so be sure to check out this raw oil for your beauty uses!
My trick is to also use coconut oil as a makeup remover, a deep conditioning treatment for my hair and as a moisturizer on dry spots like my elbows and cuticles.