Welcome to Isla Holbox! Never heard of it? Well, that's part of its charm! Located north of the Yucatán Peninsula between the Caribbean Sea and the Gulf of Mexico, Isla Holbox is part of the Yum Balam Nature Reserve.
If you want to hang out with friendly locals and chill on the beach with flamingos, this is the place for you. Far from the crowds of Cancún, the tiny island is dotted with dirt roads, laid-back beach bars, and incredible natural beauty.
Isla Holbox is famous for its fishing and whale shark tours, and it is a nature lover's paradise. Ready to start exploring?
Check out my daily vlogs from the trip, and the ultimate Isla Holbox travel guide below!
What to Expect in Isla Holbox
Language: Spanish. While it's near Cancún, Isla Holbox is still new on the tourist map, so don't expect everyone to speak English. Any Español you know will definitely come in handy.

Currency: Mexican peso. They also use the $ symbol so don't freak out if you see a taco for twenty-five dollars. There are more than twenty pesos to one US dollar.

Credit Cards and Banks: Make sure you have lots of cash here. There is literally one ATM on the island and only a few established shops take credit cards.

Climate: Most of the year, the temperature ranges from seventy to ninety degrees. The coldest month of the year is January, with low temperatures around sixty-eight and highs up to eighty-four. The hottest month of the year is September, with temps from seventy-three to ninety.

Good to Know: The sun is harsher is the Caribbean and Isla Holbox doesn't have a ton of shade, so bring a hat and sunscreen!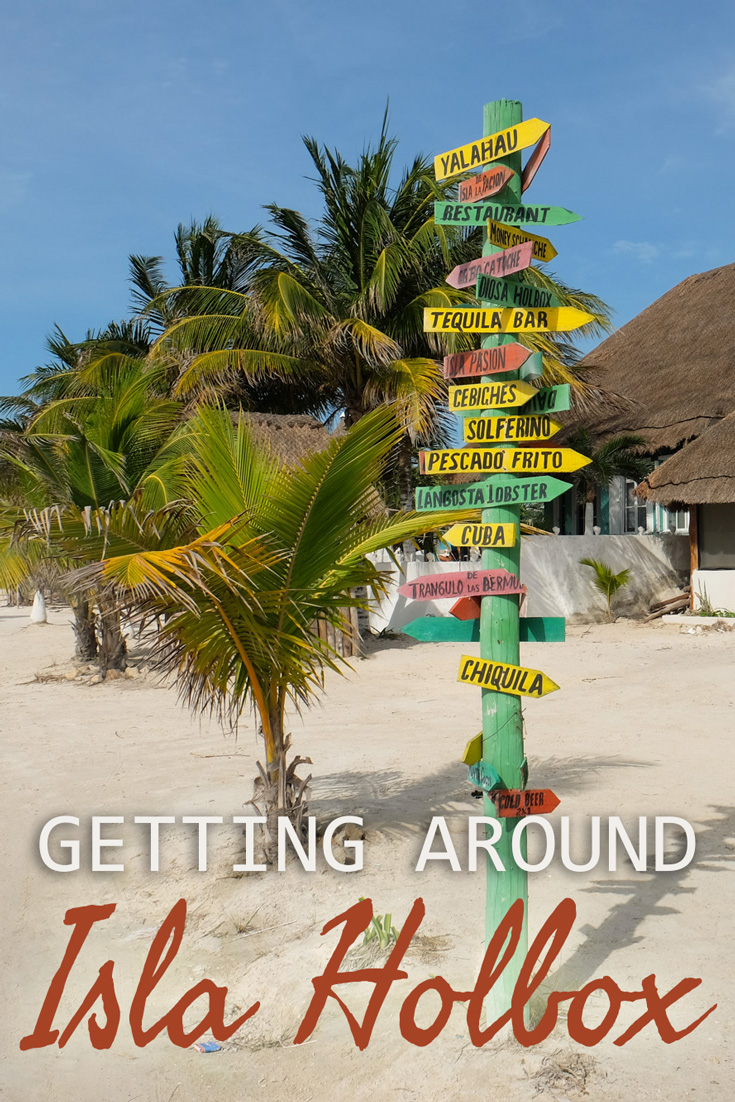 Getting to Isla Holbox
You can drive or take a bus to Chiquila, and then hop onto a ferry. You'll want to reserve your bus beforehand– but you don't need to make a prior reservation for the ferry, and the trip only takes about thirty minutes.
Want to get jet-set? You can take an air taxi and get a gorgeous view. Aerosaab has private flights from Playa del Carmen, Cozumel, and Cancún.
Keep in mind that there are no flights or ferries at night, so plan on leaving earlier in the day.
Getting Around Isla Holbox
Taxis: The beauty of Isla Holbox is that there are no cars. The island has a taxi-like system of golf carts. They line up when the ferries come in so you can get a ride to wherever you're staying.

Bike: Since Isla Holbox is so small, bikes are an ideal mode of transport. You can rent one for around twenty pesos an hour at one of the shops around town.
Where to Stay in Isla Holbox
Rent an Airbnb
Marvin's: We stayed at an

Airbnb

called Marvin's. Marvin was one of the best hosts I've ever had. He's got a large house with multiple rooms listed. The rooms were comfortable, and there are public areas to hang out.

Marvin even made us homemade ceviche!

It was literally the best thing I've ever tasted. 
• • • FREE $40 AIRBNB COUPON CODE • • •
Sign up for Airbnb HERE and get $40 off your first $75 Airbnb stay!
Hotels in Isla Holbox
Casa Las Tortugas

: With a full-service spa and a yoga center, this family-run beach hotel is definitely one of the

nicest hotels

on the island.

Hotel Mawimbi

: This charming little hotel is nestled in a lush tropical garden. Featuring

luxury

touches and a vibrant decor, this is another top pick.

Villas Delfines

: This

midrange

option is set on an incredibly beautiful beach. This hotel has just twenty bungalows, so you'll have plenty of room to spread out.

Tribu Hostel

: Save a bit of

dinero

and meet other travelers from around the planet. This much-loved

hostel

will definitely exceed your expectations.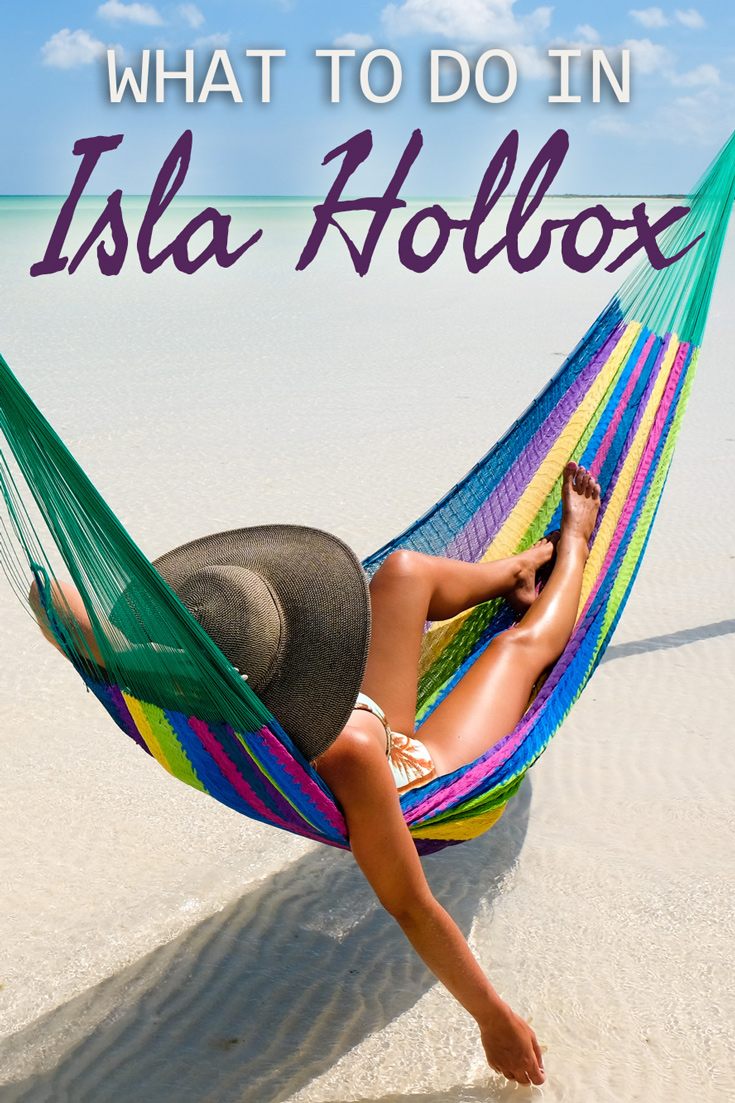 What to Do in Isla Holbox
Rent bikes and explore: Take a ride up to Punta Cocos. Words can't describe this place. You've got to check out

my vlog

, and then go see it for yourself.

Visit Yum Balam: Rent a kayak, and get to this ecological reserve on the south side of the island. The crystal clear water here is ideal for seeing the flora and fauna.

Hang at a Beach Bar: My favorite little beach bar was situated on the ocean, right in front of Hotel Zomay. Swings, sunsets and mango margaritas!

Take a Whale Shark Tour with

VIP Holbox

: The island is famous for its whale sharks. Touring the gorgeous waters and swimming with the biggest fish in the world is an experience you won't forget.

Find the Iconic Holbox Hammocks: Located in front of Villas Tiburon on the island, these hammocks are so nice to sit back, relax and take in the view.

See the Flamingos: Situated between Isla Holbox and the mainland, the small island of Isla Passion is where the flamingos congregate.

Watch the Sunset: Of course, one of the best things to do at the beach is to watch the sunset. Bring your camera. The sunsets are amazing here.
Where to Eat in Isla Holbox
Tierra Mia: This is the best spot for coffee and smoothies– and such a cute little stand.

Villa Mar Resturante and Bar: You'll find great ceviche here! The

restaurant's beach bar

is also a perfect place to hang out and sip cocktails on a hot day.

Casa Las Tortugas: The hotel's Mediterranean

restaurant

, Mandarina, has a prime beach location and ultrafresh seafood.

Hotel Mawimbi: Even if you don't stay at this tropical hotelito, you'll definitely want to stop by for an easygoing dinner on the beach at the Barquito Beach Bar & Restaurant.

Street Carts: Head to the street vendors for dessert– you have to grab the local's favorites, marquesitas, and a churro!