The Blonde Abroad Escapes are coming to South Africa! Come and experience why Kiersten chose Cape Town as her new home. It's an opportunity to meet like-minded female travelers and experience the brightest South African highlights on a luxurious and action-packed photography tour.
We wanted to curate a tour for the adventurous female traveler– the woman who dreams of colorful destinations far from her comfort zone. Our "From the Bush to the Beach" Photography Tour in South Africa is just that. We take a deeper look at this diverse African country, from the beaches to the mountains to the African bush.
This photography tour is for all women with all levels of photography experience– whether you're a beginner, a pro, or somewhere in between. Kiersten, together with a team of professional photographers, will be guiding you through her favorite places in South Africa all while teaching technical skills through one-on-one mentorship and workshops so that you leave with unforgettable memories and beautiful photos.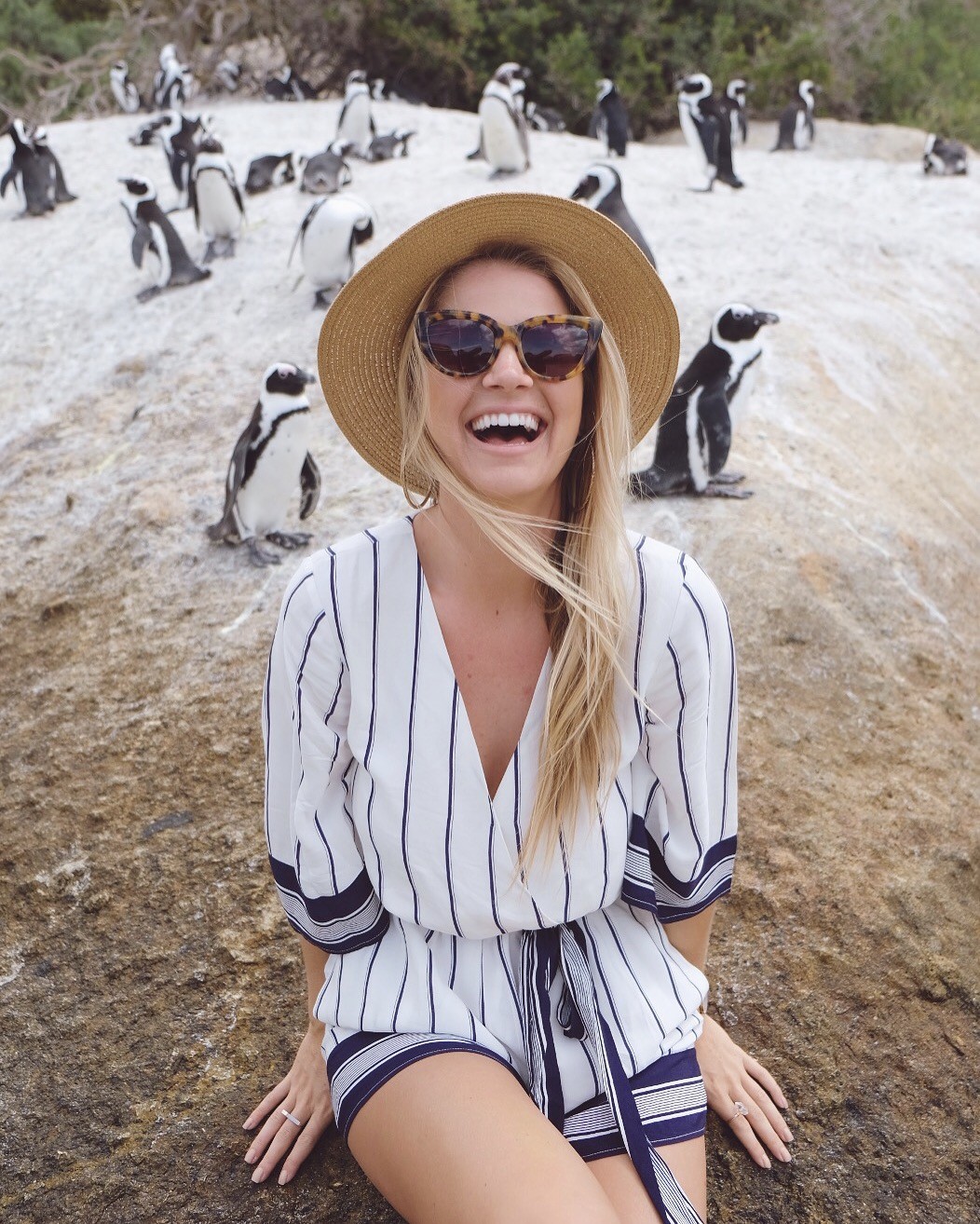 Recently named by Forbes as #2 of the Top 10 Travel Influencers of 2017, Kiersten, The Blonde Abroad, has been featured worldwide and recognized by major publications for her photography and entrepreneurial achievements in the female travel blogging space.
After running two successful retreats in Bali, she is excited to announce her first ever Photography Tour in her new home of South Africa. Learn first hand from Kiersten, how to shoot and edit incredible professional travel photos!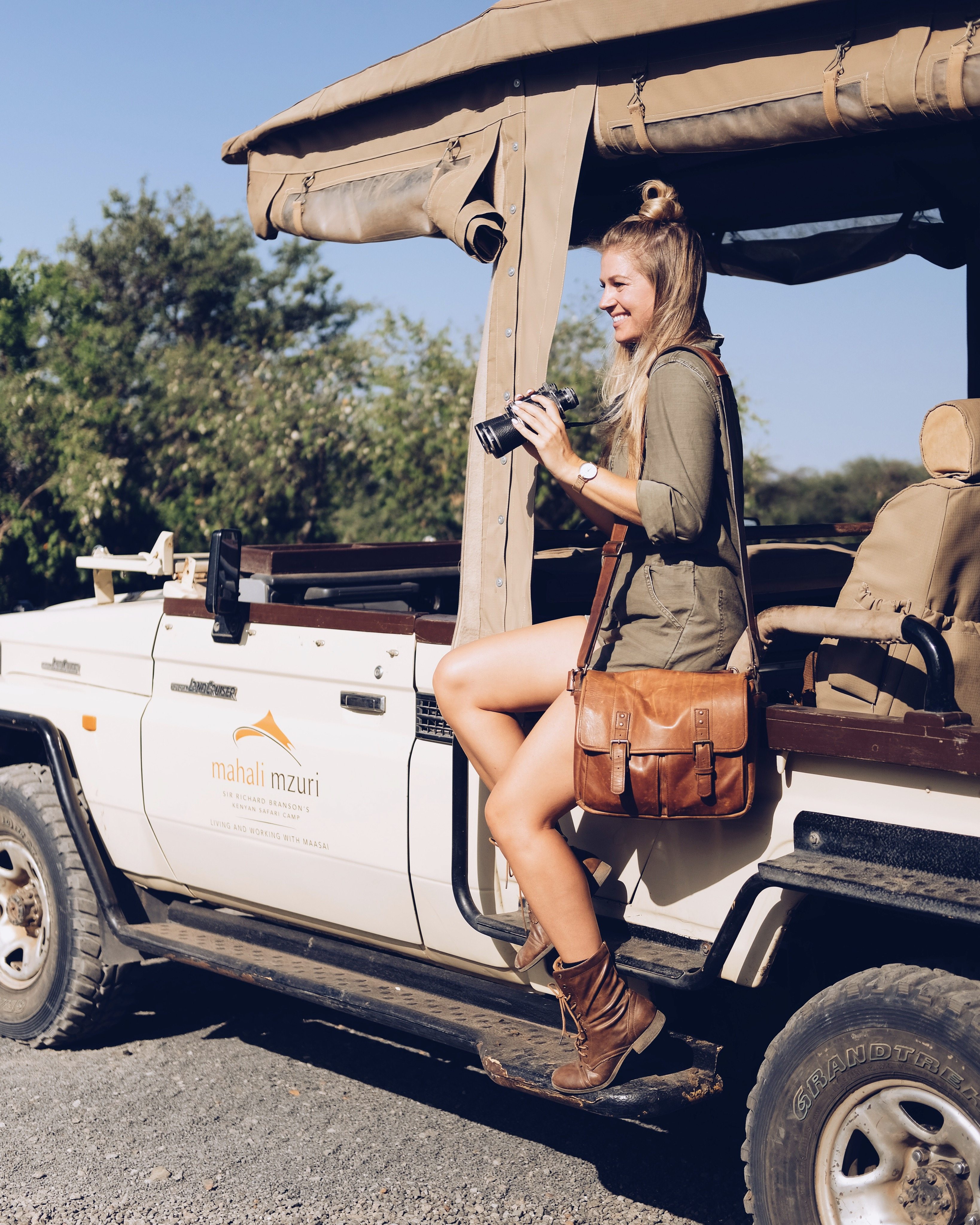 We'll be delving deep into the city of Cape Town, spotting the Big 5 on a luxury safari and sipping our way through the Stellenbosch winelands.
You'll get to see the city from all angles, with a sunrise hike up Lion's Head, a cablecar ride to the top of Table Mountain and a bird's eye view from the seat of a helicopter. It's the trip of a lifetime, with a small group and loads of one-on-one time with Kiersten and a few of her Cape Town friends.
Dates:

November 2017 SOLD OUT

March 2nd-10th, 2018 SOLD OUT

March 19th-27th, 2018 SOLD OUT

October 3rd-11th, 2018 APPLY NOW!

November 22nd-30th, 2018 SOLD OUT

Trip Length: 9 Days

Max Group: 12

Accommodation: Double Occupancy

Demographic: Women (18+)

Photography Experience: All Levels Welcome
The Best of Cape Town (4 Nights)
Helicopter Flight over Cape Town
Get a bird's eye view of the stunning Atlantic Seaboard
with a scenic flight by Cape Town Helicopters
Stay in a Luxury Villa in Famous Camps Bay
You'll be staying in picture-perfect Camps Bay, in a luxurious and secure
7-bedroom villa with private pool... and a private chef to top it off!
Sunset Picnic on Clifton Beach
All of your Pinterest dreams will come true at our
one-of-a-kind sunset picnic!
Stroll through Bo-kaap's colorful cobbled streets
Wander along St. James Beach, well known for its colorful
Victoria bathing huts and large tidal pools
Get up close and personal with penguins in their natural habitat
at Boulder's Beach
Street Art Photography Tour in Woodstock
Explore Cape Town's most diverse neighborhood by foot with
Natalie Roos, Woodstock resident and one of Cape Town's top lifestyle bloggers
Improve your food photography (and fill your belly)
at one of Cape Town's most beloved markets
Cable Car to the Top of Table Mountain
A cosmopolitan African city by the sea, Cape Town has more to offer than breathtaking views and unmissable photo opportunities (although there are loads of those too). The city has a rich cultural heritage and vibrant energy.
Highlights of our itinerary in Cape Town include Table Mountain, Lion's Head, Clifton Beach, Boulder's Beach and more!
You'll be staying in picture-perfect Camps Bay, in a luxurious and secure villa, with all the amenities a girl could ask for. Fast wifi, mega views, and a fully-stocked wine fridge, of course!
Included in the Tour:
Traditional braai (barbeque) with a local chef

Meet African penguins at Boulders Beach

Street art photography tour in Woodstock

Photo Walk in the Bo Kaap Neighborhood
Luxury Safari Experience at Gondwana (2 Nights)
Experience the magic of a Big 5 Safari at the luxurious Gondwana Game Reserve. Elephants, rhinos, buffalo, lions and leopards – check!
Gondwana Safari Lodge offers the opportunity to see the Big 5 in their natural habitat. With morning and afternoon safari drives, there will be loads of opportunities to make your safari dreams come true.
There's nothing like watching the sun set over Africa with a "sundowner" drink, before tucking into your bush villa for the night. We'll also be spending some time in an editing workshop, where you'll learn how to refine your images and take your photography to the next level.
Included in the Tour:
4 Safari Drives

Luxury Villa Accommodation

Delicious Homemade Cuisine
Experience Safari at Gondwana Game Reserve
Gondwana Private Game Reserve provides an authentic African Safari experience
including the Big 5 (lion, buffalo, elephant, rhino, and leopard)
Gondwana's Bush Villas offer the luxury amenities of a Safari Lodge with all the comforts of home.
Each stylish villa offers spacious, open plan interiors with four en-suite bedrooms.
Game Drives are conducted in open Land Rovers with expert field guides
Guests are treated to African boma breakfasts, scenic veranda lunch platters, afternoon tea,
and scenic sundowner spots as the sun dips behind the mountains.
Capture incredible photos of your safari experience
Learn to edit your safari photos in an Adobe Lightroom workshop
with professional photographers
Wine Tasting in Stellenbosch (2 nights)
Discover why The Blonde Abroad believes South Africa is home to
the world's best wine region
While most wineries and vineyards are known to have an air of sophistication and class,
the Cape Winelands offer a comfortable and understated elegance.
Drop all of your preconceptions about African food. In South Africa, you will find
a major emphasis on local, family businesses and natural, organic eating.
South Africa has 60 different wine regions, which span over a whopping 247,100 acres.
The renowned Stellenbosch region is just 30 miles from Cape Town.
Unique Approaches to Wine Tasting
Go beyond simple wine and cheese tastings—South Africa is full of fresh thinkers
and it reflects in everything that the locals do.
Sip your way through the beautiful Stellenbosch Wine Valley. Views for days, award-winning wine and life on a working wine farm await.
The Stellenbosch winelands are home to some of South Africa's best wine farms, with more natural beauty than you'll know what to do with. We'll be staying in the heart of the winelands, tasting our way around some of the region's best farms.
Meet a winemaker, learn about the process of making wine, or feel free to just take it all in while sipping and relaxing.
Included in the Tour:
Wine Tasting

Farm-to-Table Food

Fun Activities
Sponsored by Fujifilm USA
I'm passionate about telling stories and sharing my travel experiences through beautiful photos.
As a female traveler, there are a few things that are important when choosing photography gear. The first is size- I don't want to lug around a big camera or have a camera so large that it draws unnecessary attention to myself. I want a camera that is easy to use and has great manual and automatic features.
Most importantly, I look for quality. Above all, I want a camera that shoots incredible images, and that's why I choose Fujifilm. I began shooting on Fujifilm's X Series cameras and lenses in 2014 and they're still my favorite cameras for travel photography.
Fufjilm USA has put together a very special package for everyone on this tour– while this tour is open to women shooting on all types of cameras, you'll have an exclusive opportunity to loan my favorite Fujifilm camera and lenses for FREE! (Restrictions Apply)
Don't miss my Guide to Shooting an African Safari featuring my favorite Fujifilm gear!
Shooting Locations:
Woodstock Street Art District
Recommended Photography Equipment:
DSLR or Mirrorless camera(s)

Fast Wide angle lens f-2.8 or faster for night photography

Zoom Lens 50-200mm for photographing the safari
During your Cape Town experience, we'll explore the flavours of South African and Cape Malay cuisine, experience the highlights of Cape Town, meet Kiersten's local friends and learn about the complex local culture (there are 11 official languages in South Africa, after all).
You'll dip your feet in the icy Atlantic and watch the sun set from Table Mountain. We'll wake up at sunrise to spot the Big 5 in their natural habitat and sip our way through one of the world's top wine regions.
Whether your passport is full of stamps or fresh and waiting for its first ink – you've never experienced anything like this. The best part is that you'll get to experience it all with Kiersten, her friends and like-minded female travellers.
South Africa might look small on a map, but it's a pretty big country. It can also be pretty intimidating for female travellers who might never have come to Africa before. That's what makes this trip so unique.
It's your opportunity to explore some of the brightest highlights of this authentic African country and all its cosmopolitan flair as part of a like-minded all-female group.
But don't expect a tour-bus trip… this is a thoughtfully curated photography tour that will open up a door to Africa that we hope you'll never close.
We expect you'll want to come back again and again!
Joining the TBAescapes photography tour was a once in a lifetime experience! I met and networked with some incredible people and learned so much about photography, while simultaneously enjoying a dream vacation.
The South Africa photography tour was truly a life changing trip. I was pushed outside of my comfort zone, met lifelong friends, and experienced the magic and beauty of South Africa.
This trip was absolutely the trip of a lifetime and I would highly recommend it to anyone interested. The Blonde Abroad and her team brought us to all around South Africa hitting the major tourist destinations and hidden local gems perfectly capturing the beautiful country of South Africa in a short amount of time. The ability to learn from Kiki, Natalie, Meyer and Travis on the trip was incredible and my photography and editing skills definitely improved. I left this trip with new best friends, amazing photos, a love for a foreign country, a renewed travel bug and memories I will never forget.
The TBA Escapes Photography tour was both a spectacularly out there and truly real way to get to see a beautiful part of South Africa. I love traveling to places where I have a friend to show you the true character and culture of a place that is sometimes difficult to penetrate as "just" a tourist. Opening that door and giving us that experience is exactly what Kiersten did with this tour. Kiersten (and Natalie and Meyer) fostered an atmosphere of openness and fun, where even though most of us did not know each other before gathering at the airport, it felt immediately like you were meeting up with a group of friends. But not only did I meet an interesting group of people who also love travel and photography, I was able to absorb all of their photography knowledge and inspiration – from learning how to pick some of the best photo spots and make interesting compositions from Kiersten, to how to perfect my night photography settings from Travis, to the best ways to incorporate the human element from my fellow travelers. It was truly a an unforgettable trip.
Whether you're learning the basics or you're more advanced, this trip helps you grow as a photographer. Everything about this trip was incredible – keeping my fingers crossed for new TBA Escapes locations in the future!
TBA Escapes was like a waking dream, each day kept getting better and better. 12 girls, helicopter rides, Pinterest perfect beach picnic, and my first Safari game drives. Coming face to face with lions, rhinos, and elephants is something I will not soon forget. The trip was jam packed with adventure and photo opportunities, with mentors to help every step of the way. I loaned a Fujifilm camera (plus lenses) and learned how to shoot in manual, something that has been on my wish list for a long time. I was blown away by South Africa – far more modern than I expected – with some of the best landscapes and biodiversity I've seen on my travels. Other highlights included a sunrise hike up Lion's Head, a sunset cable car ascent up Table Mountain, wine and chocolate pairings (um, hello? heaven!), a bike ride through Stellenbosch, High Tea at LA Residence, storybook gardens at Babylonstoren, a cooking lesson in the Bo Kaap, and of course every moment at Gondwana Game Reserve.
The tour was everything I expected and more! Kiki is even more lovely in person and I loved every second of an American showing me the most beautiful spots in my own country. I wish I could do it all over again!
I loved doing the first TBA Escapes tour with Kiki and everyone else. First of all, Cape Town is one of the most beautiful cities in the world (I might be biased) and seeing new to me secret spots was really special. Everyone in the group was so friendly, I feel like we were all almost instant friends, which is great. I feel like I learnt so much about photography, and I definitely see improvement from the beginning of the tour to the end, which is great. I would recommend this trip to anyone looking to improve their skills, even if its just for personal use, like myself, since the photos we took and will be taking on future travels now just move our memories to the next level.
Inclusions:
Arrival & Departure Airport Transfers

3 Amazing Meals per Day (Market visits on own account)

Entry Fees & Tickets to Activities

Pro Photographer Educators & Local Guides

All Listed Activities + More!
Exclusions:
Transportation to/from South Africa

Travel & Medical Insurance (Required)

Alcohol (Outside of listed activities)

Additional Snacks & Meals

Tips for Drivers and Guides
Payment Info:
Pricing
Includes $1000 Non-Refundable Deposit
Only 12 Spots Available
Apply for the South Africa Photography Tour!
Apply with your interest below and stay tuned for a formal invitation to register!
REMINDER: This photography tour is open to all women (ages 18+) with any level of photography experience!