I have traveled nearly 9 months out of the past year and, recently, I've found myself thinking "I wish I had time to do this" and "I've always wanted to do that." Travel has been my number one priority for the past two years.
While I love travel, and it's obviously a HUGE part of who I am, I don't think that any ONE thing should become something that defines you. At some point in my life, I defined myself as a "Young Professional" and at another point an "Honors Student." Now, while I'm doing what I love, I have become a "World Traveler."
UH OH.
See what happens when you aren't paying attention?!
Traveling is my one true love, but there are so many other things I want to do and accomplish. Sometimes we have to prioritize things to succeed and reach our goals, but we should never forget about the little things. I don't wanna wake up one day as an old lady and say, "I wish I had done that."
So, while I am going to continue to travel my butt off, I am going to catch up on things that I have been putting off in my conquest to become a "World Traveler." (I figured my 25th birthday was a good time to commemorate a new project.) Ultimately, I hope you gain inspiration to do this for yourself. Each day is an opportunity to do something new!
Without further ado, here it is, my list of "25 at 25" things I'll be attempting to accomplish over the next year!
*UPDATE: See what I bought from SkyMall
You know exactly what I'm talking about… We grab the SkyMall magazine out of the back of the airplane seat, scour the contents from front to back, laugh at the ridiculousness of the items but never EVER buy anything.
I still wonder how on earth they stay in business.
Who seriously thinks, "Wow! Look at this 'Bigfoot, The Bashful Yeti' tree statue! This would be so perfect for the tree in my front yard!" While I don't have a tree to decorate, I've decided I'm going to do the unthinkable and buy something from SkyMall.
Perhaps a new posture correcting brace?
2. Geek Out at The Wizarding World of Harry Potter
*UPDATE: While I didn't make it to Florida, I got to visit the Harry Potter movie sets at WB Studios in London!
Where my HP fans at?!  The Wizarding World of Harry Potter is the Harry Potter theme park located in Orlando, Florida.
It's pretty much any HP fan's ultimate dream.
I've been reading Harry Potter books and watching the movies since I was 12 years old. The Spice Girls days are over, but I'll remain a devout HP fan 4 life! Wingardium Leviosa!
3. Get Yoga Certified
I've  been practicing yoga for about 5 years, but have dedicated far less time to it since I began traveling. The beautiful thing about yoga is that you can find a studio nearly anywhere in the world and, of course, you don't need anything to actually practice.
If you've done your certification or know of a great place (anywhere in the world) that I should look into, please comment below!
4. Complete my Advanced Diver Certification
I recently got my Open Water Diver certification while in Bocas del Toro, Panama and absolutely fell in love with scuba diving. Nothing compares to spending quality time with the underwater world. Recommendations for locations and the best diving schools are appreciated!
5. Learn to Drive
Ok, you got me. I can drive. But, I don't know how to drive a manual transmission car. I'm laughing at myself for including this in my list but I have put this off for WAY too long!
It's very typical to have an automatic transmission car here in the US but just about everywhere else I've been in the world people drive stick shift. The time is now.
How else will I ever be able to drive a race-car?!
6. Go to Hawaii
Hawaii is one of the most (if not THE most) popular vacation destination for Californians. And yet, I've never been. I'd love to spend a good amount of time exploring the Hawaiian islands.
I have imagined renting an apartment on Kauai for a month or two and waking up each day to gorgeous beaches and tropical surroundings. I could even get a job working at a local dive shop and work on my Advanced Diver Certification.
Kill two birds with one stone? Sounds like a great idea!
*UPDATE: Check out my video of flying a plane in San Diego!
While this is a huge bucket list item for me, I'm also terrified of heights. Not exactly the best combination. I think my excitement will outweigh my fear, like it did when I went skydiving in New Zealand for the first time, so I'm going to make it happen this year.
It's a bird! It's a plane! NO! It's The Blonde Abroad!
8. Play Flight Roulette
*UPDATE: Check out how I'm flying to Europe for only $360!
Basically, I want to pack a weekend bag, show up at an airport and book the cheapest flight to wherever. I'd probably only do this for a short trip, but there's just something so thrilling about having no travel plans.
New Orleans? Mexico? Canada?
Or maybe round the world tickets?!
9. Fly First/Business Class
I've been on countless flights and clocked 150,000+ flyer miles in the last couple of years… entirely in economy. While I am perfectly content next to my fellow flyers, the luxury of flying first class on a long haul flight (10+ hours) would be a dream come true.

10. Learn to DJ
It's no secret that I'm music, festival, and fun obsessed and have had the time of my life at some of the biggest events around the world. I love the energy and, more importantly, the music.
Just like with knowing how to bartend, knowing how to DJ brings you closer to unique subcultures around the world. I think the ultimate experience would be to DJ on one of The Yacht Week routes. Sailing to gorgeous islands and getting to DJ in a bikini?
Sign me up!
11. Raise $5,000 for Charity
A little over a year ago, a friend and I organized multiple fundraisers that raised nearly $6,000 for an organization called Peruvian Hearts. The money we raised benefitted an orphanage in Cusco, Peru and provided 13 girls with private education for a year. After spreading word of our mission and raising the money, we traveled to Peru to spend Christmas day with the girls at the orphanage and got the opportunity to trek to Machu Picchu.
Shortly after that trip, I moved to Bolivia to help a fellow blogger raise money for an organization called Biblioworks.
Together, we raised nearly $3,000 to host the first ever book fair in Sucre, Bolivia.
This year, I hope to work even harder to raise money for organizations around the world and bring on as many people as possible by hosting some incredible and FUN "fun"draisers. I'm setting $5,000 as a modest goal, but I know that together we can have a huge impact.
If you have an interest in becoming more involved with fundraising please contact me.
12. Ten Random Acts of Kindness
This is pretty straight forward, but I think there's something very powerful about Random Acts of Kindness. While you don't need to keep track (and I think we should all be kind and giving each day) a small act of kindness can make the world a better place.
Some ideas I have are feeding the homeless, picking up a stranger's lunch bill, leaving a $5 giftcard to a coffee shop on someone's car, etc. Pretty much anything that would turn someone's day around. No matter how small the gesture is, it would, at the very least, make that person smile.
Who else is willing to commit to 10 Random Acts of Kindness this year?
13. Go to Iceland
*UPDATE: I went to Iceland!
Admittedly, Iceland was completely off my radar until last year. But, after swooning over countless photos and blog posts by other travelers, I've decided I need to go see this place for myself. This photo is by my friend, the incredible photographer Ken Kaminesky. Do I really need to say any more? Imagine iceberg scattered beaches, gorgeous flowing waterfalls and steaming geothermal pools.
BONUS: I would still get to pack a bikini!
14. Attend the Victoria's Secret Fashion Show
Me and just about every other guy in the world have the same dream… to attend the Victoria's Secret Fashion Show. Hot bods, babes, bikinis, lingerie, fashion, insane musical performances…
It's the ultimate event and I wanna go!
15. Ride in a Hot Air Balloon
Again with the fear of heights… I could have done this in my hometown 15 years ago, but it has always been one of those things that I'll do "one day."
Well, I've decided it's one day!
I'm not sure where I'm going to soar over. Maybe Myanmar, maybe Turkey, maybe right here in my hometown.
16. Give a College Speech
I would love the opportunity to go back to my college and give a motivational speech. Aside from the obvious educational portion, college was a huge learning experience for me.
I studied abroad in Spain, graduated with Business Honors and learned a lot about preparing for a career. Everyone reassured me that I was on the path to success, but nobody promised me that I'd be happy.
I'd like the opportunity to share my (albeit short) life experiences in hopes that students might be inspired to take some risks and pursue a job that they'll actually enjoy.
17. Brew my own Blonde Beer
I love blonde beer.
I would love to learn how to brew my own beer.
The end.
18. Research my Heritage
While I'm "American," at some point in time, my ancestors called another country home. I know very little about my heritage. My mom says I'm French and Cherokee Indian. And my dad tells me I'm English and German.
You can imagine I'm a bit confused.
I only have one surviving grandparent who is already 93 years old and he's the last link I have to find out more about where I come from. I don't even know where to start, but I'm going to start doing my research.
If anyone knows of good resources for this please let me know!
19. Play Tourist in Los Angeles
We are all guilty of it. We travel and vacation but don't explore our own backyards. I spent two years living in LA like a local, but never experiencing the tourist highlights of the city. I've met so many people while traveling who say they hated LA and I just don't understand it.
It's one of my favorite cities in the world.
So, I'm going to undertake an LA investigation and figure out the RIGHT way to be a tourist in this star-studded city. Time to strap on that fanny pack and hop a double-decker sightseeing bus!
20. Take my Parents on their First Trip Abroad
I may be a travel junkie, but my parents have never traveled abroad. Yes, that's right. My parents have never left America. To be fair, I am not counting crossing the border to Mexico because we only live an hour away. But, they haven't been since Mexican travel began requiring passports in 2009.
I can't think of anything more special than taking my parents on their first international adventure!
21. Go to Oktoberfest
Back to beer… and how much I love it. I don't know a more iconic booze fest than Oktoberfest in Munich, Germany. Despite the name, it actually begins in the month of September and ends the first Sunday in October. This year, I want to be traditionally dressed in a Bavarian Dirndl (dress) with a beer in each hand.
22. Attend Summit Series
*UPDATE: After meeting the founders at Burning Man, I was invited to Summit Series! It was an incredible experience!
I heard about Summit a little over a year ago when some of my friends were invited to attend a Summit Series in the mountains of snowy Utah. Summit's mission? To bring together entrepreneurs, nonprofit leaders, artists, scientists, athletes, and other change makers.
"Through an annual conference, we set the stage for these people to forge lifelong friendships, spawn new business ideas, tackle global issues, and, in turn, make our world a better place."
Sounds pretty amazing right?
*UPDATE: Check out my Burning Man Experience!
Fours years ago, a colleague of mine attempted to describe to me an indescribable experience he had at a festival called Burning Man. Since then, and time and time again, I've heard the same story.
"Trying to explain what Burning Man is to someone who has never been to the event is a bit like trying to explain what a particular color looks like to someone who is blind."
Imagine a temporary city in the middle of a desert that serves as an experiment in community, art, radical self-expression, and radical self-reliance.
Let's just say, it sounds like my kind of weird.
*UPDATE: Get my travel destination eGuides!
A big goal of mine this year is to start writing destination specific travel guides. I'd ideally like to create eBooks that my readers can download and save to their computers or phones/tablets for their travels. Where to stay, what to see and highlights from my own adventures around the world.
Now, to learn how to write an eBook!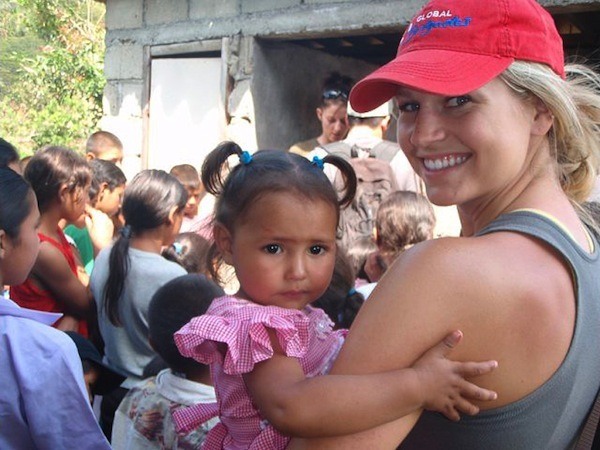 25. Take a Volunteer Trip
Last and anything but least, I want to take another volunteer trip this year. In February, I found myself in Bocas del Toro, Panama with an organization called Give and Surf. This past summer, I was in London volunteering for Team USA at the Paralympic Games.
I have a feeling my fundraising will coincide with a volunteer trip, but, regardless, it's time to start doing my research.
So there it is! My list of "25 at 25" things that I'll be ticking off throughout the next year!
What's on your bucket list?