Queenstown is located on the south island of New Zealand and it's a bit colder than Auckland located on the north island. Queenstown draws adventure seekers from all over the world offering skiing, bungee jumping, jetboating, and pretty much any other extreme activity you could think of.

Day 1: Extreme Eating!
My Kiwi compadre, Wally, and fellow American amigo, Blaine, and I all decided that Queenstown was a must while I was visiting New Zealand. It was a short flight from Auckland to Queenstown, but the view out my window was beautiful. Once we neared the south of the south island, I could see snowcapped mountains and turquoise lakes below as far as the eye could see.
When we landed, we sorted out a rental car and drove to our snazzy little hotel in town. We got settled and took the hotel shuttle to town. Our stomachs were grumbling, so we grabbed some pies from Fergbakery- the bakery next door to the famous burger spot Fergburger. I had only tried one other pie when I was in Australia… and it was a bite of a Kangaroo pie. Yuck!
I settled for a veggie one this time and it was YUM!
We walked around the shore of beautiful Lake Wakatipu and then walked to the Skyline to take the gondola up the mountain. They have a luge at the top of the mountain where you race each other down the mountain. We raced twice and it was a blast! You get going so fast and take these crazy sharp turns, so you practically launch off the downhill spots.
After we had our fun at the luge, we noticed a bunch of guys paragliding off the side of the mountain. Blaine decided he wanted to try it. The next thing I know, we are hiking even further up the mountain to watch Blaine run off the side of it.
When in the Adventure Capital of the world!
Wally and I took the gondola back down the mountain to meet Blaine and we all went to Dux de Lux for a few beers (compliments of Blaine's paragliding experience). All the beers at Dux de Lux are handcrafted by the bar and they were fantastic.
The boys tried a ginger beer (real beer, not the non-alcoholic kind) and it was SO strong with ginger essence! Wally loved it, but Blaine looked less than stoked on it. Dux Lux has a cozy little room with a fire, so we hung out there while and the boys finished off another beer. *Update: Dux de Lux has since closed down*
Wally, being the avid Queenstowner Kiwi that he was, had been to an awesome Italian restaurant called The Cow and he wanted us to try it for dinner. It was just around the corner, so we walked over and grabbed a beer at the bar while we waited for a table.
The Cow is like one of those snow town pubs you picture in a movie- with dim lighting only from candlelight, a roaring fireplace, wooden and antique furniture, the smell of fresh baked bread and home cooking from the cast iron stove, and the kiss of a cold breeze that would rush in from the front door each time it opened.
Even better in fact.
I sipped a Winter Ale and we sat by the fire until we were called for our table. We ordered a bottle of Cabernet Merlot and garlic bread to start.
Our mouths immediately began to water when they brought out a fresh baked loaf of bread smothered in roasted garlic. Literally the most amazing garlic bread I've ever tasted. (Probably not as good for my midsection but I didn't care.) I was ready to commit some serious carb-o-cide! We polished that off with ease and then they brought out two large pizzas- a vegetarian and Bolognese.
We. Ate. Everything. So. Stuffed. Food. Coma.

Day 2: Extreme Sporting!
We were on a serious mission today! We were up extra early anticipating a full day of extreme activities. After yesterday's extreme eating, we woke up with our bellies still full, but we were ready to take on some adventure. Wally and I dropped Blaine off at the Shotover Jet Boats at 8:30 am and drove on until we reached Arrowtown.
If you're wondering why I didn't go paragliding or go on the Shotover Jet Boat, I wasn't financially in the market for EVERY activity.
Plus, was holding out for a big one on my bucket list.
Arrowtown is a cute little town that used to be a gold mining destination and is now basically one main road with cafés and little shops. We picked a place to sit for breakfast and I got a ridiculously delicious "everything" bagel with smoked salmon, cream cheese, and pesto.
Apparently I can still muster up my appetite despite the previous 24 hours of extreme eating.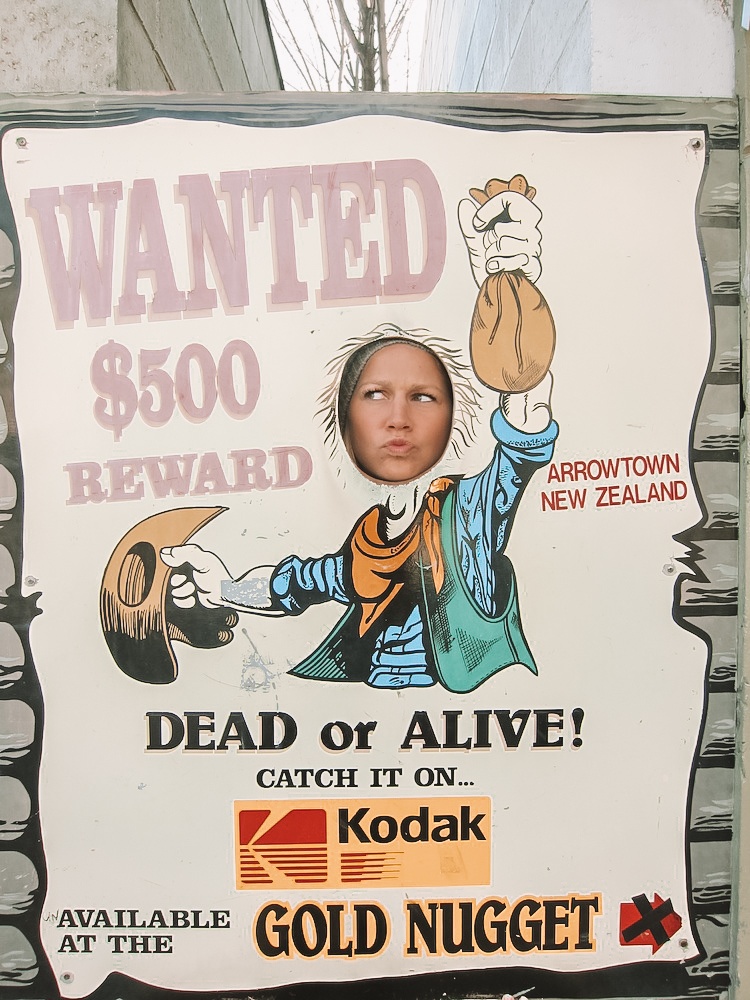 We drove back to pick Blaine up after his jet boating trip (which he said was awesome and highly recommends) and drove on to the next extreme destination, the AJ Hackett Bridge. The very first commercial bungee was built here and still operates! Blaine was all set for extreme activity #3!
Being absolutely terrified of heights, I wasn't prepared to hurl myself off a bridge, but I did have "high" hopes of facing my fears in another way later in the afternoon.
Still wondering what I'm talking about? 😉
After Blaine got weighed, he set off for the bridge to jump. He had never been bungee jumping before so he was a bit nervous, but I knew he'd go through with it. Wally and I walked to the viewing point and within 10 minutes Blaine was standing on the ledge of the bridge ready to jump.
We all counted 1! 2! 3! and he launched into the air and down between the canyon walls towards the river below!
Once he stopped bouncing, a little raft was sent over to fish him off the bungee and bring him to shore.After Blaine shook off the adrenaline from his jump (again an awesome experience), we drove to Lake Wanaka.

Non-stop adventure!
The drive was up a winding mountain with beautiful views of the surrounding snow capped mountains. When we got to Lake Wanaka, we decided to grab a case of Pure Blonde beer to share on the shore and enjoy the view of the beautiful lake. We had one hour until game time.
I finally conquered my extreme fear of skydiving. Mission completed! (Read more about how I officially joined the 12,000 feet club.) After we got our heads back on straight we drove up to Cardrona mountain to check out the skiing and then came right back down. Despite our enthusiasm, we were not about to strap on some skis. Talk about a full on day!!!

Day 3: One Last Extreme Burger
After knocking out so many activities in 48 hours, we called the roadtrip up the south island off and decided to fly back to Auckland. Our final stop was for some breakfast. Wally and I went for a couple of bagels & coffee while Blaine went "extreme" and got a breakfast burger at the famous Fergburger.
They do NOT mess around with their burgers! The burger he ordered is called The Dawn Horn – Streaky American bacon, egg, hash brown, cheese, avocado, lettuce, tomato, red onion, beetroot, tomato relish & Ferg's tarragon mayonnaise.
It was literally the size of his head!
Queenstown is an absolute MUST if you love adventure or even enjoy the simple pleasures of a beautiful mountain town with amazing restaurants and chill activities. Love this city!

Do you have any travel tips for Queenstown? Let me know in the comments!