Step 1: Purchase a 6 pack of Pure Blonde beer Step 2: 1 beer 2 beers 3 beers… go! Step 3: Strap yourself to a beautiful stranger and get ready for the experience of a lifetime!
Let's go SKYDIVING!

On our trip down to Queenstown, New Zealand, we decided to step up the level of extreme activities. We were going skydiving! Reality hit me as the thought of casually jumping out of a plane 12,000 feet in the air began to sink in. I was nervous!!! My friends Wally, Blaine and I drove to the airport and, as soon as we walked into Skydive Wanaka, they were ready for us.
We sat through a short briefing and signed our lives away. We were immediately weighed, given jumpsuits, introduced to our tandem skydivers and the next thing I knew I was stepping into a little plane. (This seriously all happened within 15 minutes of arriving!) I literally didn't have a second to reconsider or even think about what I was doing.
The engine on the plane started and my stomach sank. Wally, being the extreme sport Kiwi that he is, hadn't even been skydiving yet. We were all silent, nervous, and blatantly scared. As we flew higher and higher, Wally's tandem skydiver let us know that we had reached 4,000 feet and that they would be pulling the parachutes at that height.
Umm… We have another 8,000 ft to climb?!?!
I was officially freaked out. The view of the land below from my window, while incredible, looked very, very, very small. I have no idea how long it took to reach 12,000 ft. It's all a blur now. I just stared out the window as the world below got farther away and nausea in my stomach got stronger.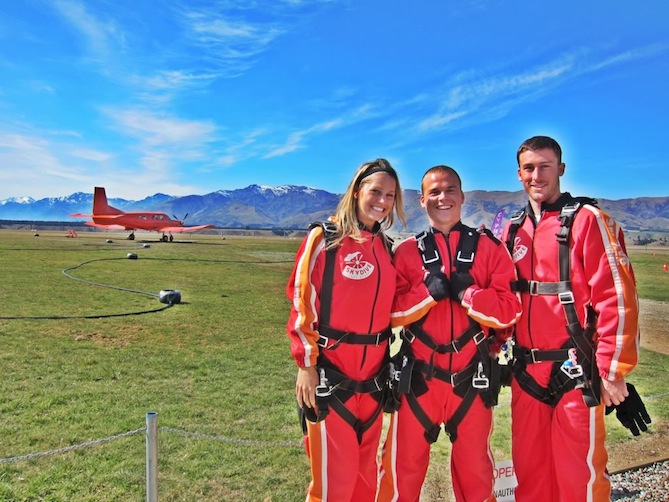 I snapped out of my daze as soon as the door to the plane opened and the only way down was OUT. Blaine was the first to jump and all I remember is one second he was there and the next he disappeared into the sky.
I was next.
I could barely step to the edge. My tandem skydiver kept me moving forward towards the open door and the next thing I knew my legs were hanging out over the edge of the plane.
"What am I supposed to do again? I know he said something about head back, don't grab anything…
*insert cuss word*!"
1 2 3 and I was plummeting towards the earth below at 200 kph! I fell for what felt like an eternity as we spun 360 degrees over Lake Wanaka and rolling green landscape below. Eventually, the fear dissipated and I let the view of one of the most incredible and beautiful things I've ever seen sink in! The wind was freezing and we were falling so fast I could feel my face forming to the force of air against my skin.
All I knew was that I was smiling.
The parachute opened and we took a few spins on the way down. Both boys landed and I came down shortly after them sliding in on my booty. We were all smiling ear to ear. It was such an amazing experience!
I would highly recommend the company I "dived" with. For more information check out their website: http://www.skydivewanaka.com/