Earlier this summer, my friend Sara Libby and I embarked on a California coast road trip up the Pacific Coast Highway for a little glamping getaway. Yes. Glamping.
As we made our way up the coast, we stopped for a night under the stars at Pfeiffer Big Sur where we cozied up our tent with lace, flannel and candlelit lanterns.
It was like something out of a fairytale.
The next morning, we hit the road bright and early for a long drive up the cost. But not before some sugared donuts from Big Sur Bakery. YUM!
 Our final destination for the day? Steep Ravine Cabins just north of San Francisco.
Steep Ravine is one of the only public camping sites with cabin lodging in California. Because of this, the cliffside location and cheap booking price, these legendary cabins book out months in advance.
We crossed our fingers and were ecstatic to find an available cabin on Hip Camp due to a last-minute cancellation. After a long day on the road, we finally arrived at the entrance to the campsite.
Little wooden cabins dotted the gloomy coastline blanketed in bright green grass and delicate purple flowers. Weathered stairs led us down to our little cabin by the sea. The door opened to an open room where light flooded in from windows that opened to a gorgeous vista of the ocean.
While the location and cabin were absolutely stunning, inside there wasn't much more than a cute little fireplace that sat in the corner.
No beds. No electricity. No problem.
We got to work cozying things up- hanging a hammock with overstuffed pillows, lining the table in lace and hooking candlelit lanterns from the beams. In no time at all, the cabin felt like home.
My friend Eric joined us in the evening for Moscow Mules and a gorgeous sunset. For dinner, we grilled veggies and burgers and ended the night with a game of cards and a few bottles of wine.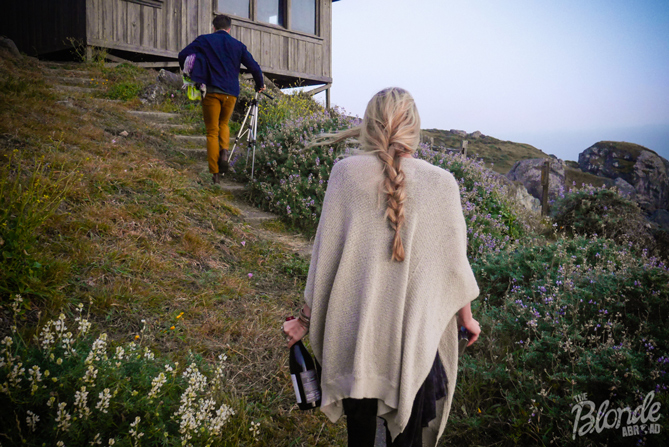 Cabin Cozy Look
[fontawesome icon="heart" circle="no" size="large" iconcolor="#e1518d"]Dress by Free People (similar here) | Sweater (similar here) | Boots by Naughty Monkey (similar here) | Burlap bag by BareMade

Book your stay at Steep Ravine with Hipcamp!
More Glamping Inspiration
Follow Kiersten @TheBlondeAbroad's board Gone Glamping on Pinterest.