Because the country of China is so large, there isn't an exact, right time to visit — it's a vast country with a wide range of climates. No matter what season or month you visit, you'll be able to soak up every ounce of culture that China has to offer.
When planning out your trip, think about the experiences you want to have and the areas you want to visit. Do you dream of walking along the Great Wall? Or experiencing the Chinese Mid-Autumn Festival? If you're torn, I've put together a breakdown of the tops festivals and seasons around the country.
Here are the best times to visit China!

November to March
Many people try to avoid China in the winter for the fear of it being too cold. And while it does get chilly (with highs in the mid-40s), there are a lot of places that are worth seeing. November and December are considered the low season, so it's possible to save money on travel and accommodation.
Visit spots like Hong Kong, Macau, Hainan, and Yunnan for warmer weather or experience China under a blanket of snow in cities like Beijing or Pingyao.
Come January and February, events such as Chinese New Year, the Chinese Lantern Festival, and the Harbin Ice Festival fill the streets with people. With that comes higher price tags for travel—so I'd suggest booking in advance so you don't get hit with last-minute fees!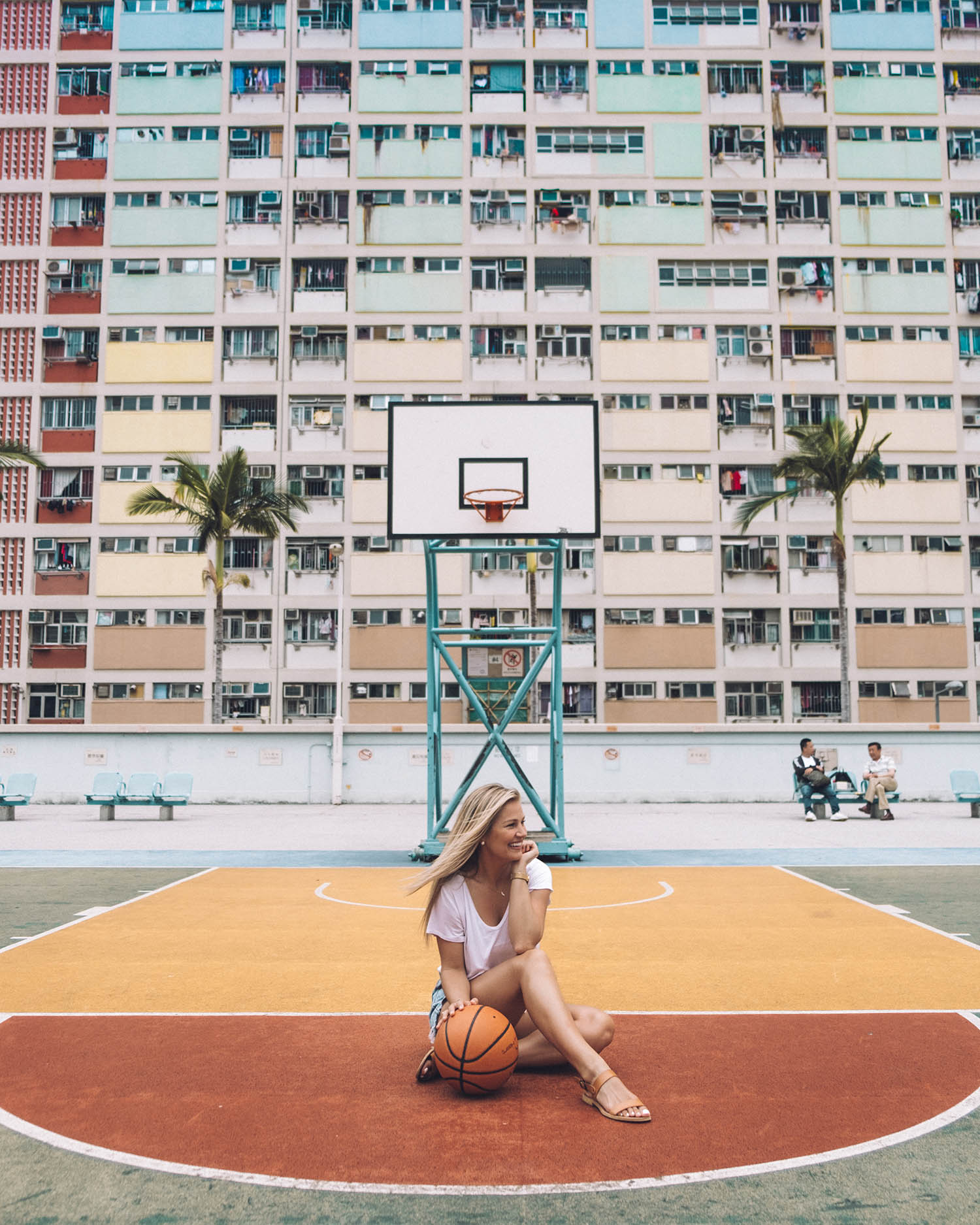 Choi Hung Estate Basketball Court, Hong Kong
April to May
Spring is arguably one of the best times to visit China, especially if you are a nature lover!
Average temps range from 50 to 73 F, melting all the snow that winter brought. In the southern region, rain season begins…but don't let than dampen your trip.
The rain can actually enhance the views!
Plus it brings out the blossoming flowers and fruit trees, painting the country with color. The best way to deal with the unpredictable weather is to wear light layers that are easily adaptable for the ever-changing climate.

June to August
June through August is peak season in China, mostly because people are able to get the time off of work and school is out. However, this doesn't mean that it is necessarily the best time to visit.
Big cities like Beijing and Shanghai can get very humid and hot which can be downright uncomfortable.
This is, however, the optimal time to visit the mountains and highlands such as Tibet. June is also the time of the Dragon Boat Festival where you'll find locals snacking on rice dumplings and watching dragon boat races.
Fun!

Hiking Mt. Huashan
The World's Most Dangerous Trail
September to October
Overall, fall is the best time to visit China in terms of the weather.
There's less rain, more sunshine, and milder temperatures. Because the weather is so great, many locals and expats alike visit different parts of the country yet international tourists don't visit as often. If visiting, you'll be met with fall hues and fresh local fruits.
The biggest celebration of the fall season is the Chinese Mid-Autumn Festival. It's celebrated in September or October on the 15th day of the 8th month of the Chinese lunar calendar (so this year, it's on September 13, 2019!).
The festival is symbolic of family reunion and harmony, and it's celebrated with lots of good food and beautiful lanterns!

Overall
China is a country full of rich culture, friendly locals, and food that will leave you seriously satisfied.
Whether you want to explore the Great Wall of China or thrust yourself into the Chinese markets, you'll be able to do so all year round. If you're looking for the most ideal weather across the major cities and tourist sites, visit in the spring (April to May) or the fall (September to October).
You'll be met with mild temperatures and stunning scenery!