Whether you're looking to escape to a new destination, teach English abroad, or delve deep in South Korean culture, our Expat Travel Expert, Wailana, shares her highlights of moving abroad to Seoul.
Here are 10 reasons you should live in Seoul!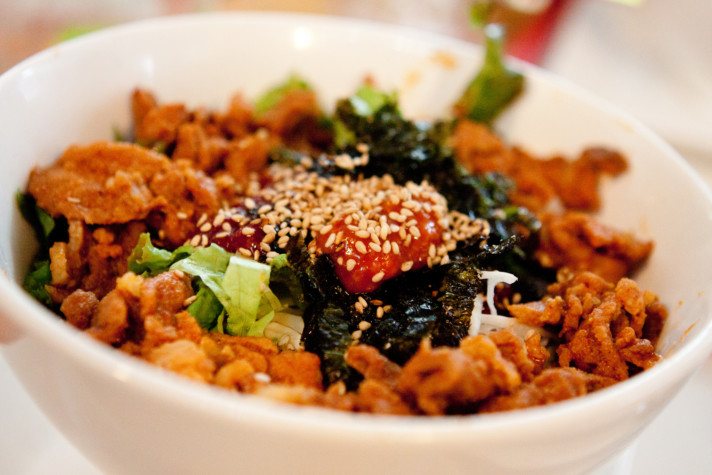 – The Food –
The number one reason why you should live in Seoul: the food. I moved away from South Korea years ago, and what I miss most of all is the delicious and diverse cuisine. Nowhere can you find tastes like these—spicy, hearty meals that are fun and flavorful to eat.
Walk into the average restaurant anywhere in the city, and the food will likely be savory and satisfying stews, grilled meat, and soups.
Korea also does BBQ (galbi) like no one else—fresh, thin cuts of beef or pork are brought to you, and you're left to grill your own dinner on the small bbq embedded in the table. Add a colorful array of side dishes and you're set: fermented vegetables, soups, spicy sauces, sesame leaves.
That's not even to mention kimchi, Korean's staple fermented side dish, served at virtually every meal.
And kimchi is more than just cabbage here—it can be anything from radish, scallion, cucumber, green onion, the list goes on. There's even a museum for kimchi showcasing more than 100 varieties.

– The Transportation –
Seoul has an impressive rail network system that's guaranteed to get you just about anywhere. The public transit is one of the most used in the world.
From the moment you hop onto the express train from Incheon airport, transportation becomes a walk in the park. Everything can be paid with a rechargeable T-Money card, purchasable at any subway booth or kiosk.
In Seoul, most of the subways translate announcements into English. And if you want to visit the rest of the peninsula, it translates to just a few hours on a train or bus.

– The Integration of Nature –
With such a fluid transport system, nature is just short train or bus ride away from downtown Seoul. Go from crazy skyscrapers to peaceful seclusion within an hour. Even Bukhansan National Park is just 2 hours' hike up past mountain peaks and waterfalls.
Inside the city itself, you can find numerous large parks, palaces and Buddhist temple complexes for a quiet respite.
Climb Namsan Park, located on top of a hill smack-dab in the hubbub, for glittering panoramas and a view of the iconic N Seoul Tower. Seoul Forest attracts visitors from all walks of life; here you'll find walking trails, bike routes, deer enclosures and an insect exhibition.
At Changdukgung Palace, the beautiful Secret Garden is a perfect spot for a relaxing stroll. One of the more loved getaways is Seonyudo Park, a charming green island with four parks, botanical garden, and walking paths where visitors can relax with delightful views of the Rainbow Bridge (lit up every evening).

– The Technology –
When it comes to electronics, Korea seems to be five years ahead of everyone. Tech nerds will be in heaven here! Everyone has top-of-the-line Samsung & LG products. Cellphones stream live on the subway.
Everywhere there are huge TV screens, neon lights, high tech cars.
The wifi speed is extremely fast and widespread, one of the best connected in the world. And in an additional effort to boost connectivity, the government announced a nationwide program for free, public wifi by 2017!

– The Safety –
Seoul is extremely safe, especially for a capital city. Taxis run at all hours and it's not uncommon to see kids as young as five riding the subway by themselves.
The worst you might encounter is some drunken rudeness or minor theft, but in general, you can walk the streets at night without worry.

– The Saunas –
If you haven't spent a full afternoon in a traditional sauna or jjimjilbang, you're missing out! These multi-story complexes are a great place to chat with friends and family, and sweat out the stress.
A visit to a Korean bathhouse usually involves soaping up, rinsing, then steeping for hours in hot and cold tubs. The waters are often mixed with ginseng, salt, or other minerals to pamper your skin. Shy people never fear—all bathing rooms are segregated by sex.
Afterward soaking in the sauna, head to the common areas, where you can doze off, watch TV, get a massage, step into an ice room, enjoy some noraebang (karaoke), or grab a snack.
Some are even open 24 hours for overnight stays!

– The Cafe Scene –
There is nothing like the wonder that is Seoul's cafes. Koreans love coffee, so it's no surprise to encounter the plethora of coffee shops, coffee chains, and cutely themed cafes.
Lattes and cappuccinos are all the rage, with occasionally a sweet Viennese coffee or green tea latte thrown in. Some cafes even have a special corner for your dog or cat. Also, I kid you not—you can even find a sheep cafe and a raccoon cafe!

– The Shopping –
Seoul is a shopper's paradise, from high-end designer shops at Myeongdong to cute souvenir outlets in Insadong.
For a full day of shopping and sightseeing, head over to Coex, an underground mall full of stores, arcades, the Kimchi Museum and the massive COEX Aquarium.

– The UNESCO World Heritage Sites –
Korea is so jam-packed with historical centers that you need years to see it all. There are eleven Cultural Heritage sites and one Natural Heritage site in Seoul alone, as well as numerous cultural centers that share traditions like old shaman practices, music, martial arts, lyrical folk songs, medieval games and ancestral rituals.

– And, You Can Save Money –
Yes, South Korea can be expensive, but chances are you're moving to teach ESL, and if that's the case, you'll find a lot of normal expenses—rent, healthcare, utilities, transportation—will be comped by your school or greatly reduced from what you're used to at home.
I saved more in 6 months than I did in 2 years in the USA.
If you're recently graduated from university and coming away with a lot of loans, it's a great first-stop: you can pay back your loans while you see the world.
Seoul is so big and sprawling that whatever you like, you're sure to find it somewhere in Seoul.

Read More