This Australian city boasts some unbelievable cafe culture! I ate my way through the lanes of the CBD (Central Business District), satisfied my sweet tooth on the beach of St. Kilda, nurtured my inner Italian in the DOC and sipped my way through cocktails in the "Bohemian Quarter" of Fitzroy.
I literally almost ate myself to death…but at least I would have died happy!
Melbourne is an international playground with culture on every corner and delicious food is just as abundant and diverse! This guide on where to eat in Melbourne will have you "om nom nomming" all over the city.
Here's a look at the best places to eat in Melbourne! Bon Appetit!

Apartment 29 for $2.50 coffees and breakfast til 4 pm!
Flat White's are Australia's light-milk latte
Snag a seat while you can on Degraves St.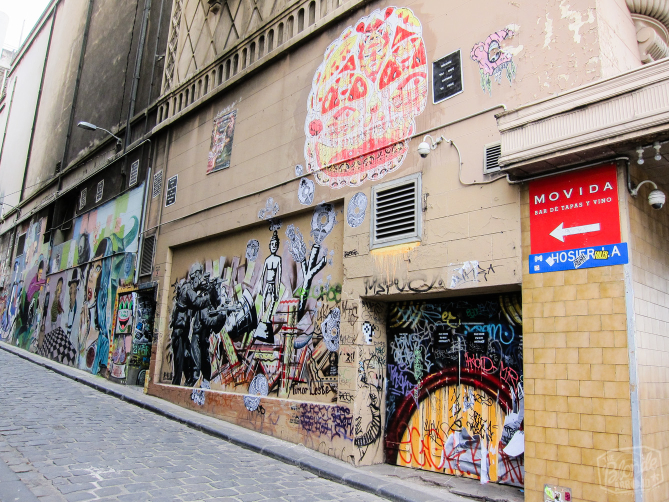 Don't miss Tapas and vino at the original MoVida on Hosier Lane
Take-out from Café Vue is perfect for a picnic (Veggie and Gluten-free friendly)
Satisfy your sweet tooth at Commercial Bakey
For the original Melb's Italian spot – Pellegrini's
Grab some brekky or a light lunch at the City Wine Shop across from State Parliament House
Carlton Espresso might be the best Italian in the city!
Another sweet spot (you may be sensing my weakness) – Brunetti
Pop into Shocolate for award-winning macaroons
Window shop for lunch on Centre Place – be patient, it gets packed!
Refreshing cocktails at Madame Brussels – Plus, a balcony with a view!
A visit to any Australian city wouldn't be complete without a visit to Pie Face
A hidden treasure – Cookie – for delicious Thai
Sister to MoVida on Hosier Lane, MoVida Aqui, offers delcious Spanish fare
Now go! Eat your heart out! Enjoy all that Melbourne has to offer and remember, if you leave hungry, you didn't do it right!

Where's your favorite place to eat in Melbourne?