My must-read list has grown to be a mile long, and I have been itching to start checking titles off my list for ages. From classic novels to modern bestsellers, there are just so many incredible stories I am dying to dive into!
It was one of my resolutions for 2018 to start reading more. Unfortunately, spending as much time as I do on planes, trains, and automobiles, it is nearly impossible to find space in my luggage for all of the books that I want to pour over.
That is why I am crazy about my e-reader, the new Kindle Paperwhite. It's the most popular and bestselling Kindle that has been reimagined— it is thinner, lighter, waterproof, and compatible with Audible.
Catching up on my reading is the perfect way to pass the time while traveling. From waiting in airports to just chilling at the beach, digging into a good book gives me the chance to take mini-adventures during my travels abroad. So, are you ready to update your library?
Here is a rundown of the perks of traveling with the Kindle Paperwhite.

The New Kindle Paperwhite
The new Kindle Paperwhite is the thinnest and lightest Kindle Paperwhite to date. It has a super sleek flush front design with a six inch, high-resolution display that looks like text on real, good old-fashioned paper.
This new and improved model is waterproof, so it is the ultimate BFF to have poolside or on the beach. It has an adjustable front light so you can adjust to the ideal brightness in a dark room or direct sunlight (with no glare like you get on a laptop or tablet)!
Plus, it has Bluetooth as well, so you can connect it to headphones and access Audible to find a great listen from 450,000 programs—I love listening to Audible books just before bed when my eyes need a rest.

Why the Kindle Paperwhite is Great for Travel
Features
The Kindle Paperwhite has everything that a bookworm traveler needs, and is only a little bigger in size then your passport! Twice the storage of past Kindle models (choose from 8 GB or 32 GB), and you can read anywhere, anytime thanks to the new ultra-thin, lightweight design.
And it weighs 182g (or 0.4 lbs)—that's less than half the weight of most paperback books!
Display
The six-inch, high-resolution has a 300ppi display, with crisp black and white text that reads like real paper. It also includes an adjustable front light what you can adjust to prevent a glare in any setting (even direct sunlight)!
Battery
Best of all, the amazing battery life is ideal when you are away from outlets for hours at a time.
A single charge can last weeks depending on how often you use it!

Waterproof
As a beach lover and someone who travels to tropical destinations constantly, this new waterproof Kindle Paperwhite is an absolute dream. Kindle devices have always been perfect for lounging under the sun at the pool or beach, but having a waterproof option is a total game changer.
Experience
For me, it is also essential to have a distraction-free reader like a Kindle. As a blogger, I live a big part of my life online, so when I try to read on my phone or laptop, I am constantly distracted.
So I appreciate being able to "unplug," relax and focus on reading from my Kindle.
Audible
The all-new Kindle Paperweight has Bluetooth built-in so you can easily connect to Audible, and switch between listening and reading your favorite books in seconds, without losing your place.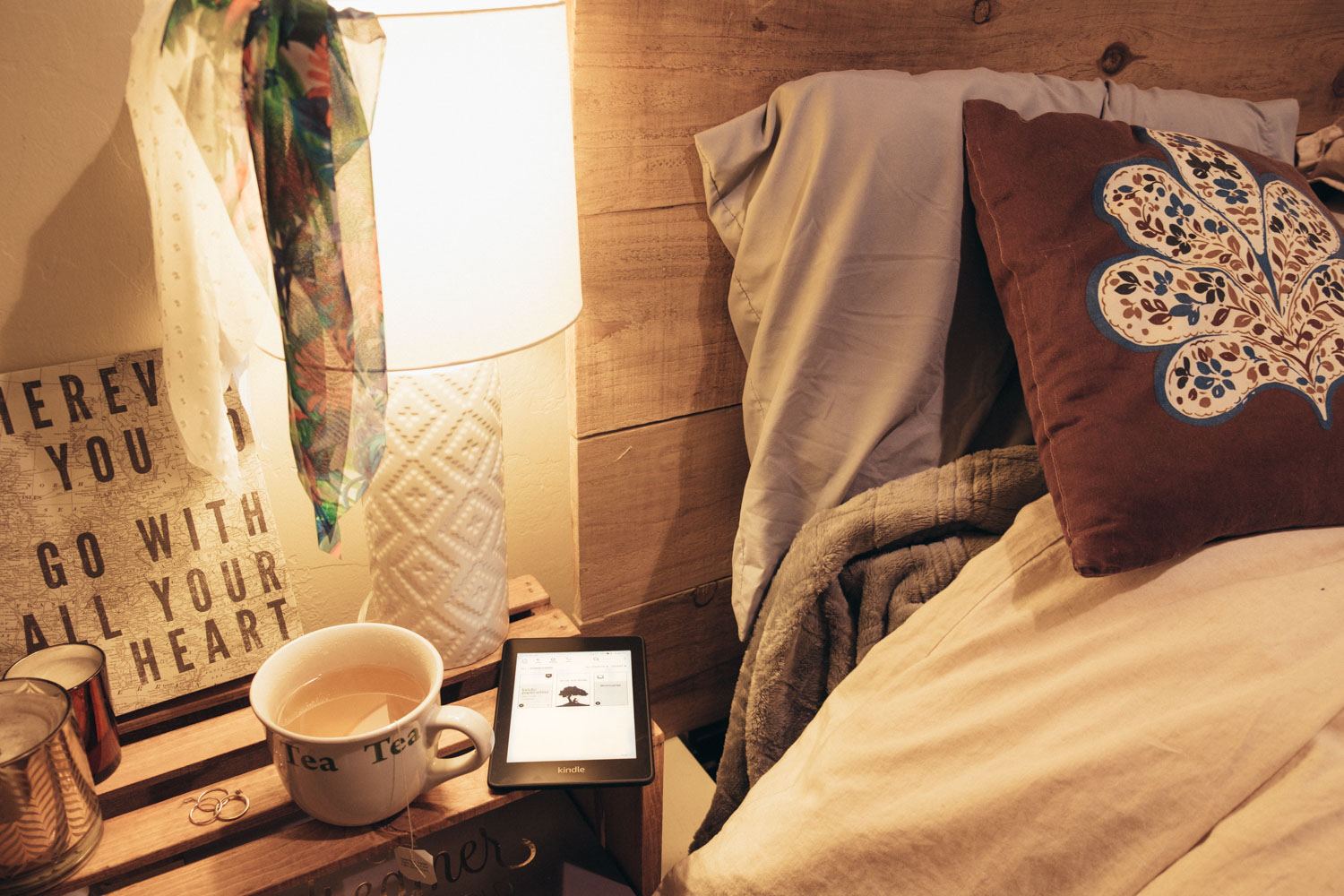 Limited Time Offer
For a limited time, you can get six months of Kindle Unlimited for free (which is a $60 value) when you purchase the new Kindle Paperwhite. I love Kindle Unlimited because it literally gives you millions of books to choose from, plus thousands of audiobooks.

This post was written in partnership with Amazon. As always, thoughts and opinions expressed here are entirely my own. I've used a Kindle for years, and would highly recommend to anyone considering the switch to an e-reader!