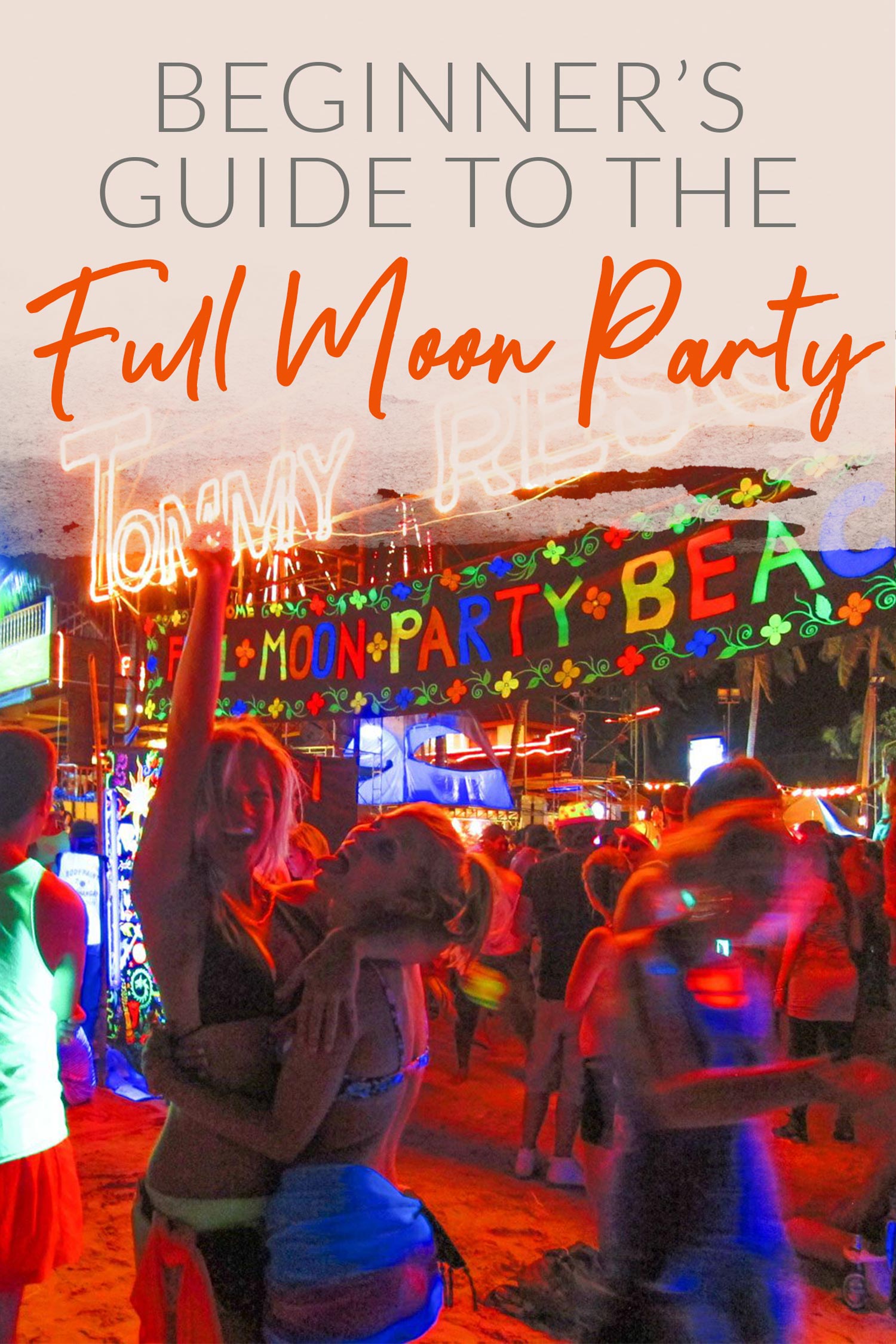 I had heard many legendary stories of the infamous Full Moon Party, and I was NOT going to miss it when I made plans to travel to Thailand! The massive party takes place on a stretch of beach on Koh Pha Ngan (Koh Phangan) island in Thailand. Each month, on the night of the full moon, thousands of people come from all over the world to partake in the festivities and dance all night long.
Here's what to expect at The Full Moon Party in Thailand!

My friend Lindsay and I took a morning ferry from Koh Samui to Koh Pha Ngan to partake in some pre-Full Moon Party festivities. We ended up meeting some awesome Italian guys on the ferry and made plans to meet up for the party that evening.
I had also made some awesome new friends Sevi (from Germany) and Katy (from the UK), that I met while snorkeling in Koh Phi Phi, who were also in Koh Pha Ngan for the party. So, we all met up in Thang Sala to spend the day on the beach preparing for the party.
That's the beauty of traveling in Thailand. You meet SO many other travelers!

Getting There
Depending on where you're coming from, the two closest islands to Kho Pha Ngan are Koh Samui and Koh Tao. There are inexpensive ferries running daily between all the islands.
The actual beach party is located on Haad Rin beach on Koh Pha Ngan island.
From Bangkok: The fastest way to Koh Pha Ngan is to take a short flight to Koh Samui and catch a ferry to the island. There are also budget-friendly overnight bus & boat options you can purchase from travel agents in Bangkok.

Where to Stay
Accommodation typically books up solid on Koh Pha Ngan the week before and after the Full Moon Party. Book in advance to make sure you have somewhere to stay. Or, do what I did, and leave your bags at a friend's hotel and stay out all night.
After experiencing it, I would personally recommend finding accommodation on another island, catching a ferry to Koh Pha Ngan, partying all night, and catching a ferry back the next day.

What to Wear
We changed into our traditional, neon, Full Moon Party attire complete with fanny packs, enjoyed a couple of pre-moon drinks, and made our way to Haad Rin where the famous beach party takes place!
Once in Haad Rin, we got the fun started! We began the artistic ritual of covering ourselves in neon paint. I went for a mysterious mustache and some beautifully painted vines down my arm.
No need to pack anything special for the party! You can get all your FMP swag from street vendors for about USD $10-15.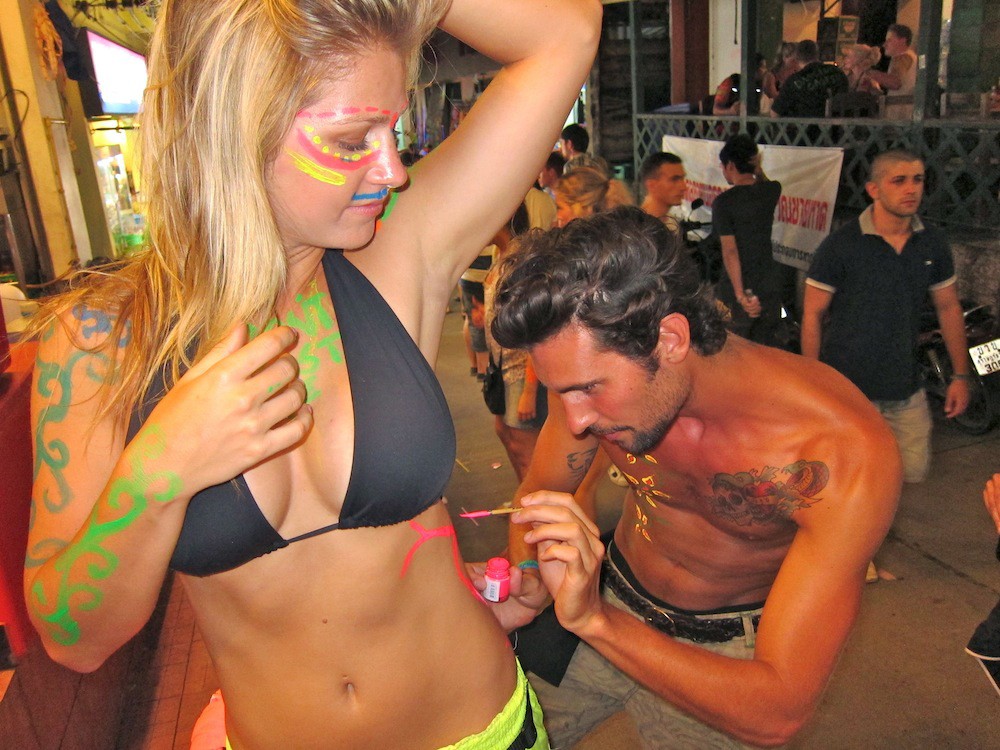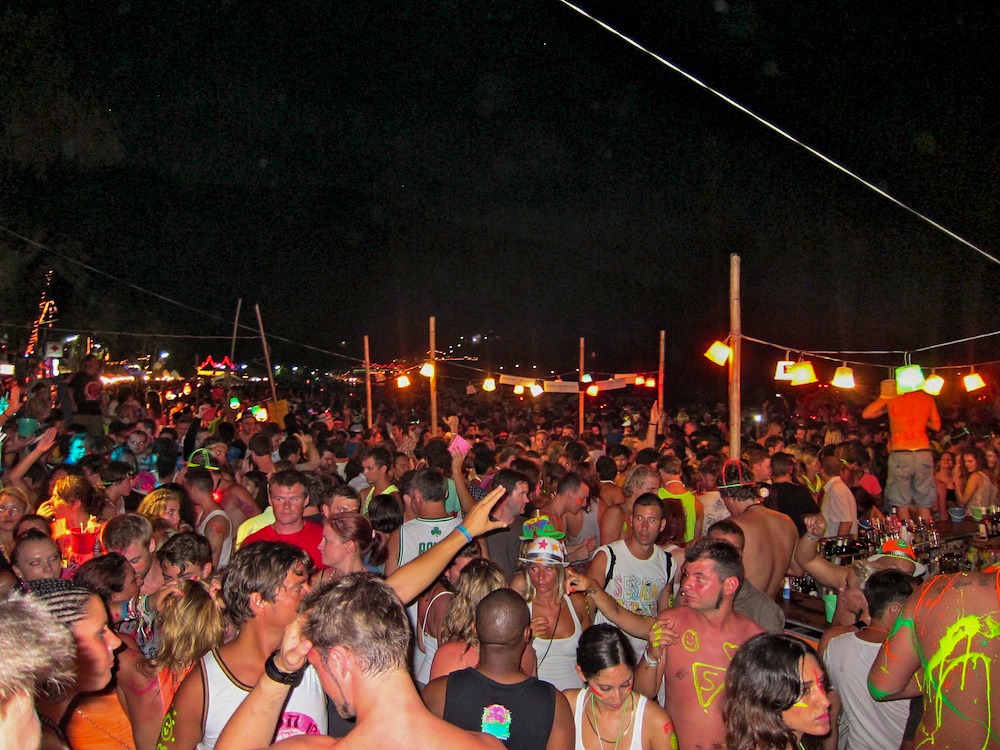 The Beach Party
Once we were covered in paint, we made our way to the beach to get amongst the "wild & crazy." Lindsay and I happened to run into the Italian guys from the ferry as soon as we got to the beach, so we all stuck together for the party experience of a lifetime.
The beach was packed with people from all over the world, fire dancers, drink bucket stands, dance stages, DJ's…you name it!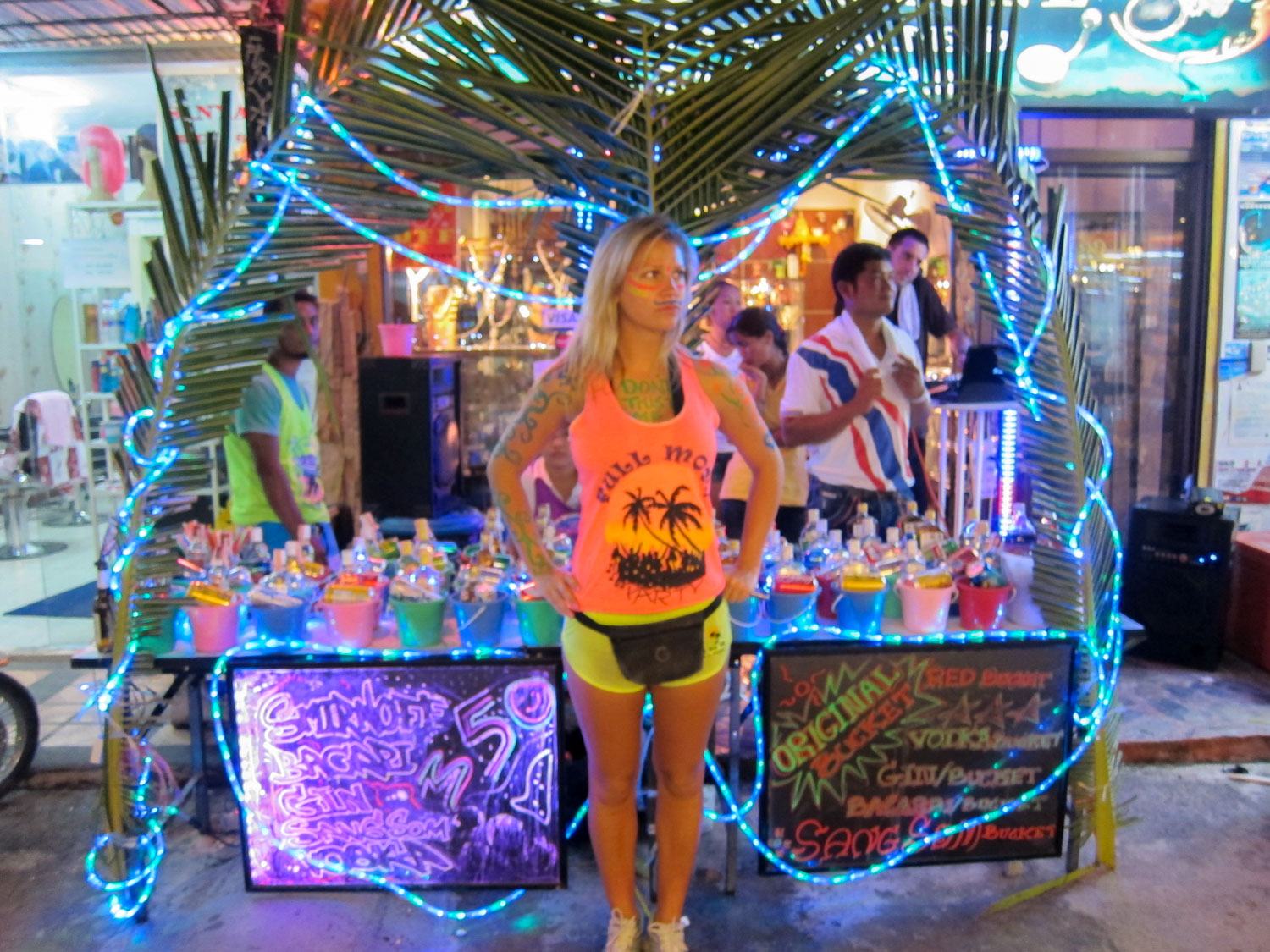 All along the beach, there are vendor stands selling these little plastic buckets (the kind kids normally build sand castles with) made into giant cocktails with about five straws in them to share! They're about 350 baht, or around USD $11 each.
Do not attempt one of these alone…it's a teamwork sort of drink!
Helpful Tip: Plan on wearing sneakers, so you aren't barefoot on the beach. While there isn't really any glass being served, you still want to be careful not to step on anything that would hurt you.
In addition to all the festivities, there were giant jump ropes lit on fire that five people could jump over at the same time, twirling fireballs on ropes, and people spinning fire poles.
Having seen multiple people with bandages from burns on their feet, legs, and arms, I spared myself the exciting experience.
I did, however, dance all night long until the wee hours of the morning. I have no idea how many buckets'o'drink we consumed throughout the night, but we danced until the sun came up!

Is the Full Moon Party Just for Backpackers?
Overall, the Full Moon Party is a crazy party made up of visitors from all around the world. As much as it is generalized that the crowd is mostly made up of young backpackers, I met people of all ages and from every background.
You will, however, find a LOT of young, hard-partying Aussies and backpackers all over Thailand.

Do you have tips for Thailand's Full Moon Party? Let me know in the comments below!