I have to admit that when I went to Mykonos this summer I was completely caught off guard. I was well prepared and very excited for a relaxing and sun-soaked holiday on the beautiful beaches of Mykonos.
Little did I know, that of all of the Greek islands, Mykonos is famed for incredible beaches but especially for the world-renowned party scene. If I were to relate my experience in Mykonos to anything, it would be that of a raging good time in Vegas.
Parties all day. Parties all night.
So, for newbies to this particular Greek island, I've created this Mykonos Beach and Party Guide to help you gauge your trip depending on what you want to experience… whether it's a low key beachside stay or one of the craziest weeks of partying you've ever experienced!
Use the sample scale below for reference on each suggestion!


Psarou Beach
Psarou Beach was one of the most luxurious and calm beaches I went to. I really loved it here because it is a bit further away from downtown Mykonos and you get a break from all of the crazy party beaches.
If you're looking to sip on cocktails and soak up some sun, are traveling with family or prefer a more resort style beach in Mykonos, this is your spot!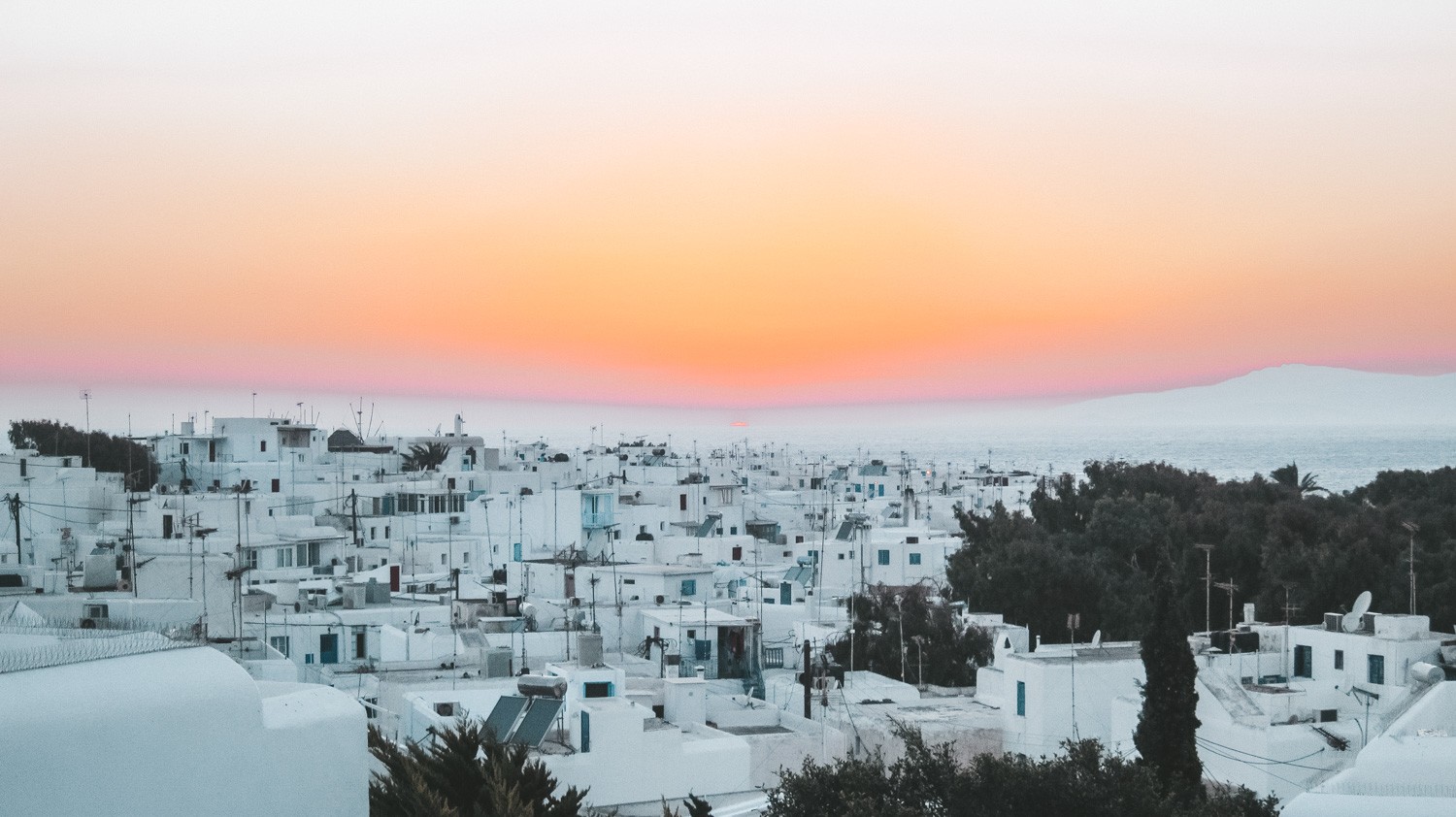 The Belvedere Hotel
The rooftop Belvedere poolside lounge and cocktail bar cannot be missed at sunset. I think I'll let the picture below speak for itself! The intimate atmosphere here is fantastic and, for you night owls, they're even open late night.
This is a great spot for a date or a beautiful evening with friends. Be sure to try their Lychee Mojito or a "Blonde Jack" (it's off the menu). You won't regret it!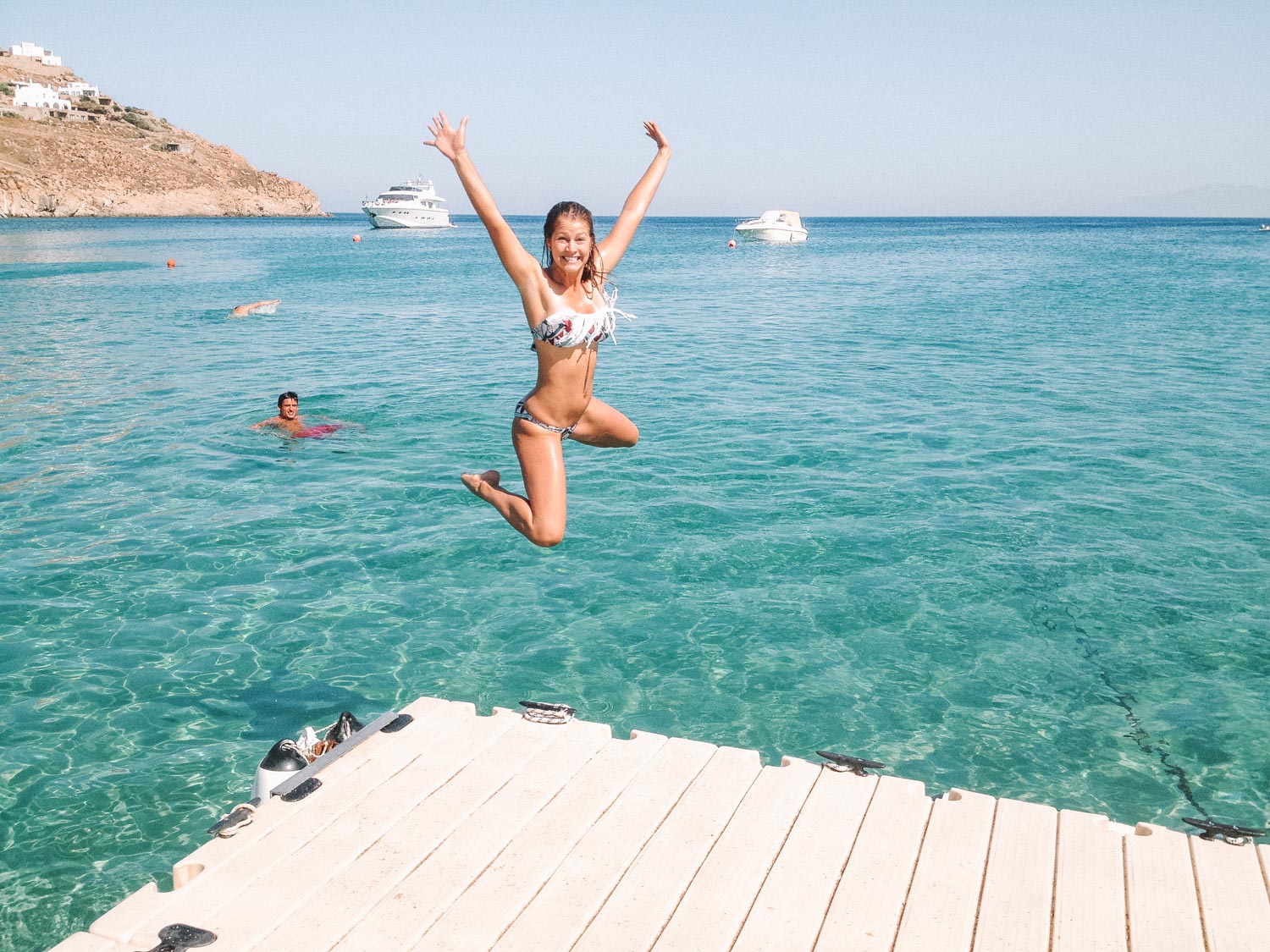 Super Paradise Beach
The beach stays quiet but the beach bar gets going in the late afternoon. There's a small dock here that's great for practicing your cannonballs and the water is absolutely picturesque.
Mykonos has a large gay scene so it's hard to say one beach is more gay than another, but this beach in particular has a reputation for being a "gay beach."
Straight, gay or indifferent it's a must see while beach hopping in Mykonos!
The beach party here at the Super Paradise Beach Bar makes for great people watching and the male go-go dancers might as well be Greek Gods. Oh ya, I almost forgot… bikinis and banana hammocks are optional.


Paraga Beach
I loved Paraga Beach and it ended up being my go-to beach! The beach is absolutely beautiful and has lounge chairs available to rent for a low price. You can get beachside food and drink service and everything is fairly priced and really delicious.
Everything stays mellow until around 4 pm and then the Kalua Beach Bar turns into a crazy party!
It has a really nice vibe (things stay classy unlike many of the beach parties) and is a sure-bet for a good time! Plus, how cool is it that you can swim out to shallow rocks and it looks like you're walking on water?


Paradise Beach
The famous Tropicana Beach Bar takes this beach to the next level! I must admit I had a big (some might say huge) evening here. The party starts well before the sun sets and things really take off after sunset.
The Italian MC, Sasa, here is absolutely hilarious!
He walks around with a microphone wearing nothing but a g-string and makes random and vulgar (so inappropriate I cannot share them on my blog) comments to people. Tropicana is a place where you need to "open your mind," but it is definitely the ultimate beach party in Mykonos!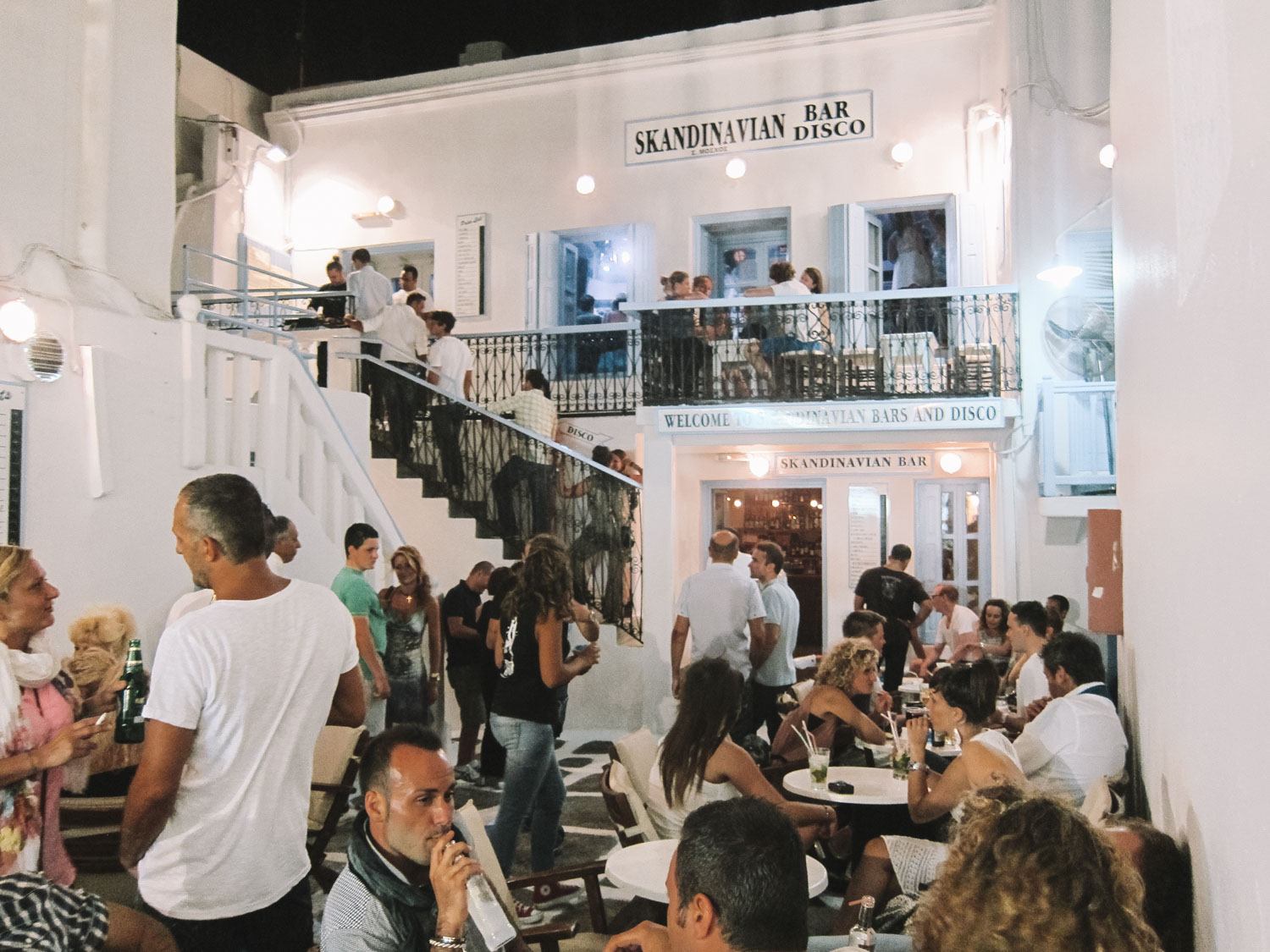 Scandinavian Bar
Located in downtown Mykonos, you will find Scandinavian Bar and it gets packed! Expect to see the upstairs area overflowing with dancing bodies and, not to mention, plenty of girls up on the bar getting wild.
If the upstairs area is too crazy there is still a nice patio area outside where you can hear the music but enjoy your drink without being smothered by a stranger. Just as a heads up, guys and girls, expect to pay a cover fee to enter.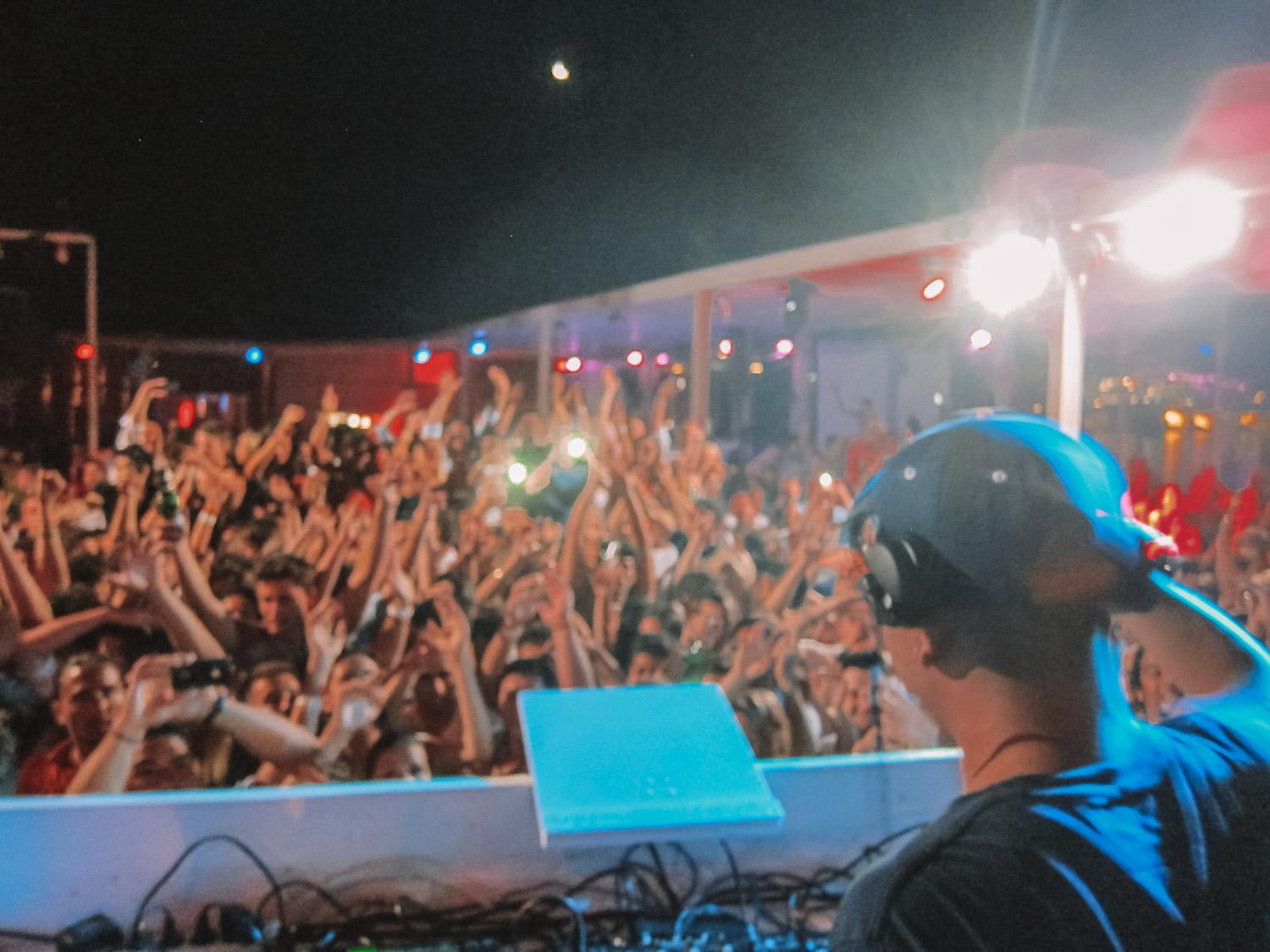 Paradise Club Mykonos
For a real nightclub experience while in Mykonos it doesn't get any better than this! Paradise Club Mykonos brings in the biggest DJs from all over the world and throws one hell of a party.
The night I flew into Mykonos we went straight to Paradise Club for headlining DJ, Dirty South. Just a few nights before that, Kaskade had performed. Three nights later, I saw DJ Chuckie rock the house. You get my point.
And even if you have no idea who I'm talking about don't worry about it. Just go. (As a side note: You WILL get kicked out if you jump in the pool. I may or may not be speaking from personal experience…)


So, as you can see, Mykonos has a wide range of beaches and amazing nightlife! There's only one other thing… who's ready to party?!