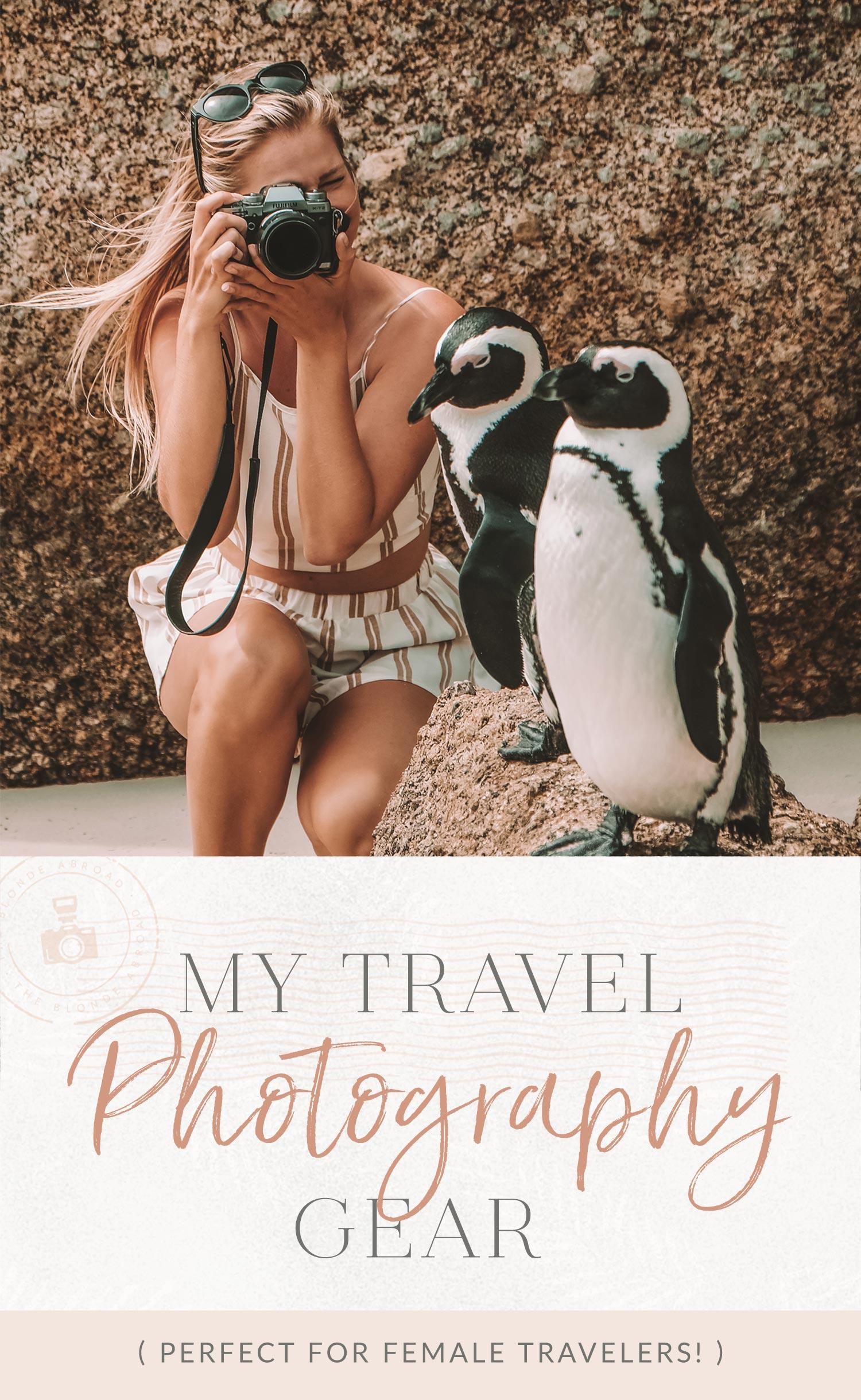 Updated: January 2021
I get questions constantly about my travel photography gear. I'm a self-taught professional photographer, so I won't always be using technical terms to describe my gear. I'm just passionate about telling stories and sharing my travel experiences through beautiful photos.
As a female traveler, there are a few things that are important when choosing photography gear. The first is size—I don't want to lug around a big camera or have a camera so large that it draws unnecessary attention.
While I shoot on manual settings nowadays, I'll be honest; for the first 3 years of blogging, I only shot on Auto. So, secondly, I want a camera that is easy to use and has great automatic and manual features. Lastly, I look for quality. Above all, I want a camera that's shooting incredible images, and that's why I choose Fujifilm X Series.
Here's the complete list of my cameras and lenses by Fujifilm that I bring on my travels!

Camera Bodies
Fujifilm's X Series combines traditional styling with cutting edge, innovative photography technology- here are my favorite models!
This camera is also perfect for aspiring and professional photographers!
This is my favorite Fujifilm camera to date! The image quality is amazing—perfect for capturing my travels—and the X-T4 has an updated design for improved handling and shooting efficiency. My favorite update is that the rear 3.0″ 1.62m-dot touchscreen LCD now features a vari-angle design to suit working from high, low, and front-facing angles. The body is also weather-resistant and the external dials are a trademark FUJIFILM feature that I love.
The autofocus on X-T4 is impressively fast and accurate for both photographers and videographers alike. For video, in addition to the Full HD/240p high-speed recording which gives you a maximum 10x slow-motion effect, the X-T4 features digital image stabilization and image stabilization Boost mode.
This camera is perfect for professional photographers and for those looking to take their photography to the next level.
This camera is great for people who are just starting to get their feet wet in photography and will mostly be shooting on automatic settings!
This mirrorless digital camera is one of my favorite to shoot with when I'm out exploring for the day. The biggest update from the X-T20 model to the X-T30 is the lighter and more affordable body. It still uses the new AF system, so you'll see that the camera's ability to capture moving subjects is top-notch.
It has incredible auto settings, but if you want to test your skills at manual shooting, you are able to easily adjust the combination of aperture, shutter speed, and shooting functions while concentrating on picture taking—so you have options!
In addition to the pretty vintage style, the body is super lightweight and small in size, making it more discreet than other models.
Lastly, the X-T30 has a large and fast viewfinder. It offers a clear, high-definition live-view of what you're shooting which helps you line up shots- or if you're traveling solo, it allows the random stranger taking your picture to see what they heck they're doing!

Lenses
There is a range of FUJINON interchangeable lenses for X Series cameras—here are the ones I use!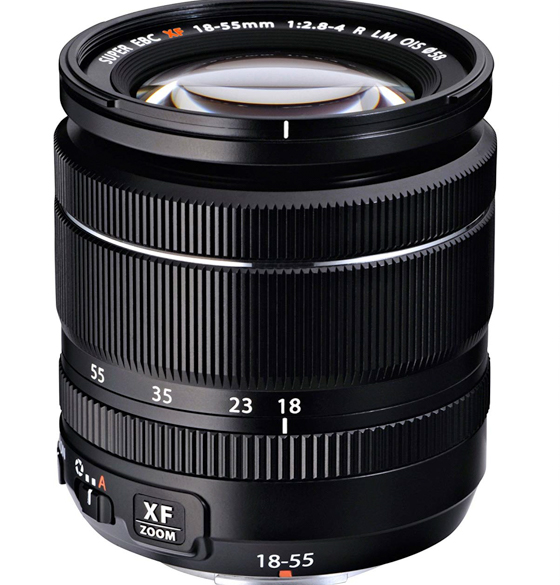 When to Use: Every Day

This 18-55mm lens is the first one I got for my Fujifilm X Series bodies and it is the lens I shoot with 90% of the time– it is the most versatile lens in my kit. It is great for most shots you'll take day to day exploring.

The lens also has a great range of zoom and a solid option for everyday use!
Shop Now
The "every-day" lens will capture most shots on your travels, from lounging at the beach to wandering rice fields—it is my standard, go-to lens!

Photography Tip: What is Aperture?
In photography, the aperture is expressed in f-numbers, for example, f/5.6. These f-numbers, also known as "f-stops", are a way of describing the size of the aperture, or how open or closed the aperture is. A smaller f-stop means a larger aperture, while a larger f-stop means a smaller aperture.
The iris of the lens, or diaphragm, controls the size of the aperture. Its purpose is to block or stop all light, with the exception of the light that goes through the aperture.
Larger f-stops like f/32 is a smaller aperture and when shot, it will bring all foreground and background objects in focus. A smaller f-stop like f/1.4 will isolate the foreground from the background by making the foreground objects sharp and the background more out-of-focus.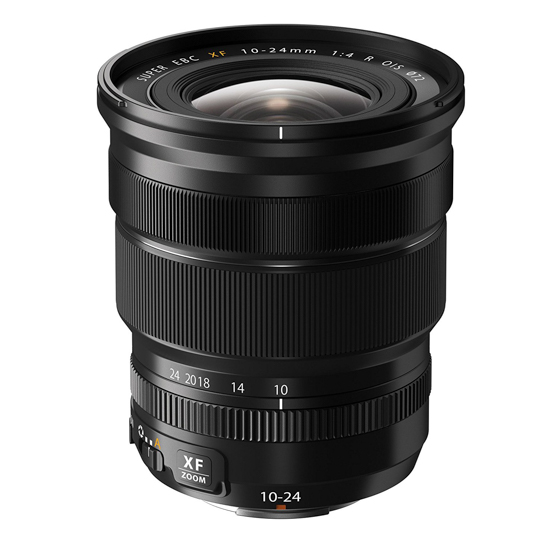 When to Use: When Space is Required (Indoor & Landscapes)

Having a wide angle lens is awesome for landscape shots or shooting indoors in tight spaces. I typically use it when I want to shoot a large building or monument or give something scale.

Wide angle lenses can have some warping around the edges, but this lens has very mild distortion and, as you zoom, it minimizes it even further.
Shop Now
The wide angle lens will capture the whole scene—it's what I always use for "Follow Me" shots because it frames the body and allows for more background in the shot.

Photography Tip: What is a Prime Lens?
Prime lens is a lens of fixed focal length. This means that the lenses have larger apertures while staying compact in size. A prime lens has fewer moving parts (no zoom), so there is less of an opportunity for problems and prime lenses generally capture images that are sharper!

When to Use: Variety of Situations

This lens is the second 35mm prime made for the X Series cameras, but it is smaller and less expensive than the first. With the FUJIFILM's APS-C sensor, it's a 53mm equivalent. It is most useful for shooting images with a shallow depth-of-field and working in low-light conditions!

This lens is weather sealed for added protection with 8 sealing points for weather and dust-resistance that will operate in as low as 14 degrees.
Shop Now
This lens is great for detail shots and getting up close and personal with the subject!

When to Use: Working with Distant Subjects
While this isn't the MOST powerful zoom lens, I appreciate the smaller size which makes it more manageable for traveling. It's also fantastic for the price and the long focal length—making it a great addition to any gear kit.
Zoom lenses are essential if you're going on safari or trying to capture wildlife at a distance.
Shop Now
Mind you, this elephant was about 100ft away! This lens is the perfect tool for capturing distant subjects.

My Camera Bags
I always travel with this camera backpack—it's sturdy and durable and can hold my camera, lenses, drone, laptop, and more. I also use both these day bags, depending on the type of trip, for carrying around my camera gear during the day.
With waxed canvas and high-quality leather, the ONA Backpack has a compartment for laptops up to 17 inches, space for up to seven lenses, and room for a camera.
For a bit more space, The Prince Street  is perfect. It'll hold a DSLR camera with the lens attached along with one or two more lenses and an iPad.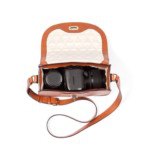 Probably the swankiest camera bag you'll ever see, The Claremont crossbody leather bag from Lo & Sons will keep your camera and accessories safe and sound.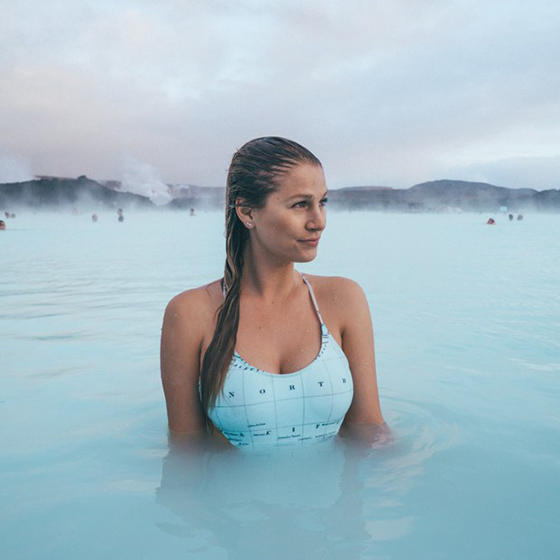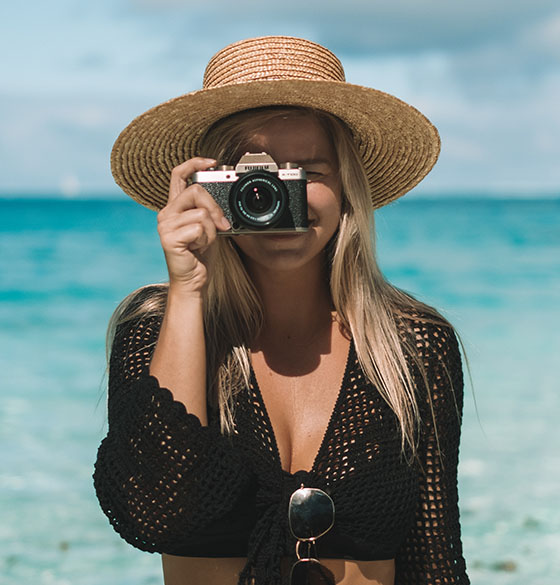 My years of solo-travel meant that I needed to learn how to travel light with camera equipment and develop professional editing skills for photos taken by others.
Read More