Cocktails and spirits are among the most interesting, tasty and exciting ways of learning more about a destination or a new country that you are visiting. Many drinks have become known around the world for being associated with certain countries or regions, while others have been made famous by their association with celebrities.
Travel is all about trying new things and exploring the local cuisine and culture, and after sharing a few of these drinks with the locals, you will often know a whole lot about the local culture, and may need to find out more about the local hangover cures!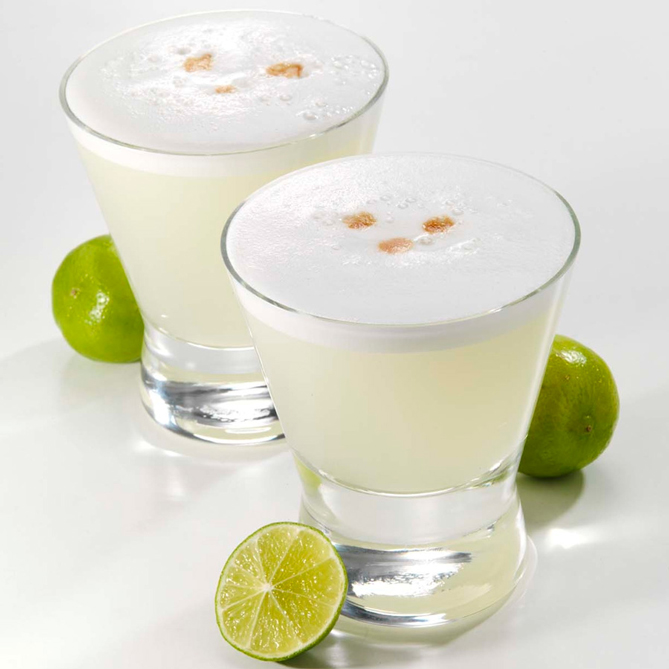 Pisco Sour
This cocktail has long been the cause of tension between the South American countries of Chile and Peru, with both claiming it was created in their country. In Peru, it is celebrated as the national drink on the first Saturday of February.
Pisco is a local brandy produced in Peru and Chile and, for a Pisco Sour, it's blended with lime juice, simple syrup and ice. In Peru, the cocktail is garnished with Amargo Chuncho (or Angostura) bitters and also includes egg whites to add a froth to the drink, which is not present in the Chilean version.

El Papa Doble
Ernest Hemingway's reputation as a formidable drinker is one that is known around the world, and the American author was one of the first celebrities to have a cocktail named in his honor. Originating in Cuba, where Hemingway was affectionately known as Papa during the 1930s when prohibition still held sway in the United States, the Papa Doble is a cocktail that is still popular.
The cocktail can be compared to a daiquiri, and is a blend of white rum, lime juice, red grapefruit juice and Maraschino, which is then blended with ice.
"I drink to make other people more interesting." –Ernest Hemingway

Pain Killer
This cocktail is one of the best ways to start the day if you are on holiday in the British Virgin Islands, and the best possible place to enjoy it is at the Soggy Dollar Bar which faces on to a beautiful beach on the island of Jost Van Dyke.
A sweet and fruity blend of rum, pineapple juice, cream of coconut, orange juice and nutmeg, this cooling cocktail is the ideal way to start a day at the beach after a night out in this Caribbean haven.

Caipirinha
The cocktail that put the Brazilian party atmosphere into the 2014 World Cup, the Caipirinha is a cocktail that balances sweet and sour beautifully, and is perfect for drinking at the beach or while enjoying a great game of football.
At the heart of the drink is the Brazilian spirit, cachaça, which is a spirit distilled from sugar cane, and is then mixed with half a lime and two tablespoons of brown sugar to add the sweetness, along with plenty of ice to keep the drink cool in the heat of the day.

Raksi
Raksi is a spirit that is popular in Nepal and Tibet, but unlike many other spirits it is almost entirely brewed locally, and is very rarely found in branded bottles in bars. This smooth drink is made from millet or rice which is distilled over a fire for quite some time, and every batch of Raksi will usually taste slightly different.
Although it does have a strong alcoholic smell, it is very sleek and warming with a pleasant taste, and is well worth seeking if you are traveling in rural areas of Nepal and Tibet.

Sazerac
Few drinks can epitomize a city as well as Sazerac has done for New Orleans. The official cocktail of New Orleans is also the country's oldest cocktail that has been served there for over a century and a half.
The cocktail itself is a blend of rye whiskey, Peychaud's bitters and sugar, which is usually served in a glass that has had a very small amount of absinthe swirled around it for the wonderful herbal scent.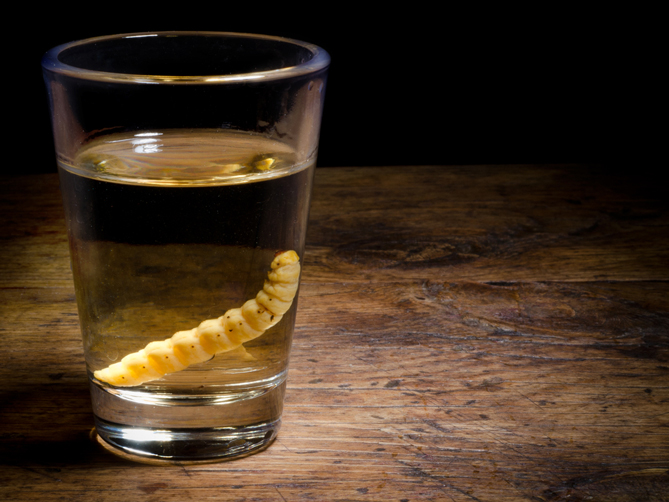 Mezcal
While tequila may be the spirit that is most commonly associated with Mexico, on the east coast in the state of Oaxaca, Mezcal is a spirit that is made from a Mexican variant of the agave plant known as maguey. The drink has been produced in this part of Mexico for centuries, and may have been present even before the arrival of the Spanish conquistadors, although they are the first verified producers of Mezcal.
The drink has become the regional drink of Oaxaca and is typically consumed straight and has a strong smokey flavor. It's served with sliced oranges sprinkled with "sal de gusano", literally worm salt, which is a mixture of ground fried larvae, ground chili peppers, and salt.
"Para todo mal, mezcal, y para todo bien también." | "For everything bad, mezcal; for everything good, the same."

Pimm's Cup
If you ask a Brit about Pimm's and their memories of the drink, you will usually be regaled by tales of long summer days, enjoying a game of cricket or relaxing in the park. It is a drink that is often served at picnics and open air events in the United Kingdom.
The most common method of serving this liqueur is with lemonade, along with a variety of chopped fruit and cucumber to make a colorful and sweet cocktail.

Maotai
This Chinese spirit may carry the name of the founder of the People's Republic of China, and it is rumored that it was one of Chairman Mao's favorite drinks, but it is actually named after the town of Maotai in the south west of the country.
The spirit is made with the grains of sorghum grass which is cultivated throughout the country and distilled to an alcoholic volume of up to 60% ABV. It has a very distinctive aroma of soy sauce and is often called 'sauce-fragranced'.
Journalist Dan Rather, upon tasting some Maotai, described it as if he was drinking "liquid razor blades."

Ouzo
Ouzo is an aperitif that is firmly associated with dining and celebrating in Greece. It usually accompanies the traditional mezedes which are small dishes of food generally eaten at the start of a larger meal.
Ouzo is a flavored spirit that includes hints of anise, fennel, coriander and cinnamon, and will always be at least 37.5% ABV. One legend suggests that it is the product of experiments carried out by Greek monks in the Fourteenth Century, flavoring a type of brandy with anise.

What's your favorite cocktail in the world?