I was so sad to be leaving Australia, especially after my adventures in Melbourne, but I was SO excited to start my adventure in Southeast Asia! I took a bus from Melbourne to the airport to catch my flight to Bangkok.
On the bus ride over, I sat next to an awesome "Thai-stralian" girl named Apple who just happened to be on the same flight as mine. Apple had lived in Melbourne for the last four years and grew up in Thailand, so she was going home to visit her sister.
We decided to check into our flights together so we could sit next to each other and bear the 10- hour flight to Bangkok.
First off, checking into our flight was a nightmare! We were flying Jetstar and the girl checking us in was in training. After checking my passport, she asked me if I had my flight information leaving Thailand.
I hadn't booked anything because I didn't have any set plans after Thailand. She said if I couldn't show proof of exit I couldn't board.
WHAT?!
I was literally sweating thinking that I was going to be stuck in Melbourne. That's when my new friend Apple spoke up and said that it was no problem for me to fly to Thailand without proof of exit and that we needed to speak with a manager.
After speaking with Customer Service, we got everything sorted out. It turns out, you don't need to have travel plans to leave Thailand to enter; the girl in training and was just following protocol.
So long Melbourne! Bangkok here I come!
After a long flight, we didn't end up landing in Bangkok until close to 11 pm. Apple, being the Thai speaking legend that she is, helped me get a SIM card for my iPad and service for my iPhone for less than $5. (Starting to like Thailand a LOT already!)
You can pick these up in the airport FYI. Bangkok airport has EVERYTHING!
We grabbed a glass of coconut juice and some Pad Thai in the airport. After having an awesome flight and meal together, Apple spontaneously decided to change her plans to join me on my trip. My first ever solo-trip and I already have a travel buddy!
We decided to stay one night in Bangkok and catch a 7 am flight to Phuket in the morning. Once we got to our hotel in Bangkok, we booked a room at a hostel in Phuket.
Ready to get to the beach!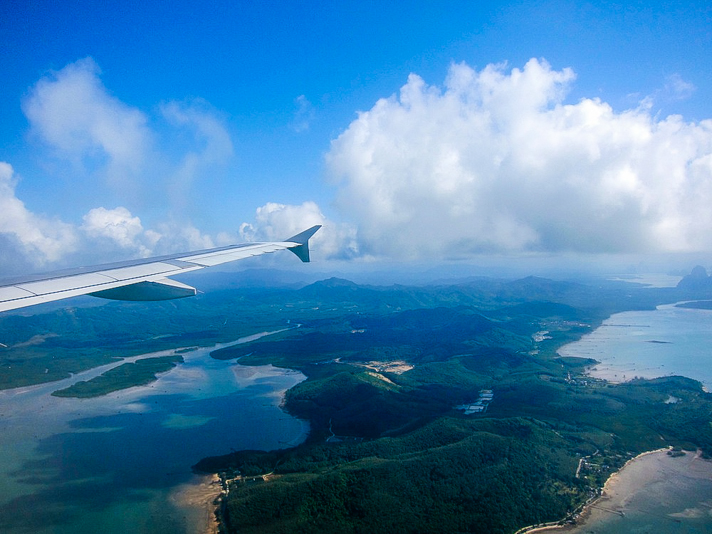 After landing in Phuket around 10 am we were picked up by the hostel car service and went to check in at Bodega Hostel in Patong. The hostel was awesome!
We had a private room for under $10 each within walking distance of the beach and the main street where the nightlife goes off. We grabbed a Singha beer and some lunch and headed STRAIGHT for the beach.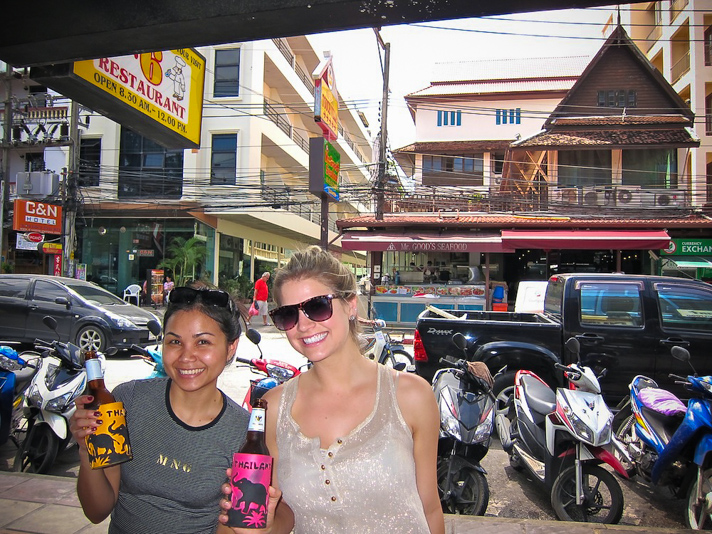 The beach was packed with tourists, but we managed to grab some chairs, coconut oil (to ensure optimum bronzing), and a virgin coconut to sip on. After 6 weeks in an Australian winter, I was ready for sunshine and sand!
It was so relaxing we both passed out and woke up near sunset. I have the sunburn to prove it.
Before heading back to the hostel, we decided to indulge in some pampering and get a massage, manicure and pedicure. At the salons, they have these crazy "Doctor fish" in tanks that eat the dead skin off your feet!
It was the weirdest feeling… like pins and needles all over our feet and legs.
But, they do a good job making your feet look pretty! We also got Thai oil massages and our nails were looking fabulous! We went back to our room to shower and get ready for dinner and a night out.
For everyone visiting Thailand, do NOT just go to the tourist restaurants.
You must go to the night markets where the locals go to grab amazing Thai street food. Not to mention, it is fresh and most items are only 20 baht (less than $1)!
We went crazy getting our fix of the delicious Thai food and tried everything we could get our hands on from mushroom soup to sticky rice and mango to fresh crab & lime!
We were so stuffed!
To celebrate the commencement of our journey through Thailand we decided to give the backpacker bars a shot and go out to the main street to grabs drinks. It was absolutely crazy packed with backpackers everywhere you looked.
I'm never a fan of these situations and would prefer a local's spot over a backpackers spot any day but, when in Rome, as they say. It turned into a MUCH bigger night than anticipated, but isn't that always the story?
The next morning we were planning to go to Phi Phi. We woke up that morning to the hostel staff banging on our door "You going to Phi Phi?? Your bus is here!!!"
Ahhh!
We slept through our alarm and hadn't repacked! We threw everything we could back into our suitcases and jumped in the bus taking us to the boat to go to Phi Phi. Onward we go!
So, to sum up Patong in Phuket, it's not really my cup of "Thai" tea. Without trying to sound too negative, Westerners have mostly taken over and it didn't give me the best first-impression of Thailand.
While there are beautiful beaches, they're packed with tourists. 24 hours in Phuket was more than enough for me. I only speak for Patong as I'm sure there are really nice parts of Phuket where you can enjoy beaches peacefully, and immerse yourself into local culture.
If you are looking to travel to really experience the true culture of Thailand, I wouldn't put Patong at the top of your list.

Have you been to Phuket?