While Bangkok has a reputation as a destination for sinful night life and for being a backpacker hotspot, its historical sites and vibrant culture make it a well-rounded and fascinating place to visit.
Here are some Bangkok travel tips to help you plan your Thailand experience!
What to Expect in Bangkok
Language: Thai is the local language, although all young people are taught basic English at school, and many signs are written in English.

Currency: Thai Baht is the local currency, exchanging at around 32 baht per dollar.

Credit Cards and Banks: ATMs are common, and while credit card acceptance is common, it is wise to use cash where possible as card fraud can be a big problem.

Climate: Bangkok is hot and humid throughout the year, with average highs above thirty degrees throughout the year.
Rainy Season: Rain is most common between May and October, meaning most visitors come between November and April.
Helpful Tip:
When the cab driver or anyone asks if you've been to Thailand before, say YES! Know in advance as best as possible what things like the taxi ride from the airport costs or you can get the "tourist price." With that being said, also be respectful of the local culture and don't try to haggle too aggressively.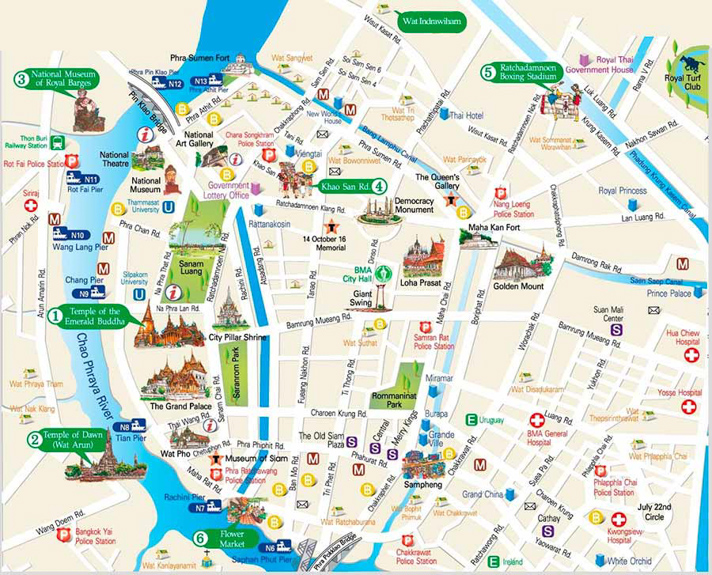 Getting Around in Bangkok
Bangkok is separated into many different districts and neighborhoods; each offering a unique flavor of the city! The most popular communities worth visiting are:
Sukhumvit: Home to the upmarket business center of the city and many of the most popular night life venues, while the Khlong Toei Market is an authentic Thai food market off the tourist trail.

Khao San Road: This is backpacker central in Bangkok, and is home to some popular cheap hostels, a range of stalls and bars, along with the historic Phra Sumen Fort which is one of the oldest remaining fortifications in the city. Take a peak and explore this famous area, but don't stay too long. It's a total tourist trap!

Rattanakosin: This is where many of the historic sights of the city are located, including the Grand Palace and the amazing Buddha statue at Wat Pho. There are also several other palaces and museums in this traditional central district of Bangkok.

Silom: During the day this part of the city is another busy financial district, but at night it transforms, with the vibrant and illicit night life which makes Bangkok both popular and notorious.

Dusit: This grand area of the city is where King Rama V built his sprawling Dusit Palace complex, while the district is home to most of the political and administrative buildings of the government, along with a wide range of museums and temples.

Where to Stay in Bangkok
While there is no shortage of budget accommodation, Bangkok also offers some of the finest hotels in the world.
Budget Accommodation in Bangkok
Lub D Siam Square (Best Hostel):  Great Location, clean rooms, dorm beds.

With dorm beds available from 750 baht,

Lub D

has a great central location, with friendly staff and clean, bright rooms that provide a great base from which to explore the city.

Loy La Long (Budget Bohemian B&B): Stunning design, Free Wi-Fi, Air Conditioning.

With a great location facing on to the river,

Loy La Long

is a stylish and modern place to stay with rooms available from 2,100 baht.

 

Dream Hotel (Trendy and Sophisticated Budget Hotel): Modern ammenities, Wi-Fi, Spa.

This five-star central Bangkok hotel lies in the heart of Sukhumvit- the Thai capital's stylish epicentre for fashion, entertainment, and nightlife. Best thing about

Dream Hotel

? Rooms from 2,100 baht.

"I LOVE Dream Hotel. It is my go-to and typically you can get pretty good deals on Agoda. They have a roof top pool, comfy beds and coveted bath tubs in some rooms! Their breakfast buffet is decent, they have spa specials before noon (think 2 hour treatments for 1900 baht) and are centrally located in the heart of Sukhimvit near the train, heaps of great food, bars and clubs."

– Diana of d travels 'round

Cape House (Affordable Luxury Apartments): Serviced Apartments, Central Location, Gym & Swimming Pool.

The stylish

Cape House

apartments are luxurious and well appointed, and enjoy great views, balconies and a range of facilities.
The Best of Bangkok Accommodation
Lebua (Best Luxury)

: With superb luxury suites that are amazingly appointed on the upper floors of the State Tower,

Lebua

offers an amazing experience with its own rooftop bar and an open air Mediterranean restaurant.

Mandarin Oriental Bangkok (Epitome of Opulence)

: A spectacular luxury hotel with its own gardens, waterfront location and sumptuously decorated rooms, the

Mandarin Oriental

is the top end luxury hotel in Bangkok.

Banyan Tree (Legendary Hospitality)

: An amazing resort at the heart of the city, the

Banyan Tree

has wonderful views from the rooftop restaurant, luxury rooms and an amazing health center and outdoor swimming pool with its own great city views.
What to Do in Bangkok
From great markets to wonderful historic sights, Bangkok is a stunning city to explore!
Riverboat Tour:  Bangkok is a city of variety with vastly different neighborhoods and there is no better way to get a good perspective of the different areas of the city than by taking a tour on one of the various sightseeing riverboat tours.

Chatuchak Weekend Market:

 With over 15,000 stalls, the

Chatuchak Weekend Market

offers everything from clothing and counterfeit football shirts to fresh food and souvenirs. It's a great introduction to Thai shopping.

"This labyrinth of 15,000+ stalls is like Bangkok in its purest form with its kaleidoscope of scents, sounds, sights, touch and tastes. Whatever you want, they have it. They literally sell everything here. I bought my first ever backpack at Chatuchak and I still have it until now, 6 years later! It's not just for shopaholics too, it's also a great place for foodies. Make sure to dress light and go early so you won't get shocked by the crowd."

– DJ from Dream Euro Trip

Visit Jim Thompson's House:  The home of the greatest American entrepreneur in Thailand in the 1950s and 1960s, the house of Silk magnate Jim Thompson is now a museum and is surrounded by beautiful natural gardens.

Man made island of Koh Kret: Having once been a part of the surrounding countryside, the island has now become a river island refuge for the Mon tribe, and offers some wonderful cultural experiences.

"The man made island of Koh Kret, which is in Bangkok's Chao Phraya river, is super awesome! A unique culture descended from slaves, unique food, pottery, and tranquil setting in the midst of BKK's cray."

– Ian of Where Sidewalks End

Explore Bangkok's Parks: The tropical surroundings of Bangkok are ideal for parks and gardens, with the Lumphini Park in Silom the largest in the city. Those around Phra Sumen Fort also offering a nice escape from the busy atmosphere of the city.

Grand Palace & Wat Pho:  At the heart of Bangkok's historic attractions, these spectacular buildings show off the wealth and privilege enjoyed by the Thai kings of old, and show off some of the best architecture and ornate decorations in the country.

Explore Bangkok's Parks: The tropical surroundings of Bangkok are ideal for parks and gardens, with the Lumphini Park in Silom the largest in the city. Those around Phra Sumen Fort also offering a nice escape from the busy atmosphere of the city.

Bike within the city or get off the beaten path in the countryside of Outer Bangkok with Grasshopper Adventures and see a completely different side to city with half day or full day cycle tours. Find quirky temples, hidden neighbourhoods and stunning landscape you never expected to find in this bustling and hectic city."

– Becki of Backpacker Becki

Muay Thai: The Thai national sport is more than just kickboxing, it is an amazing blend of martial arts and fighting techniques, with bouts regularly held in stadiums around the city. There are also classes on offer for those looking to learn the basics.

Amita's Thai Cooking Class: While most visitors get to taste the excellent Thai food, a visit to see Amita offers an insight into how to make the tastiest Thai dishes, along with a lovely herb garden where fresh ingredients are picked for the dishes.

"Amita's Thai Cooking Class is such a fun experience and she was so professional. She was amazingly educated on the ways of Thai cooking and knew about and showed us every ingredient found in her personal Thai garden that was right on the Phraya River. One of the cool thing about going to the cooking class is taking a private longboat down the river to her entry way (You can return by van), but the thrill of seeing everything from the water and actually stopping at someone's home was awesome!"

– Cacinda of Points and Travel

People Watch in Soi Cowboy: Home to some of the seediest bars in the city, this red-light district is near Sukhumvit Street and has a range of bars and cafes, and is a great place to see the night life of the city go by.

Visit the Weekend Night Vintage/Train market:  The best place to find vintage and pre-loved clothing and items in Bangkok. The Rod Fai Market has everything from antiques to vintage car parts and a great selection of street food stalls.
"I lived in Bangkok for 8 months a last year and without a doubt my favorite thing to do and see was the weekend Night Vintage/Train market. There are few tourists and the it full of cool funky things to see and better yet, a cool funky bars where you can share beers with friends with live music."
– Turner of Around the World in 80 Jobs
Helpful Tip:
My friend and fellow blogger, Sebastian, recently published a free eBook aimed for people who don't have that much time to travel but still want to experience the city as much as possible and try to live like a local. For someone looking for more tips on Bangkok, this comprehensive guide covers everything from Thai language for beginners to sample itineraries.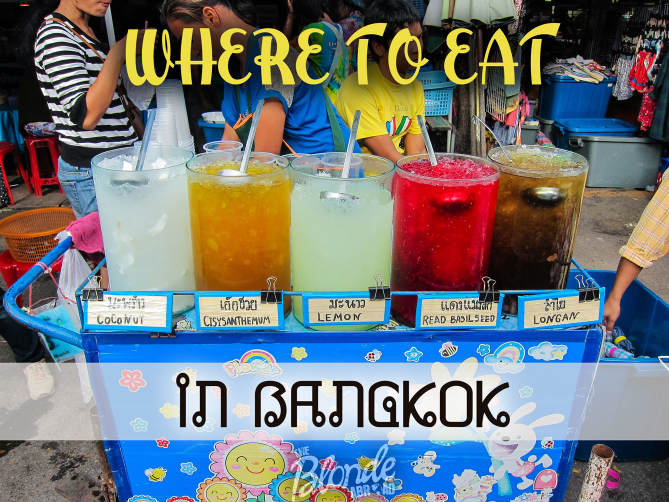 Where to Eat in Bangkok
From street food to fine dining, Bangkok has an amazing range of food on offer.
Chinatown (Street Food): With a range of stalls spread over a street that is over a kilometer long, this is where the food lovers come to try the amazing range of dishes on offer at great prices.

Sukhumvit Soi 33 (More Street Food): Offering superb Thai food at a great price, this vibrant area of the city is where many of the city workers mix with visitors and locals to grab a bite to eat before hitting the town.

"Right on the corner of Sukhimvit Soi 33 across from The Londoner pub, you will find some of the best Pad Thai in all of Thailand. It's so good, even my Thai friends are impressed by it. At night, there is a street vendor sets up shop for the most delicious food ever for only $1 USD. Next to her, there is also a great soup place as well as a noodle and rice place. It may be the most delicious street corner in the city!"

– Matt of Nomadic Matt

Asiatique Riverfront (Local High End): A lovely place to enjoy some of the best restaurants in town with nice river views, the area also has a wealth of shops to enjoy before heading home for the evening.

Bonita Cafe (Best Vegetarian):  This proud Vegan cafe offers excellent fresh food made with wonderful local ingredients that are tasty enough to satisfy even the most carnivorous meat eater, with the Japanese style curry a particular favorite.

Iron Fairies (Unique Bar): Offering great American cuisine in amazing surroundings, this is a place to be seen in. Enjoy trendy cocktails and drinks for a wonderful experience.

"Unlike any bar I've seen around the world, Iron Fairies seamlessly blends childhood fantasy with industrial chic. Hundreds of different coloured pots of fairy dust line the walls and sit atop tables, while smooth jazz plays downstairs. It can be a little of hectic in the main bar on the weekend, so hide yourself away in a private room upstairs if you're looking to make conversation. The cocktails are fine and there's glitter to adorn yourself with. What more do you need?"

– Casey of G Adventures

Sirocco at Lebua (Best Date Spot): While the international cuisine on offer is tasty, it is also a little on the pricey side, particularly by Thai standards. But, the amazing views make this the perfect place to enjoy a cocktail or two at the very least.

Nang Gin Kui (Ultimate Private Dining Experience): Known by many as the best dining experience in Bangkok, this small and cosy restaurant is in a city apartment offering some great river views. It really feels like you are a guest at a friend's house for dinner. It's the perfect place to have excellent Thai food and meet other travelers.
Helpful Tip:
I'd be lying if I said I wasn't a bit intimidated by the offerings of street vendors upon arriving in Thailand. Why is that rice purple? What's inside that banana leaf? How do I eat a whole fish on a stick? IS THAT A FRIED COCKROACH?!
While cuisine varies throughout the different regions of Thailand, this guide will provide first-time travelers to Thailand some insight into Thai street food culture: The Beginner's Guide to Thai Street Food
What are your favorite things in Bangkok?
Bangkok Travel Tips on Pinterest
Follow Kiersten @TheBlondeAbroad's board Bangkok Travel Tips on Pinterest.