The most common question I get to date is "How do you afford to travel so much?" My life has changed a lot since becoming a professional travel blogger, but my early travels were afforded by smart spending and strategic saving.
Here are 10 easy ways to set attainable goals for yourself… and save money to travel the world!

1. Reconsider Your Expenses
Do you really need cable?
Could you turn the lights off if you aren't in the room?
What if you cancelled your gym membership and exercised outside?
I cut out cable television three years ago and haven't thought about it once since. What else could you live without? Consider what you wouldn't be using while you travel and start to cut those things out of your daily costs now.
Instead of watching it on TV go out and live it!
Approximate monthly savings: $50

2. You're Beautiful the Way You Are
Beauty services are EXPENSIVE! Hair styling, tanning, waxing, etc. Think about how much money you could save if you simply stuck to your natural hair color.
This might not apply to all girls, but I used to rack up the service expenses to maintain my mop. Now, I only retouch my blonde once or twice a year. The rest of the time, I let the sun do its job!

BONUS TIP FOR THE GUYS
Ok this is totally for girls too because I use their service, but Dollar Shave club is a HUGE money saver for razors. I used to pay over $25 for a 4/pack of razors each month. Now, with Dollar Shave Club, I pay only $6 a month (ships free) and get a 4/pack of razors delivered right to my mailbox.
Approximate monthly savings: $70

3. Paint Your Own Nails
Again, beauty services… say so long! Until you are in Thailand and a pedicure only costs $3 get over it.
I know some girls say they can't paint their own nails… I promise, practice makes perfect! Still not convinced? Ask a friend for help! I can buy a bottle of nail polish for 1/10 of the price of the service and it lasts me months.
Approximate monthly savings: $30

4. Reinvent that Wardrobe
What goes around comes around… literally! Fashion trends repeat themselves so dig deep in that closet and you'll be sure to find something.
Bored of the same clothes?
Have a friend come over and ask her to put together five outfits for you from your wardrobe. You'll be surprised how different someone else might style the same clothes you wear the same way every time. It's like getting a whole new wardrobe!
Approximate monthly savings: $50

5. Sale Does NOT Mean Shop!
I cannot stress the importance of this enough! Seriously though, don't be deceived into thinking that a "good deal" can't be passed up. It can.
Only shop when you absolutely need to and if walking into a sale is a serious problem for you, like it is for me, avoid them! Don't browse the racks, get in and get out.
When you need to shop online for something specific, use websites like Honey (the best!), Retail Me Not, Groupon and Living Social to find coupon codes and discounted deals.
NOTE: Do NOT sign up for their email service! Anything that serves up an inbox full of temptation for you every morning should be avoided. While they offer amazing discounts, it's hard to resist something that you absolutely do NOT need simply because it's 50% off.
If you need that "shopping fix" for your own sanity, I highly recommend signing up for Birchbox. It's only $10 a month and you get high-quality beauty samples delivered to your door each month.
Opening a box full of surprise goodies (worth WAY more than $10) is thrilling, plus everything comes "travel" size so you'll be stocked up and ready for your trip!
Approximate monthly savings: $50

6. Dine In
Don't know how to cook? It's time to start learning! In all honesty, nowadays, it's sometimes cheaper to eat out.
But here's where coupons come in handy! Before dining out, always check the newspaper for coupons or use websites like Restaurant.com or Groupon for discounts or meal deals.
When it comes to grocery shopping, browse weekly ads for savings. If you're only cooking for yourself, I've found that it can be much more expensive than cooking for two, so stick to the basics and get creative.
Plan out a menu for the week BEFORE you go shopping. One of my tricks to saving is sticking to the same meals with small twists every few days. The less variety I buy the less I waste.
Approximate monthly savings: $100

7. Stop Social Spending
I don't suggest you cut off your social life but it's time to make some changes. FOMO (Fear of Missing Out) is one of the most expensive mental disorders out there.
A new outfit for the weekend, going to the movies, going out to dinner, one drink leads to another, cab fare…
Weekends can literally wipe out your savings in one unforeseen swoop!
Consider inviting friends over for wine or homemade cocktails and suggest BYOB or ask everyone to bring a side dish. Another idea is to research local "free-tivities" in your city and get a group of friends together for a fun day out that won't break the bank.
Approximate monthly savings: $100

8. Name Brand vs. Generic
I'm guessing that if you're interested in budget travel and looking for ways to pinch your pennies you aren't rocking Louboutins or Chanel out on the weekends.
Consider that name brand Kleenex costs $.50 more than a generic brand facial tissue, so you buy the name brand because it's a small price to pay for a perceivably better product. If you do that with everything you buy it adds up!
Even if it's only an extra $5 for the better item, don't do it! Don't be fooled by fancy packaging or labels. Change your money mentality about cost and value and save any amount that you can whenever possible.
Approximate monthly savings: $40

9. Sell it!
Have boxes of "junk" sitting in storage collecting dust? One man's trash is another man's treasure!
Have a garage sale or list your stuff on eBay or Craigslist. It costs you nothing to make a little something.
If you have "like new" or "gently used clothes" but have been holding onto them because they're worth more than $.50 at a garage sale, check out Tradesy, a free online platform for buying and selling clothes. Tradesy takes a small commission on the sale, but sends you a prepaid shipping label and packaging so all you need to do is sell, then drop it in the mail!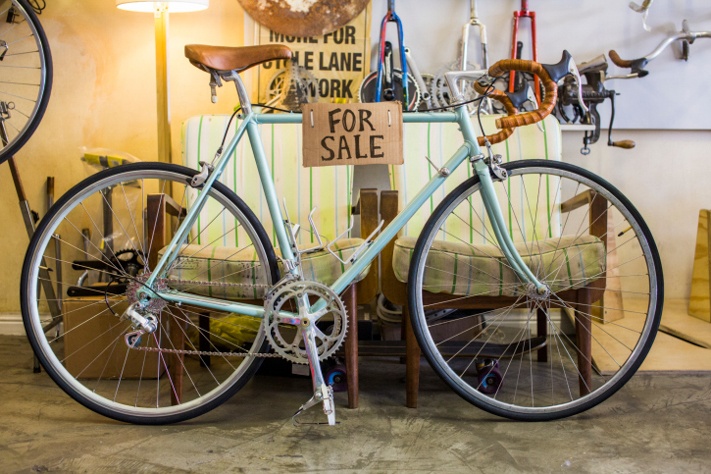 10. Out of Sight Savings
So now that you've got all the tips, you're going to start putting money in your savings right? Right?!
Probably not.
But, what if it was automated? And also smart? I highly recommend using Digit, a FREE service that links to your checking account, studies your income and automatically saves what you can afford. A few dollars here. A few dollars there. You won't even notice it happening.
BONUS: Sign up for free and Digit will add $5 to your account for every friend you refer!
Just using modest approximations for monthly savings I've demonstrated how you can easily cut back expenses of almost $500 a month or $6,000 a year. Not everyone spends that much and a lot of people spend a lot more, but consider that cutting back even $100 in expenses each month would save you $1200 a year (enough for a roundtrip flight from LA to London)!
So when people ask me how do I afford to travel so much it's quite simple. It's how little I spend rather than how much I make. We all have the ability to choose between spending our money on things like a new flat screen TV or experiences like a month in South America… and you know which I'd choose!
Start cutting back your unnecessary expenses and you'll see how easy it is to save money to travel the world!