No matter what type of traveler you are, there are plenty of tricks to maintain an easy and practical beauty routine while on the road. See for yourself!
[youtube id="AZuH5gVkWiE" width="70%" height="40%"]
My list of travel beauty hacks is great for every budget!

Silk Pillowcase
Not only is this soft and luxurious little sack a slice of heaven on the road, it offers some great health and beauty benefits as well!
Silk fiber is produced with little-to-no chemical exposure and is also naturally hypoallergenic (resistant to dust mites, fungus and mold, in addition to many other allergens).
The tightly-woven and silky-smooth fibers give it one of the lowest absorption rates of any fabric on the market- helping your skin maintain its natural moisture, preventing wrinkles and keeping bed head at bay!
It's the best affordable little luxury for any type of traveler! 
Travel Size Perfumes
One of the easiest items to get for your travels are sample perfumes. They're perfectly travel-sized and FREE– all you have to do is ask. Nordstroms and Sephora are the best about free samples; simply ask and they'll typically have manufacturer samples.
If they don't, they'll usually decant a sample for you.
I have also found some great roll-on and mini-spray options that are fairly inexpensive, but if you're like me (and prefer to mix up your musk depending on your destination), grab a couple of free samples to test out. If you fall in love with the scent, buy the full-size bottle when you get home and it will always remind you of that special somewhere.
Coconut Oil
Coconut oil is like the Godfather of all beauty products. There are literally HUNDREDS of uses for coconut oil– make your own all-natural deodorant, use it as an everyday lotion, cook with it and even heal sunburns.
Bottle up some all-natural coconut oil and use it for all kinds of beauty solutions on your trip:
Tame split-ends or use as an overnight intensive conditioner
Make your own all-natural homemade SPF 20 sunscreen
Rub on nails to moisturize cuticles
Apply as an itch-cream for mosquito bites
Use as a gentle makeup remover
The list goes on and on, but I always pack a bottle of this tropically delicious stuff on every trip to keep my hair shiny and skin smooth!
Contact Lens Cases
I don't actually wear contacts- I simply use the cases. But why, you might be wondering? I realized that my mom was getting a new case for free every time she bought a new bottle of contact solution. She had a whole box full of these cases because she simply didn't need them.
Turns out, they make perfect mini-travel containers.
I pack about three of these cases (for single use liquids and gels) in my carry-on and also keep them in my purse at all times. Simply paint the caps with colored nail polish to distinguish between the contents and fill with toothpaste, coconut oil, face moisturizer, sunscreen, anti-bacterial hand gel, etc.. If I'm going on a lengthy trip, I pack travel sized-containers and refill my contact lens cases for daily use.
No need to lug around big bottles while you're out exploring!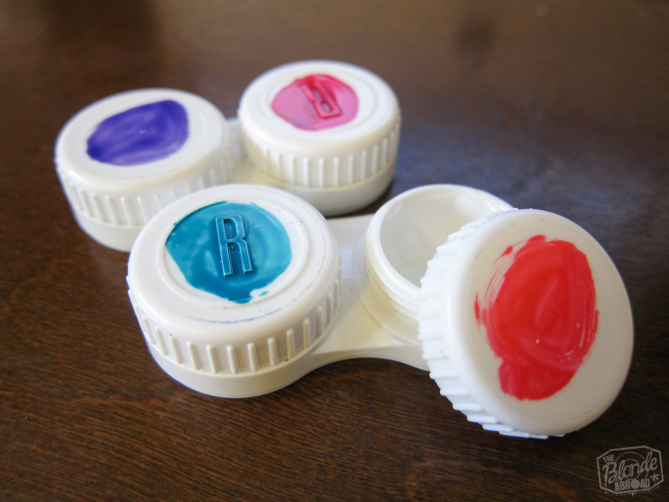 Colorful Lipstick
One of my ultimate travel beauty hacks is always traveling with a few bold lipsticks. If I'm on a budget travel trip, I can pull a full Cinderella story with a simple wave of my "Lady Danger" wand.
There's something so classic and confident about a woman in red lipstick.
Turn heads as you walk out of a hostel and into 5-star resorts with that $20 dress and fun, flirty and fierce lipstick. No matter what type of traveler you are, colorful lips will have you looking and feeling like a million bucks.
Cordless Curling iron
Having naturally straight hair, I find it hard to relate to girls who insist on traveling with all kinds of hair appliances on their trips. But, I also understand how frustrating it must be to have unruly hair during your travels. The cordless curling iron takes beauty-on-the-go to a whole new level!
This has to be the most practical (and awesome) travel-friendly hair appliance ever.
The iron uses butane gas and acts just like a lighter- a simple click heats the metal rod from the inside without needing any sort of electricity. Each butane cartridge lasts 2-3 months, so no need to fuel up on the go. It's small enough to fit in a purse or backpack making it perfectly pack-able!
Did I mention it's less than $20?
Sockbun
It's no secret- I stuff.
Take a tube sock (preferably new), cut off the toe, roll into a doughnut shape, then pull your ponytail through and roll together to form the perfect bun! You can also find hair "donuts" on Amazon that match your hair color.
Make it messy or keep it sleek for the easiest "impossible-to-achieve" hairstyle ever.
Statement Jewelry
One of the easiest travel hacks for a light suitcase is to pack a few essential pieces from your wardrobe and some statement jewelry. I typically bring at least 3 chunky or bold necklaces and a few pairs of va-va-voom earrings.
Changing up your accessories can transform a single outfit that's perfect for daytime exploring to something that's ideal for dinner and dancing.
The best thing about costume jewelry is that it's inexpensive; so, if you lose something, you won't be devastated! H&M and Forever 21 are some of my favorite places to shop for amazing pieces under $20.
Crest Whitestrips
I smile. A lot. So I like to keep my teeth nice and white. After getting my braces off in my teens, I went straight to Crest Whitestrips to bling up my smile and I've been using them ever since. It only takes one package to get a noticeably whiter smile.
Simply strip, apply and leave on for 30 minutes. That's it! The no-slip grip stays put so you can even talk and drink water while whitening. 
I always bring a few on trips to keep my smile bright!
Dry Shampoo
I have really fine and oily hair which is a real pain on the road. On many trips, I'm not afforded the luxury to wash my hair (or even shower) every day. So, I always bring some dry shampoo with me. Instead of using department store aerosol dry shampoo, which can be both environmentally unfriendly and full of damaging chemicals,
I make my own!
Here is a simple and all-natural dry shampoo "recipe" perfect for light or dark hair:
1/4 cup arrowroot powder OR corn starch
5 drops essential oils
Combine, stir and store in a travel-size jar
Apply with a Kabuki face makeup brush on your roots at night (or a couple hours in advance) and wake up with squeaky clean and voluminous locks!
Wet Brush
This "as-seen-on-TV" product really works! I always bring my Wet Brush on trips and can easily comb through wet and even salty beach hair.
 It's a miracle for girls with easily tangled hair!

Shop my favorite travel products!

Do you have your own travel beauty hacks?
Comment below!