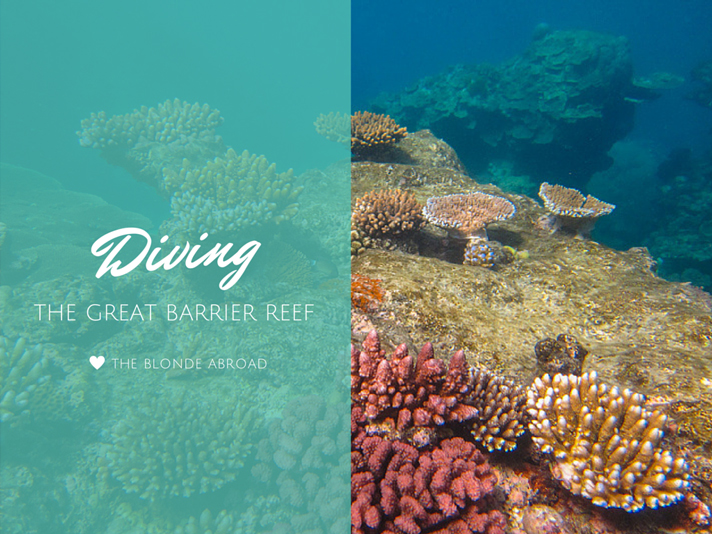 I had booked a short trip up to Cairns, Australia and planned on spending the last day of my trip scuba diving in the Great Barrier Reef.
Yes, the Great Barrier Reef!
I have always been fascinated by the GBR and so I booked an exploration trip before flying home that same night. I couldn't have been more excited to explore the famous reefs!
I booked a trip through Reef Experience that, while an amazing experience, could've been my last.
I showed up to board the ship at 7 am (as instructed by my confirmation email) and somehow the company never received my booking. Unable to pull up my confirmation because I didn't have my trusty iPhone, I spent the next 15 minutes trying to convince them to take my money and let me live out one of my lifelong dreams
After much persuasion, they let me stay on board and, thankfully, no tears were needed.
Helpful Tip #1:

Always print booking confirmations
My anticipation to dive for the first time ever was enormous, not to mention that it was going to be in the GBR. I was pacing the boat back and forth as we set off into the great abyss. I definitely was that token annoying passenger asking the staff a million questions like,
"What should I expect?" "Will I see a shark?" "What should I do if I see a shark?"
Once we were about an hour out on the deep blue sea, the staff began making their rounds to ask passengers a series of health related questions. After letting them know I was perfectly healthy they asked about my flight information.
As I mentioned before, I had planned to fly home later that night.
The staff then informed me that I couldn't dive because there are health risks involved when diving and flying in the same day. I was seriously disappointed in my blunder but I adopted the mindset 'no scuba… no big deal'. Bring on the snorkel.
Helpful Tip #2:

There are health risks involved with diving and flying in the same day. Plan accordingly.
We eventually made it to the first dive spot after a couple of hours at sea. I was expecting our boat to show up to a beautiful, tropical, deserted island where we would swim through crystal clear water, and endless amounts of colorful reef off the shoreline.
To my surprise, most of the reefs are in the middle of the ocean with no land in sight.
I'm not one to fear the big blue, but jumping off a huge boat into the middle of the dark depths of the ocean (not to mention in the pouring rain) feels like something out of one of those horror movies.
After strapping into my wetsuit, flippers, and snorkel gear, I took a leap of faith and jumped in. Once I was submerged, I had to swim over 100 meters to get to the actual reef.
It was one of those situations where I didn't want to open my eyes because all I would see was endless depths of ocean around me. Do you know that feeling? I pointed myself in the direction of the reef and swam like hell! I don't think I've ever swam so fast!
So while it was a bit terrifying to jump out into the middle of the ocean at the first dive spot, as soon as you made it to the reef, it was like a playground of underwater activity.
Helpful Tip #3:

Don't believe everything you see in movies.
Fish surround you and the reef seems endless. Even though it was pouring rain above the surface, all was peaceful and beautiful under the sea.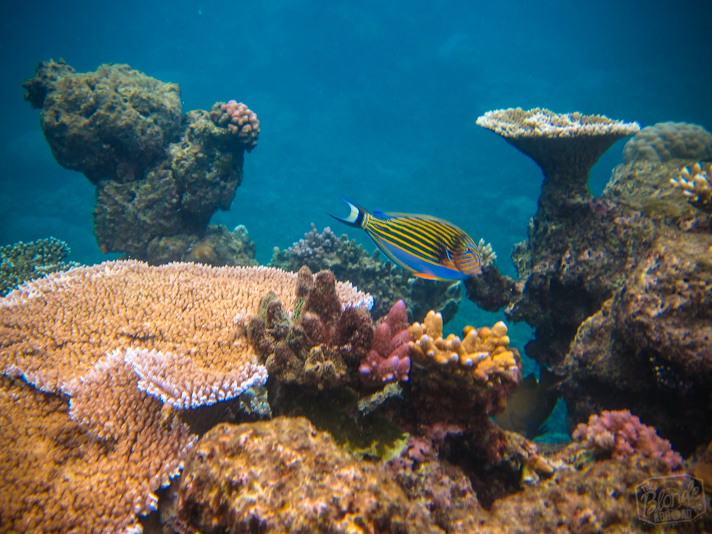 Our second dive spot was at Hastings. After following the same terrifying, "jump and swim to the reef" routine, I encountered an even more beautiful metropolis under the sea.
I crossed paths with a Humphead Maori Wrasse, a few giant clams, and hundreds of other species of sea critters. I even got up close and personal with a reef shark!
So, to answer my own question of whether I would see sharks, yes, you just might.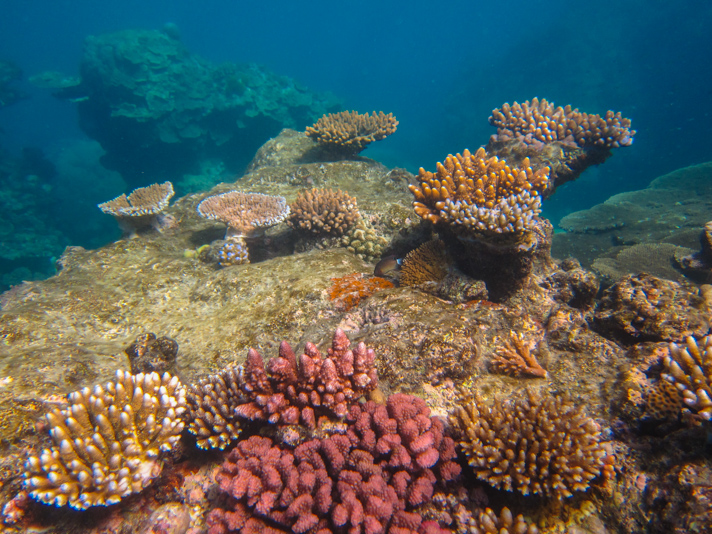 I was so mesmerized by the underwater wonder of the reef that I completely lost track of time. I peeked my head up above the water and, while the boat was still off in the distance, there wasn't anyone else out in the reef with me.
Panic struck me as the rain continued to pour down, and the rough surface of the ocean carried me further away from the boat. I had to swim back yet again, through the deep ocean for what felt like an eternity before reaching the boat.
As soon as I set foot on the back of the boat, the engines roared and the boat started in the direction back to shore.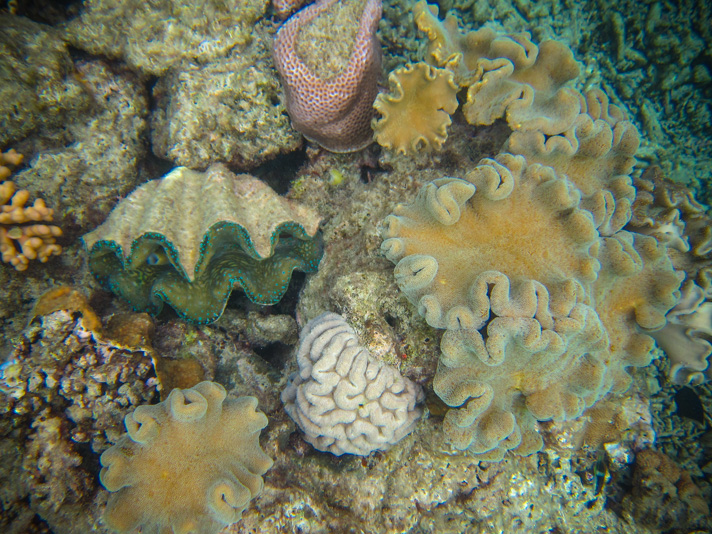 I came to learn that, because the company never received my confirmation email, I was never listed as a passenger on the boat. I was in the bathroom after the first dive site when the company took role. I had no idea it even happened.
When, after everyone was back on board from the second dive site and the crew gave role call for all of the passengers, I freaked out.
They didn't call my name.
I went up to the staff-member to let them know the situation with my confirmation and how I paid cash to join the day trip that morning. They also realized I wasn't on the list.
It didn't occur to me that they wouldn't be looking for me out at sea! I am not 100% sure the boat started up because it was waiting for me, the last passenger, or if they would have left me out at sea while I was still out hanging with Nemo.
Helpful Tip #4:

Ensure that you are on the passenger list and make sure the company you dive with checks for all passengers before moving on to the next diving spot.
Overall, the trip was everything I had hoped for. It was an all day affair and we didn't return home until almost 5 pm. While I had a bit of a nervous experience, I would still recommend the company as it was an awesome day trip.
I would love to have had more time and more funds to get to do one of the reef trips where you spend a few nights out at sea, like with the overnight sailing tours that offer multiple days of scuba diving at various reef locations.
There's always next time!
In regards to my close call of being left to sleep with the fish, I've come to learn that it really is a problem with many reef trip companies leaving passengers at sea.
Just a few days later an American tourist was left at sea but, luckily, was able to swim to a nearby boat for rescue. I don't know if I would've been so lucky considering we were the only boat at our diving locations. Hopefully this isn't a common experience!
So, do a little reading up, follow my helpful tips and dive in!

Location: Cairns, Australia Company: Reef Experience Cost: $185 AUD (approx. $163 USD) Useful Notes: As I mentioned before, I would still recommend this company. The day tour is all-inclusive and includes breakfast, lunch, wine and cheese. There's also coffee and tea onboard in case you get chilly after surfacing from your dive.

Have you been to the Great Barrier Reef?