It's really exciting to revisit my past life as a financial planning associate and be able to help people save money to travel. I remember when I was younger my parents put a heavy stigma on credit. "Credit is bad. Credit will get you into trouble. Credit is for spending money you don't have." While that can be true for some people, when used responsibly,
Credit is Your Friend.
Just before I left for my trip to Europe this summer I was looking into getting a new credit card to use that gave travel miles as a reward. While browsing JohnnyJet.com I came across the godfather of all travel reward credit cards, the British Airways Visa Signature card.
I'm going to walk you through the basics of the card, how I used it while traveling through Europe, how I earned a free international round-trip flight and why you should consider applying for the card. So for anyone who has been looking for money saving tips to travel…this is where you start to pay attention.
Here's how you can earn free international flights!

British Airways Visa Signature Card Specs:
Earn 50,000 Bonus Avios. You will get 50,000 bonus Avios after you make $1,000 in purchases within the first 90 days of account opening.
Earn Avios for Purchases. In addition to the bonus, cardmembers earn 2.5 Avios for every $1 spent on British Airways purchases and 1.25 Avios for every $1 spent on all other purchases.
No Foreign Transaction Fees. You will not be charged a foreign transaction fee when you make purchases abroad.
Smart Chip Technology. Smart chip technology allows you to use your card for chip-based purchases in Europe and beyond.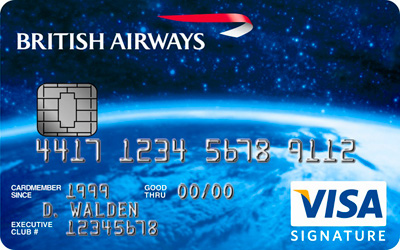 The Fine Print on Fees:
Low APR: 15.24%
Annual Membership Fee: $95
Reward Flights: Tickets are subject to taxes, fees and carrier charges. A round-trip flight from New York to London is approximately $650 per person in economy or $1,100 in business class. (My example below shows fees of only $5 for for economy to Hawaii)

What This All Means in Plain English:
I applied for the card one month before I left for Europe. I booked my round-trip flight to Madrid with the card. I also flew with British Airways partner airlines Iberia and American Airlines. How the points break down:
50,000 Avios for the $1,000 spent within 90 days. I earned this when I booked my flight and the points showed up within 6 weeks.
2.5 Avios for each $1 spent on my flight since it was a qualifying British Airways purchase.
Mileage Avios for the miles I earned for my actual flight.
1.25 Avios for each $1 spent during my travels in Europe.
Total Avios earned: 65,246

Final Benefits and Costs:
I paid $0 in fees for all international transactions. My own bank debit card charges me 3% on a single transaction abroad. I even got a better currency exchange rate using my credit card than I could with cash or my debit card.
I earned enough Avios for a free international round-trip flight (ex. 50,000 for round-trip to London)
My total cost for taxes and fees to book a flight will vary (See example below)
If you pay your card balance down each month you will pay $0 in interest
Total annual fee for the card $95

Redeeming Avios for FREE Flights:
Here's an example of how I can book a flight from Los Angeles to Honolulu, Hawaii for only $5.00!
So in the end, I have a $95 annual fee, a $5 fee and used 25,000 Avios for my round-trip flight to Honolulu.
The flight would have cost me $366.40. Plus, I still have 40,245 Avios to use towards reward flights.

Any Further Questions?
See if you qualify for the British Airways Signature Visa and start earning points towards free travel!

For more info, visit The Points Guy for the BEST way to use your Avios:
HELPFUL TIP: If you have been looking to get a travel reward credit card, I recommend applying for one before a big trip or purchase. Some of the biggest benefits are earning points to use for free flights and hotels. Plus, many cards offer additional points when making travel-related purchases. Some cards also offer travel protection when you pay for a trip with the card.
My personal favorite is the Chase Sapphire Reserve (for frequent travelers) or the Chase Sapphire Preferred (if you're just starting out)! Check out my favorite travel reward credit cards!