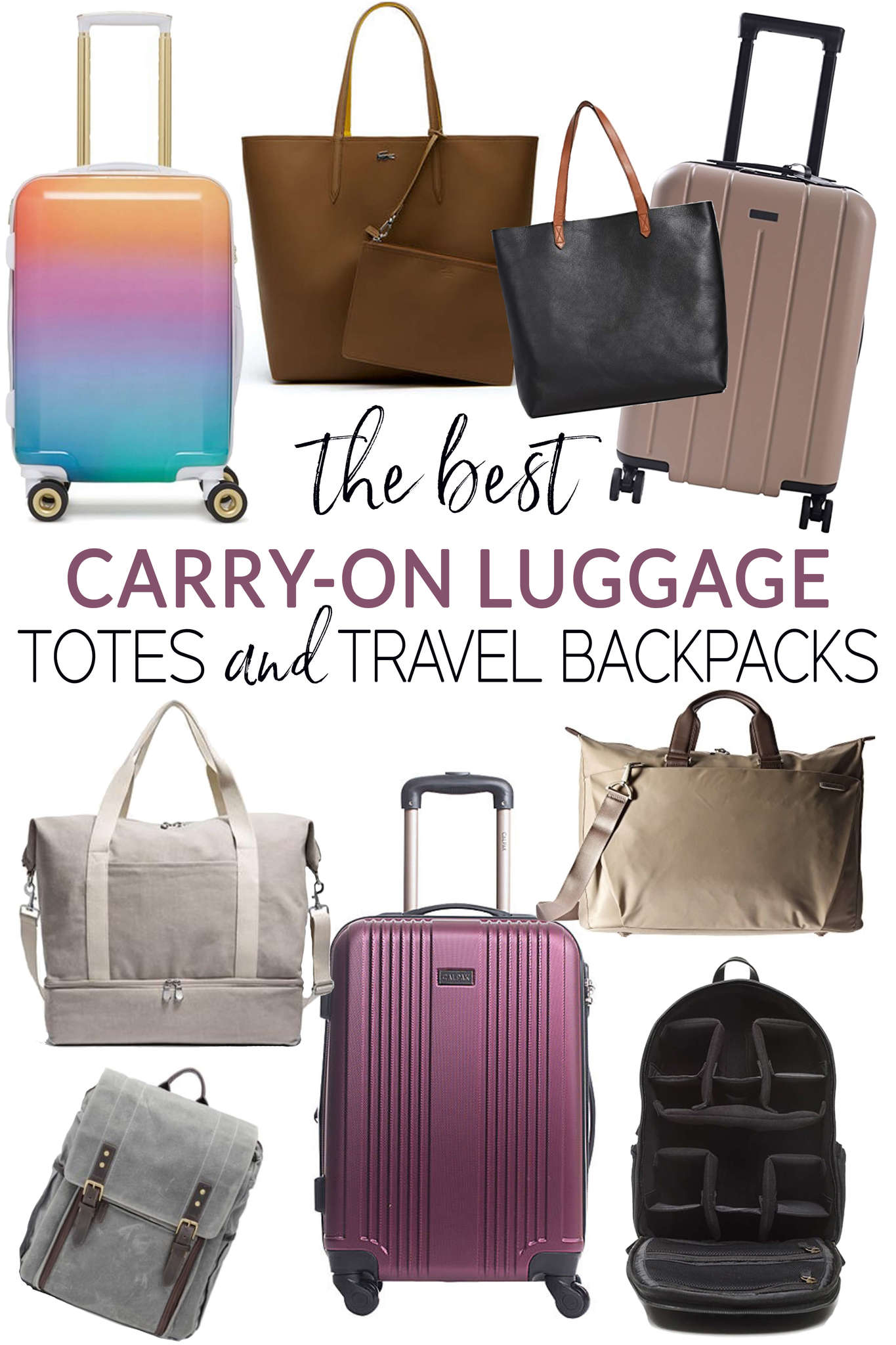 Good luggage is important, but it doesn't need to take a toll on your trip budget. Sometimes it's just way easier to fit everything into a carry-on and backpack and not worry about checking your luggage, especially if you have quite a few legs, or flights with different airlines along the way.
I opt for a spinner carry on and a large backpack that fits my photography and computer gear. Over the years, I've used quite a few different totes, gear backpacks and carry-ons, but some have stuck longer than others.
Here are my favorites—the best carry-on luggage, travel totes and travel backpacks!

Best Carry On Tote Bags
Extra Large Tote Bag ($44) This tote is made of easy-to-clean, waterproof Nylon. The material is lighter than other nylon totes and can hold quite a bit of weight. It contains 1 interior zip pocket and 2 slip pockets, plus fits a 15 inch laptop. It also comes in all all-black style!
Large Reversible Tote Bag ($128) I love the look of this large tote bag. It is crafted in a reversible, coated canvas and includes a detachable clutch/pouch so you can pack what you need, or put your essentials in it, so they don't get lost in the tote. The tote also comes in green, beige, and black!
Madewell Transport Tote ($168) Madewell makes amazing, high-quality products and this tote is no different. This leather tote is perfect for a classic, everyday look. It has an unlined interior with 1 zip pocket. They also have a pretty, darker tan style here.

Best Carry-On Travel Backpacks
40L Lightweight Water Resistant Travel Backpack ($20) If you're on a budget, look no further than this backpack — it will get the job done for way less than more travel backpacks. While it is made of a durable, tear resistant Nylon fabric, and is ultra-light, don't forget that you're only paying $20 for it.
AmazonBasics Carry-On Travel Backpack ($49) Contains a front pocket pocket for easy access to documents and liquids, a main packing compartment with an organizer, and expandable storage space. The main compartment functions as an unstructured suitcase that can be quickly converted into a backpack.
Women's Fairview 55L Travel Backpack ($180) The women's specific fit Osprey Fairview 55 is the perfect companion for a long weekend or a few weeks backpacking across countries. The LightWire frame suspension transfers the load from harness to hips and a mesh backpanel improves ventilation.
48L Travel Backpack for Women ($258) This is the actual backpack I used for my first three-month backpacking trip around Australia and Southeast Asia! The backpack is a great fit for females and lightweight functionality.  

Best Camera Gear Backpacks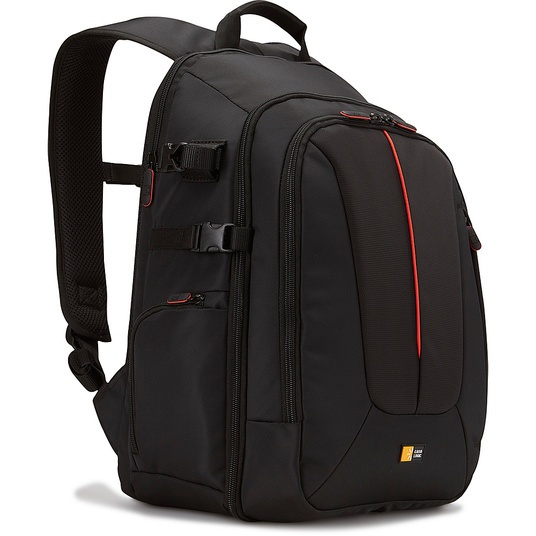 Case Logic SLR Camera Backpack ($88) I used this backpack when I first started traveling with camera gear — it carries a SLR camera, lenses, flash and 15 inch laptop comfortably on your back.  It has an adjustable divider system provides customizable organization which I love!
Mountainsmith Borealis Camera Backpack ($195) The Borealis combines the protection and organization of a camera bag with the comfort and efficiency of a technical backpack. It ha separate camera and laptop compartments, plus extra storage space for your essentials.
ONA Camps Bay Backpack ($429) I used this backpack for about two years of my travels and I loved it! It fit ALL of my photography, drone and computer gear, and is made of a super durable and water resistant material. It is a little more bulky than other camera gear backpacks, but I need that space most trips. It also fits up to a 17 inch laptop!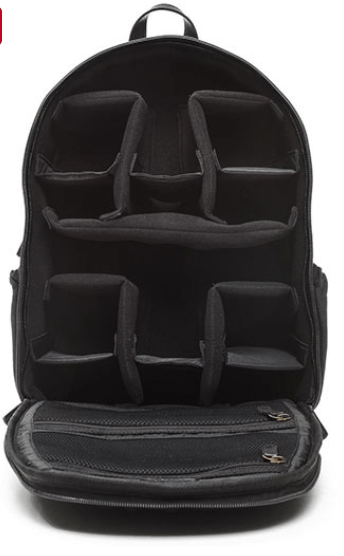 ONA Big Sur Backpack ($529) I just switched to this backpack from the Camps Bay (above) and it's my new go-to. It fits less gear, but comfortably fits my SLR camera, 3-4 lenses, cords, batteries, wallet and up to a 15 inch laptop. I highly recommend!

Best Carry-On Luggage
Rockland Melbourne 20-Inch Expandable Carry On Luggage ($49) This suitcase is a 20 Inch made of lightweight yet extremely durable ABS material. It does have multi-directional spinner wheels and comes in a TON of cute colors — I love the mint and navy blue! I love carry-on bags that are expandable, because my packing job on the way home is usually not as tight as it is getting there!
Amazon Basics Hardside Spinner Luggage ($50) This 20 Inch spinner is made of a protective hard shell with scratch-resistant finish and boasts an extra-thick ABS for durability. This is great if you're looking for a basic black suitcase, or don't care about color! It's also very affordable for a great quality hard case carry on.
CALPAK Torrino Expandable Hardside Carry-On ($95) This 20 inch carry-on case is a hard-sided shell, and includes a combination lock for extra security, a push-button locking telescoping handle system, and spinner wheels that rotate 360 degrees. I personally love CALPAK luggage and especially their packing cubes.
CALPAK Hardshell ($135) I just LOVE the design of this carry-on! It's similar tho CALPAK's expandable hardside carry on, and can spice up any travel day. The zippered divider creates two separate packing compartments, and an expansion sleeve unzips to increase the packing capacity.
CHESTER Carry-On Luggage ($155) This 22 Inch is very lightweight because it's a 100% polycarbonate hardshell (meaning it's usually more durable then ABS shells). You can find this roller in a beautiful blue, grey, beige or black color!

Best Carry On Duffels + Weekenders
Lo & Sons Catalina Deluxe Large Weekender  ($128) I've taken the Large Catalina Deluxe Weekend on a few trips, and I'm always amazed how much I can fit in the bag. It has a large compartment that I use (with packing cubes) and also features a zippered bottom compartment, designed to keep your shoes or dirty clothes separate from the rest of your items, which I love!
TUMI Just in Case Travel Duffel ($95) The duffel is made from nylon fabric and features a unique design that folds flat for easy packing inside a suitcase or a larger travel bag (great for bringing home all those extra souvenirs!). Detailed with two narrow top handles, this duffel has a zip top closure and a roomy interior that makes it easy to stash all your essentials.
Briggs & Riley Weekender ($219) This weekender is made of a high-quality, lightweight Nylon on the outside, and is resistant of wear, water, and dirt. I love that this weekender has a slip-through panel so you can place it on your roller luggage. The handle is also detachable!