Dubai is unlike anywhere else on the planet. With its bold architecture and audacious style, the United Arab Emirates' largest city is a distinct fusion of its Bedouin heritage and an ultramodern style all its own.
Dubai doesn't just live up to its reputation; it will completely exceed your expectations. Explore the glitz and glam, and then uncover the ancient traditions of this multifaceted city.
So much more accessible than anywhere else in the Middle East, Dubai deserves a place on every traveler's bucket list.
So, here's my ultimate Dubai travel guide!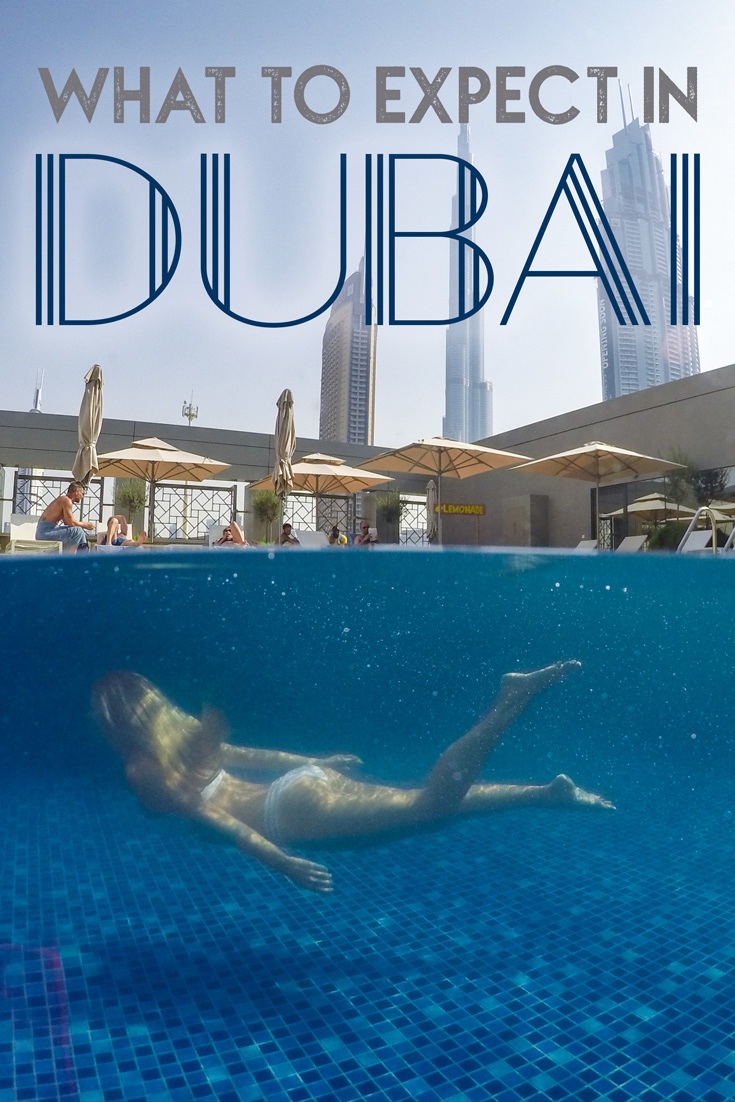 What to Expect in Dubai
Language: While Arabic is the UAE's official language, English is the language of business and is spoken by almost everyone in Dubai.

Currency: Dirham (Dhs). The exchange rate as of the time this article was written is Dhs 3.67 to USD 1.

Credit Cards and Banks: Cash is still king here. While most places accept credit cards, it's best to always carry small change.

Climate: Summers are extremely hot in Dubai. Daytime temperatures are sometimes over 106 degrees while nights rarely fall below eighty-eight degrees. Winters are much more comfortable with temps between sixty and seventy-five degrees.

Good to Know: The minimum drinking age is twenty-one and there are areas where photography is prohibited, so watch out for signs.
Getting Around Dubai
From the Airport: Book a Marhaba Bronze "meet and greet" service to fast-track through the airport with zero hassle.

Public Transport: It's forbidden to eat or drink in the metro (and that includes chewing gum!). Cabins are reserved for different categories, like women only and gold class, so watch the signs. Sleeping is not allowed in stations.

Taxis: Book a cab by calling 04-2080808. Cabs have a minimum meter charge of Dhs 12. There's also a Salik charge if you need to go through a toll road.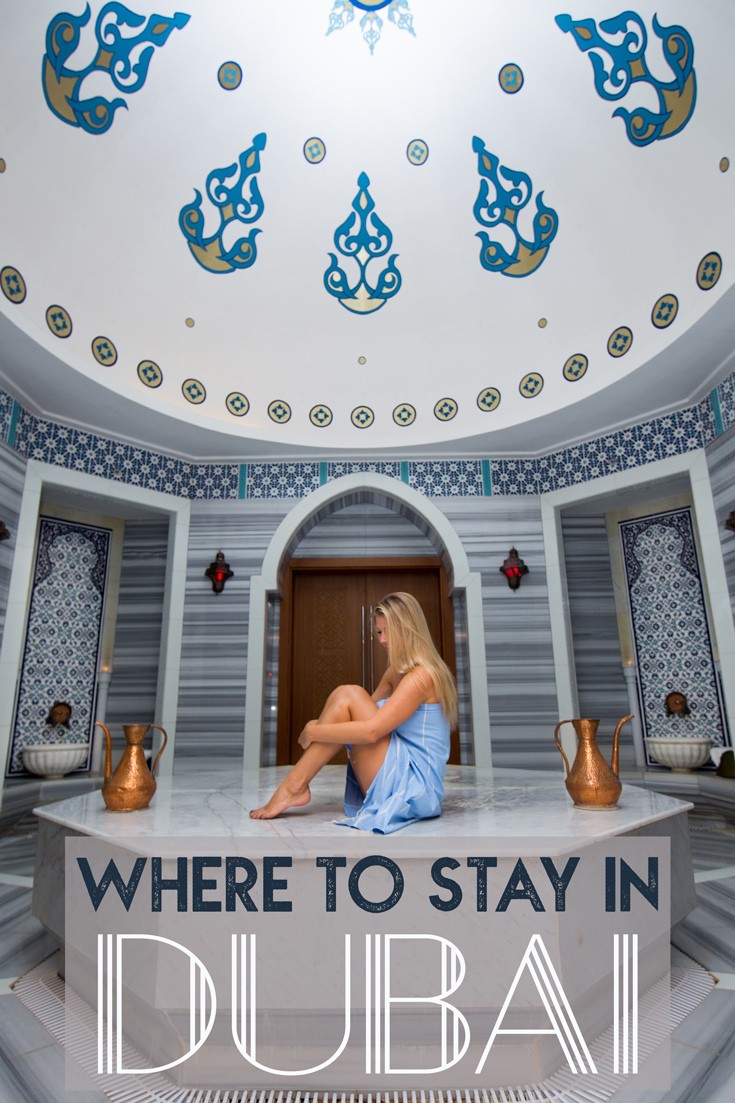 Where to Stay in Dubai
Rent an Apartment in Dubai
There are tons of reasonably priced vacation apartments in prime locations, especially around the Dubai Marina Area. You can get a private suite for just $40 per night on Airbnb as well as other great accommodation options!
• • • FREE $35 AIRBNB COUPON CODE • • •
Sign up for Airbnb HERE and get $35 off your first $75 Airbnb stay!
Budget Accommodations in Dubai
Rove Downtown

: For top-notch service at a budget rate, look no further than this centrally located, modern and chic hotel.

 Check out my stay here!

XVA Art Hotel

: This historic and charming guest house is centrally located with all the amenities you could need. Perfect for those traveling on a budget!
Luxury Accommodations in Dubai
Bab Al Shams Desert Resort & Spa

: Meaning "getaway to the sun" in Arabic, this five-star luxury desert resort is set amid the sand dunes outside of Dubai, and is a true oasis.

Check out my stay here!




Four Seasons Jumeirah Beach

: Jumeirah Beach has 237 beautiful rooms, all of which are filled with a variety of sophisticated facilities and restaurants to ensure a comfortable and luxurious stay.

St. Regis Dubai

: The St. Regis Dubai is a spectacular and stunning hotel. You'll find beautiful facilities, top-notch service and luxury to no end.

Rixos Palm

: Standing proud on the impressive Palm island is Rixoa. This Turkish five-star hotel chain has an unparalleled view.

Check out my stay here!
What to Do in Dubai
Go to the Top of Burj Khalifa: Get an unforgettable view from the top of the world! You can't visit Dubai without going to the planet's tallest skyscraper.

Explore Old Deira: Dubai is so much more than it appears. Take a tour with

Wander with Nada

to peel back the layers of this dynamic city.

Desert Safari: See another side of Dubai on a desert safari. Leave the bright city lights behind and see what Dubai used to look like no so long ago. Note: While there the temps are cooler during the evening and morning tours, winter is the best time for a safari.

Skydiving: There is no better view than the one that you get when you are falling out of an airplane from 12,500 feet above the ground.

Zip Line over Fountains: Get some selfies in front of Dubai's beautiful fountains then fly by for a view from above. Generally this is closed for the summer but check the calendar before you go.

Scuba in the Dubai Mall Aquarium: The Dubai Mall is so much more than just a shopping center! Dive underwater and get up close and personal with the locals.

Snowboard at Ski Dubai: Why not try some indoor winter sports to get a break from the heat? It's another fun way to enjoy the mall.

Watch the Dubai Fountains: Plan to visit these striking fountains at least twice to get the daytime and nighttime view.

Go Clubbing: Clubs are open from 10:00 p.m. to 3:00 a.m. with prime time around 1:00 a.m. Be sure to dress to impress. Some bouncers can be selective and only the chicest heels and dresses will get you in.

Visit Palm Jumeirah: The ultimate in opulence, the Palm Jumeirah is the best faux island you will ever visit.
Where to Eat in Dubai
Best Casual Asian Food: A local fixture,

Al Safadi

has some of the best Lebanese food I've ever had. Located near the Dusit Thani Hotel, it's an easy detour.

Best Brunch: My absolute favorite bunch is from the

Jumeirah Al Qasr Resort

. You can also grab some great grub at China Grill, Yalumba, and Traiteur.

Best Romantic Atmosphere: For a night with that special someone, there's nowhere like

Pierchic

.

Best Persian Food: For some great Persian food, the

Shabestan

in Radisson Deira is one of Dubai's top hidden gems.
Shop my favorite travel styles!