A large island and province in the middle of Indonesia, Bali has been popular with tourists since the 1980s. It's a haven for surfers and hippies alike, with an abundance of artists, dancers, musicians, and temple-goers flocking to its shores each year.
Bali has a lot of Western influence, from diverse restaurants to yoga classes, and is the most "foreigner-friendly" island in the vast archipelago. Though there are many tourists, the island is still quite affordable by Western standards no matter what your taste.
So, here's my ultimate Bali travel guide!
What to Expect in Bali
Whether your idea of luxury is reclining in a hammock in a jungle bungalow or sipping cocktails in your beachfront private villa—Bali can offer it all at knock-out rates.
Language: The official language is Indonesian, but you'll hear Balinese in the countryside often with a smattering of Indonesian mixed in. English is in wide use thanks to the tourists and large Australian expat population!

Currency: Bali uses the Indonesian rupiah as the local currency.

Credit Cards and Banks: Cash is king in Bali. Always carry a handful of 10,000 to 100,000 notes (valued from $0.75 to $7.50 USD) for daily expenses and haggling. As of 2015, businesses are not allowed to charge in dollars, so make sure you always have some rupiah on hand. You can easily withdraw from ATMs, which are everywhere in the cities.

Climate: In general, Bali enjoys warm weather year-round—but be mindful of the rainy season, January to April and October to November!
The vibe tends to be that of beach parties or Zen-like retreats, depending on which part of the island you go to. Ubud is rich in traditional Barong dance and local crafts markets. But if you want a taste of amazing seafood, head to the beaches at Kuta.
Getting Around Bali
My recommendation is to avoid the traffic of Bali by renting a scooter—a fast way to zip through the streets and countryside. Renting a motorbike is the "way" of Bali and very cheap. If you don't feel comfortable driving yourself, you can use the GO-JEK app for an Uber-type service but on the back of a motorbike.
Taxis are the most expensive, and Uber is somewhat banned by the a monopoly on taxi service. You can still use Uber, but you need to be very discreet about it and can't use them to get to and from populated areas. Otherwise, use the Blue Bird app for cab rentals.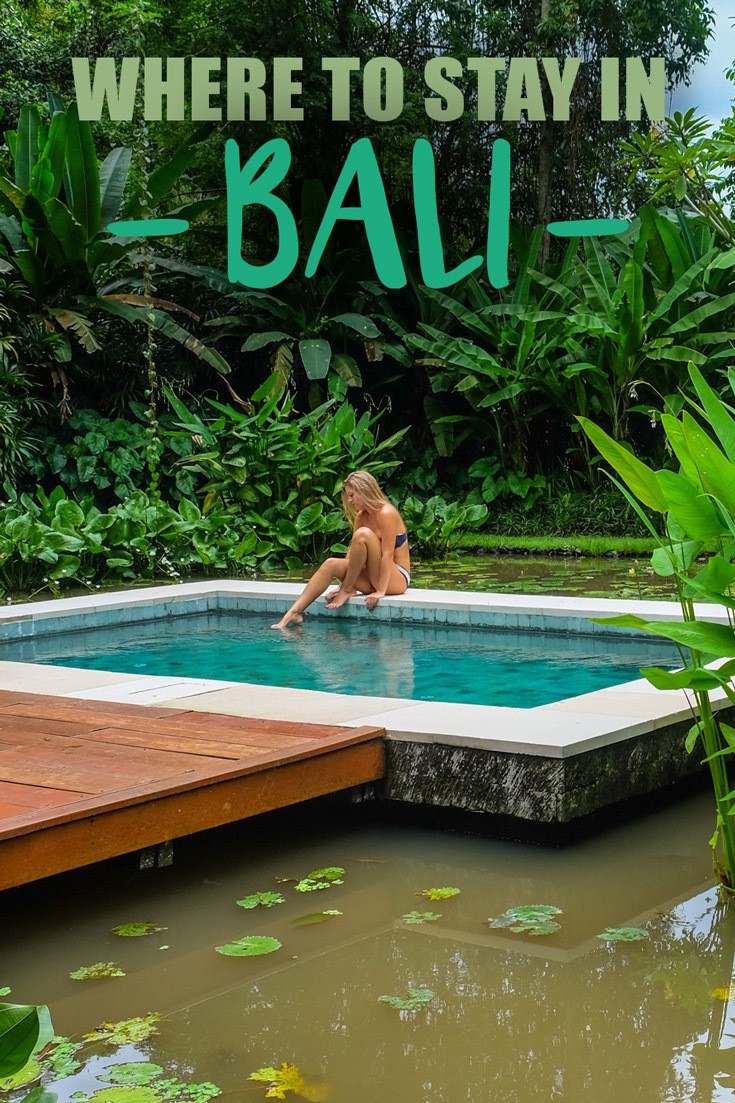 Where to Stay in Bali
Bali is home to the most beautiful villas and resorts—so you definitely have options!
Rent a Villa
Take advantage of the low price point of Bali and rent a private villa for yourself. Many resorts offer villas with private pools, exquisite ocean or jungle views, spacious decks, minibars, and comfy couches.
These villas give you complete privacy—you can walk around naked without a care in the world; you'll feel tucked away into nature.
Luxury Accommodations
 Four Seasons at Jimbaran Bay

: This luxurious is a fantastic place to relax on the beach. With an infinity pool, holistic spa, and water sports galore, what more do you need? This award-winning hotel offers stunning premier villas featuring authentic Balinese decor.

Four Seasons Sayan

: If you're looking for a romantic getaway, look no further than the Sayan, an intimate resort deep in the jungles of Bali. Guests can pamper themselves with massage, yoga, and meditation. The resort is also not too far from the markets and restaurants of Ubud.

Hotel Tugu Bali

: Transporting me back to the most romantic times of Bali, this hotel is dizzyingly beautiful and a far cry from the cookie-cutter properties you'll find everywhere else.

Ametis Villa Canggu

: Ametis is exactly the kind of place that can take a Bali getaway to the next level– with the ultimate in indulgent villas, this place is second to none.
Mid-Range & Budget Accommodations
Tijili Seminyak Hotel:

 A trendy and modern hotel in Seminyak– you'll find lots of fun creative design elements throughout this eco-friendly spot

Bali Dream Resort:

 This little gem has a beautiful property set in the middle of Canggu on Echo Beach.

Koa D Surfer Hotel: This comfortable hotel has a great atmosphere for budget travelers, plus it has an awesome rooftop area!
Where to Eat in Bali
Indonesian food is served fresh and will get you salivating—think rich and spicy satay, curry, nasi goreng, and gudeng.
The best meal of the day is breakfast—it's cheap and delicious, and cafés are everywhere you look. But be prepared for mind-blowing sunset dinners with exquisite views while in Bali!
Breakfast
Sea Circus:

A cheery and vibrant restaurant in Seminyak that serves stellar brunch.

Milk & Madu

: A small café in Canggu with smoothie bowls and all-day breakfasts.

Peloton Supershop

: This place has some of the best vegan dishes I've ever had — it's a must for breakfast!

Café Organic

: This cafe is very popular with the breakfast crowd, and offers  amazing food, great coffee, friendly staff and  beautiful decor!

Sister Fields

: A hugely popular diner in Seminyak with fresh juices, burgers, and salads galore.
Dinner
Nook

: This place is super cute and cozy. It has shabby chic decor and is in the middle of a rice field. (Canggu)

Sundara at FS Jimabaran Bay

: At the Four Seasons Sundara, enjoy Asian-inspired dishes with views of the beautiful Jimbaran Bay. (Jimbaran)
Kisik at Ayana Resort

: Kisik offers a fun location right on the sand, is surrounded by glowing tiki torches, and serves your favorite seafood. (Uluwatu)

La Laguna

: This place is a fun hangout for locals. It has a gypsy-style decor and you'll find great food and cocktails. (Canggu/Seminyak)

Sari Organik

: Enjoy a traditional dinner at the Organik with a peaceful view of the paddy fields around Ubud. (Ubud)
What to Do in Bali
Check out Canggu: Canggu is a village with great access to the many beaches just north of Seminyak. Be sure to stop by Old Man's Beach Bar, a café run by a husband and wife from Australia with tasty, healthy salads and breakfasts.

La Plancha or Tanah Lot for a sunset: Catch a beautiful sunset at La Plancha, a beachfront café with a hint of Spanish culture. Tanah Lot temple is partly eroded by the ocean tides but boasts eerie yet epic views bathed in majestic orange sun light.

Visit Pura Taman Saraswati Temple: Built to honor Dewi Saraswati, the goddess of wisdom and the arts, this beautiful temple is alive with lotus blossoms and water flows.

Monkey Forest in Ubud: Smack-dab in the jungle, Ubud has its fair share of monkeys. But be careful! They are super aggressive. Don't make contact or interact with the monkeys unless you have bananas. I found them most friendly at the beginning of the forest where they probably get the most food. For the best photos, walk a bit farther into the forest—when you pass a long trail, you'll get to a stunningly beautiful temple area.

Sunrise Hike at Mt. Batur: Mt. Batur is a sacred mountain in Hinduism and makes for a great early morning hike for a gorgeous sunrise. You'll need to book a guide and driver, and climb the mountain for about one and a half to two hours. You'll find a gorgeous view of the clouds, ocean, and valley that look as if they are straight out of heaven.

Make Your Own Temple Tour: Hire a taxi for the day and ask the driver to take you around to the highlights and temples around Bali. This is a cheap and fun way to explore the island with your own private guide!

Bali Herbal Walk: Join a local guide who will instruct you in traditional Balinese healing techniques.

Take a Yoga Class: Yoga is everywhere in Bali, so don't be shy—grab a mat and join a class in Ubud.

Shop the Markets: The markets at Ubud are legendary. You can find everything from silk scarves and handwoven baskets to statues, kites, and fresh produce.

Relax on Dreamland Beach: Kick your heels up on the pearl-white sand at Dreamland Beach, which is attractive to surfers and sunbathers alike. Shops, luxury villas, water sports, and a world-class golf course are all within walking distance.

Day Trip to Gili Islands: Looking for a remote island experience? Hop on a ferry to the Gili Islands—three small islands off the northwest coast of Lombok. Motorized vehicles are prohibited, so getting around is all by foot, bicycle, or horse-drawn carriage. It feels like stepping back in time! Here you'll also find phenomenal diving.
SHOP my favorite Bali-inspired styles!