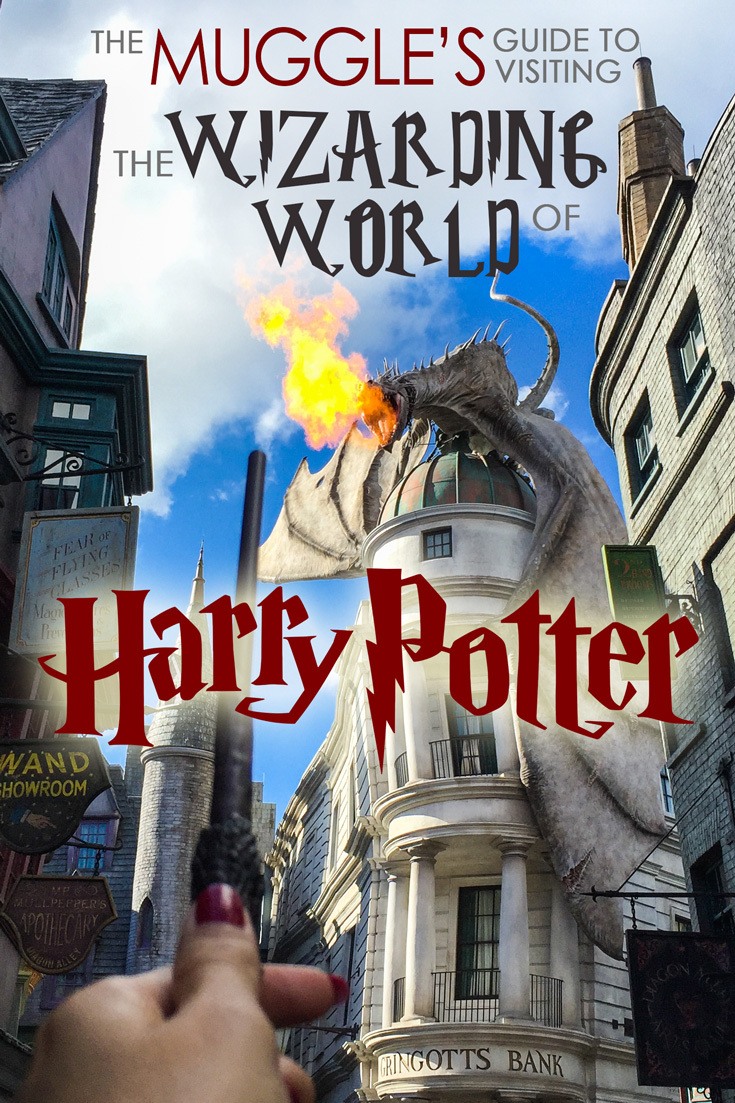 For those of us that literally grew up with the characters in the books and movies, visiting The Wizarding World of Harry Potter is a dream come true. But, even if you don't count yourself a fan of the books or the movies, Universal Orlando's tribute to the world of Harry Potter is an incredible experience.
Here's the Muggle's Guide to visiting the Wizarding World of Harry Potter!
A Park Within Two Parks
The Wizarding World of Harry Potter is located at Universal Studios Orlando Resort (with a new theme park coming to LA in 2016!) and features interactive experiences, shops and thrilling rides.
It actually consists of two inner parks: Diagon Alley and Hogsmeade. Diagon Alley is located inside Universal Studios and Hogsmeade is inside Island's of Adventure and both are connected by the Hogwarts Express.
I recommend getting a 2-day park to park pass, that will give you the freedom and time to explore both to your heart's delight—plus it gives you access to all the other rides at Universal Orlando. The pass even includes a third-day-free option!
Tip! Before you go: Download the Universal Orlando Wait Times App to know how long each line is for the rides in real time.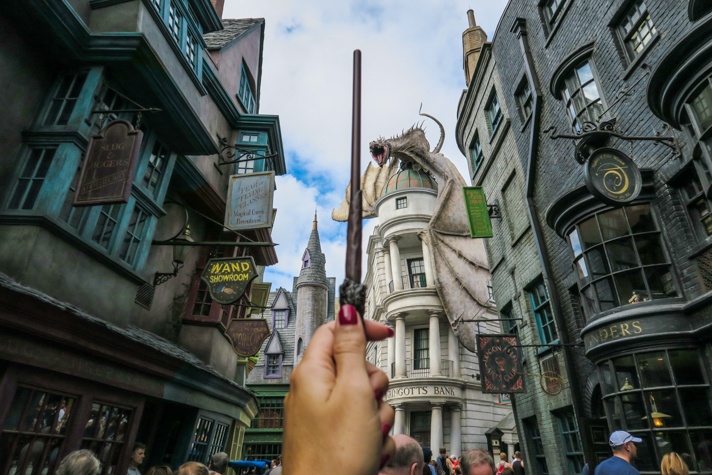 Diagon Alley
Check out Diagon Alley, the newest addition to Harry Potter inside Universal Studios that opened last summer 2014. The park features Escape from Gringotts—a 3D ride that includes animatronic goblins, fire-breathing dragons and even a glimpse of Lord Voldemort!
You can also visit iconic shops like Ollivanders Wand Shop, Weasleys' Wizard Wheezes, Madam Malkin's Robes for All Occasions, Magical Menagerie, Wiseacre's Wizarding Equipment and Quality Quidditch Supplies.
Be sure to stumble down Knockturn Alley to take a peak inside Borgin and Burkes!
Fun Tips for Your First Visit to Diagon Alley
Grab lunch at The Leaky Cauldron. I was incredibly impressed with the quality of food at Universal Parks and especially at the Leaky Cauldron. They make their bread fresh daily and even import food from the UK for authenticity.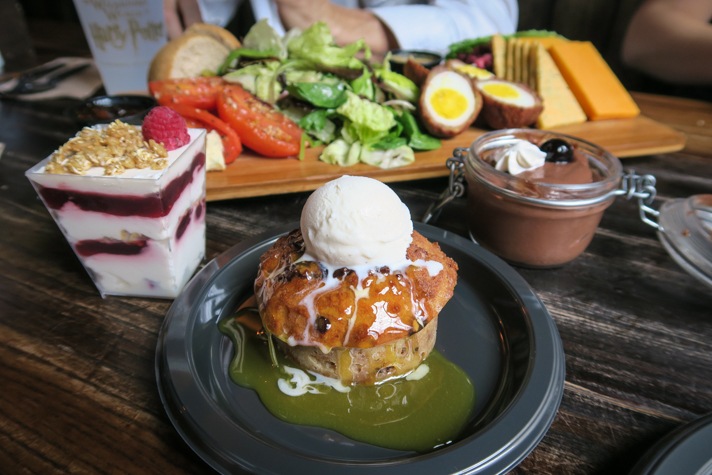 Get dessert at Florean Fortescue's Ice-Cream Parlour. Try a scoop of strawberry peanut butter with a scoop of salted caramel blondie, then thank me later.
Of course, don't forget to try Butterbeer! You can try it at both parks, but, if you're up for it, try all four ways it's served in Diagon Alley: cold, frozen, hot or as ice cream! (PS it's non alcoholic so kids can enjoy too!)
Get an interactive wand to interact with all kinds of shop windows and props throughout both parks. You can make fountains squirt water, turn lights on and off in shop windows and even try the "wingardium leviosa" spell to float a feather. It's a ton of fun for both kids and adults!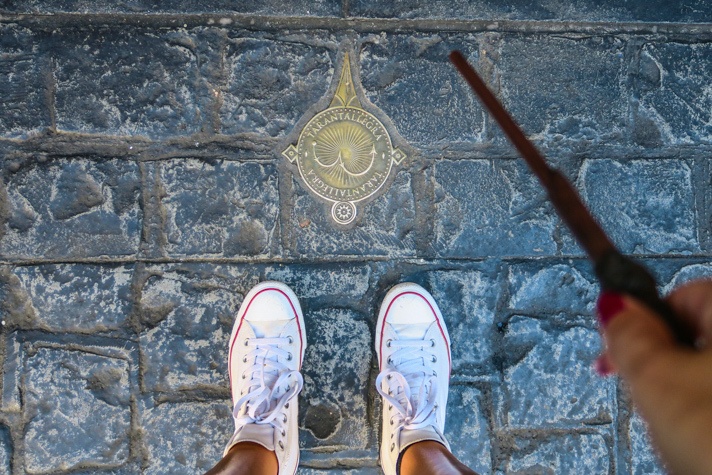 And, the dragon atop Gringotts breaths fire every ten minutes, so you won't miss it! You'll first hear a low rumble then prepare yourself for the heat!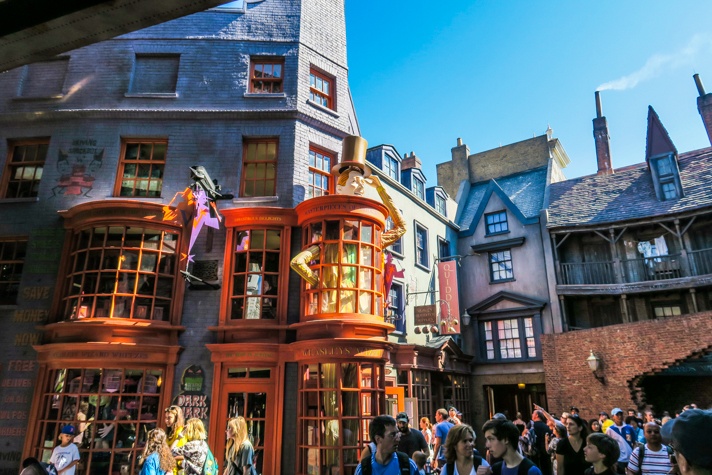 Be Prepared!
Take heed—both Escape from Gringotts and Ollivanders Wand Shop are extremely popular and lines can be long, so be prepared to wait 2+ hours on crowded days.
The Wizarding World is immensely popular, so plan ahead and arrive at least 15-30 minutes ahead of the park opening time.
As with most theme parks, it's crowded—so go early in the day to catch the most popular rides first. Wear good walking shoes, because you'll be walking  and standing on your feet in lines—quite a lot!
Hogwarts Express
Transportation between the two parks got WAY more fun with the addition of Hogwarts Express in 2014. From Diagon Alley, you can return to the streets of London inside Universal Studios and enter King's Cross Station.
As someone that's visited London on countless occasions, there is little difference between "the tube" here and the real thing! There are even street performers inside. How's that for authenticity?
You'll make your way to Platform 9 3/4 and hop aboard for another interactive experience. Once onboard, you'll look out an animated window through the streets of London, past the Dark Forest and then arrive into Hogsmeade.
But that's not before a close encounter with a Dementor of course!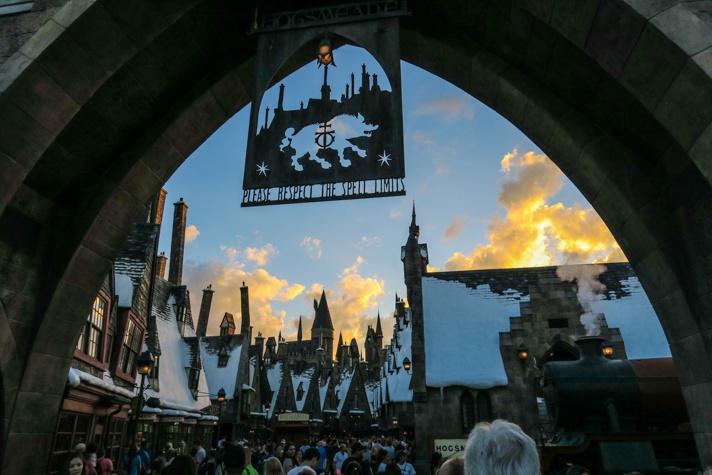 Hogsmeade
Here you'll find Honeydukes Sweet Shop, the Three Broomsticks Restaurant, and a plethora of souvenir shops. Catch a ride on the Dragon Challenge roller coaster and send a local postcard from the Hogsmeade Post Office- stamped with a special Owl Post postmark.
If you find a long line at Ollivanders in Diagon Alley, don't worry! You can pick up your very own magic wand at the Ollivanders in Hogsmeade.
For "of age" witches and wizards, you can grab even enjoy Firewhiskey at the Hog's Head!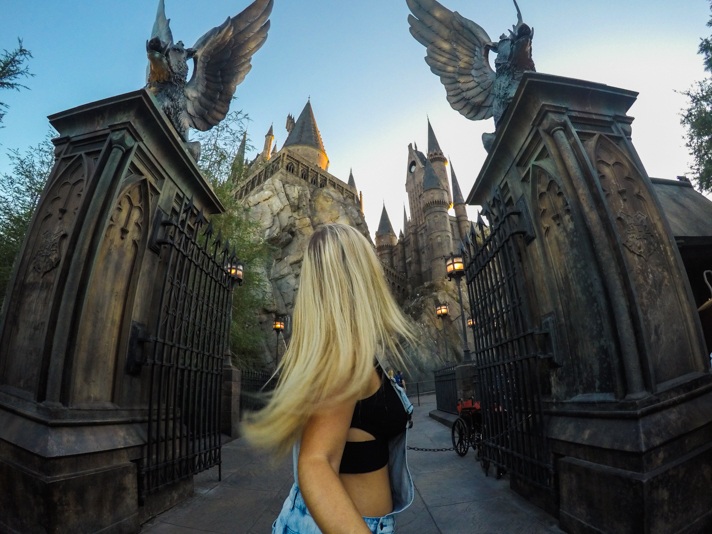 Hogwarts Castle
The castle is the star of the show at Hogsmeade, where you can hop on the Forbidden Journey ride, a multi-sensory ride where you'll soar above the castle with Harry Potter.
But, the queue to this ride is an experience in itself. This is a ride you'll be happy to wait in line for!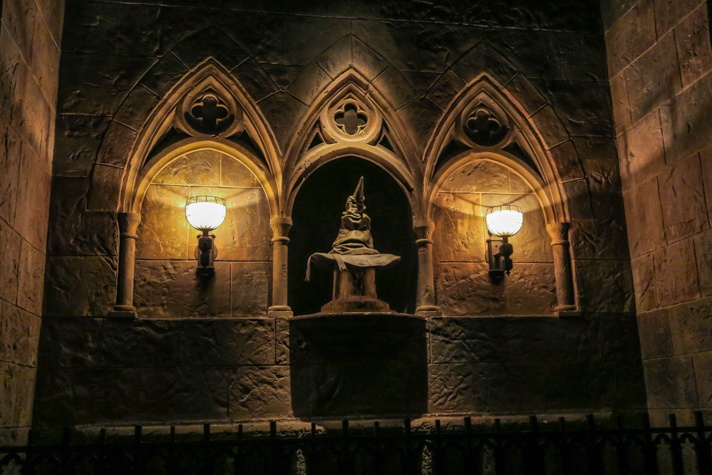 The queue is filled with rooms and settings from the books and films, including Dumbledore's office, the Defense Against the Dark Arts class room, and the Gryffindor common room.
You'll even encounter moving paintings from the movies in a real world setting. Stop and listen as the paintings talk amongst each other. It's awesome!
Where to Stay?
Be sure to book a room at an on-site hotel. You'll get quick access to the Universal Studios without the hassle of parking. I stayed at Universal's Cabana Bay Beach Resort, an on-site hotel that is both fun and affordable.
Some on-site hotels offer premium benefits included in your stay, like Express Passes for front of the line privileges. But all on-site hotel guests enjoy early Park Admission to The Wizarding World of Harry Potter, one hour before the theme park opens.
Shop Harry Potter Themed Products