While Madrid may be the Spanish capital, it often loses out in the minds of visitors when compared to the charming and attractive city of Barcelona. But, if you are visiting Spain, then there are plenty of things to see and do in Madrid.
Like all good capital cities, it has wonderful shopping areas and parks where you can relax, along with a range of historical sites. Whether you are staying in the city for a short weekend or a couple of weeks, here are the top seven things to see and do in Madrid!
See the Locals go by at the Puerta del Sol
While the Plaza Mayor may be the most famous square in Madrid, the Puerta del Sol is the busiest and most interesting square to visit, as it is an important transport hub as well as a great open area.
There are a series of interesting statues and public artworks on display in this particular square, and the Royal Post Office now serves as the offices of the President.
This is a great place to take a seat and enjoy a coffee as you watch the people of Madrid go about their business, and see the attractive architecture of the square.
Enjoy a Flamenco Show
Flamenco is one of the most iconic forms of dance in the world, and as it originated in Spain, it is no surprise to find that it is a key part of the country's culture.
Madrid has a range of venues that offer Flamenco shows with a traditional Spanish dinner, and this is a great way to enjoy some wonderful, passionate dancing and some good food at the same time.
(source)
Visit the Catedral de la Almudena
Facing on to a broad open square, this grand cathedral is one of the most ornately decorated structures in the city, along with being one of the largest cathedrals in Europe.
The work of building the cathedral took over a century from its groundbreaking through to its consecration in 1993, and the variety of artistic styles shown in the interior of the cathedral is very impressive.
HELPFUL TIP
Whether you are going to a conference, festival, your best friend's wedding or just a weekend getaway, the HallSt website is a great resource that makes trip planning SO much easier.
HallSt gives you information on complete travel experiences by linking events, hotels, restaurants and points of interests all on one map, so you can get a real bird's eye view of the city, compare and book hotel and tickets at standard or peer-to-peer rates, get directions and find out what's happening around you.
You can even check for upcoming events, such as concerts and festivals in the area!
Marvel at the Palacio de Cristal
Built in 1887, the Palacio de Cristal is made almost entirely of glass set in an iron framework and is used today for contemporary art exhibitions. Set in a 130 hectare park and alongside a large lake, there is a wide variety of flora and of over 15,000 trees to discover on a sunny Spanish afternoon.
Eat Your Heart Out at the Mercado de San Miguel
The Mercado de San Miguel is one of the most beautiful food markets I've seen in all my travels. Locals and tourists alike pack into the market to sample the delicious tastes of Madrid.
Be sure to sample some tapas and sip on a Spanish style Gin & Tonic- Madrid's favorite cocktail!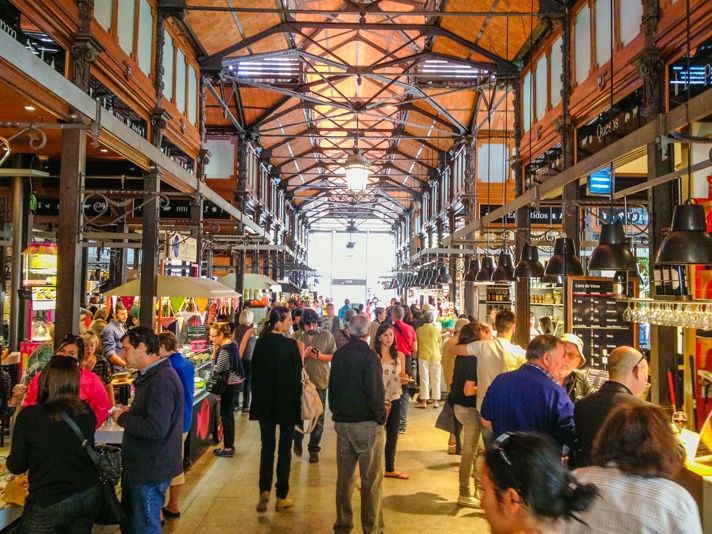 Watch a Game of Football
Spain is one of the great nations when it comes to soccer, or football as it is known in Europe, and with two huge club teams in one city, it is a great place to catch a game.
Real Madrid is one of the most recognizable teams in the world, with stars like Ronaldo and Gareth Bale strutting their stuff, but Atletico Madrid is more of an underdog story, and are equally worth watching if they are playing during your visit.
See Classical Art of the Highest Order at the Museo Del Prado
The Museo del Prado is one of the best museums in Europe, and boasts a superb collection of classical art that spans some of the most recognizable artists to have put brush to canvas.
From Spanish masters such as Velasquez and Goya through to other Europeans such as Rubens, Botticelli and Caravaggio, this is an interesting and beautiful collection that is well worth exploring.
What are your favorite things to see and do in Madrid?