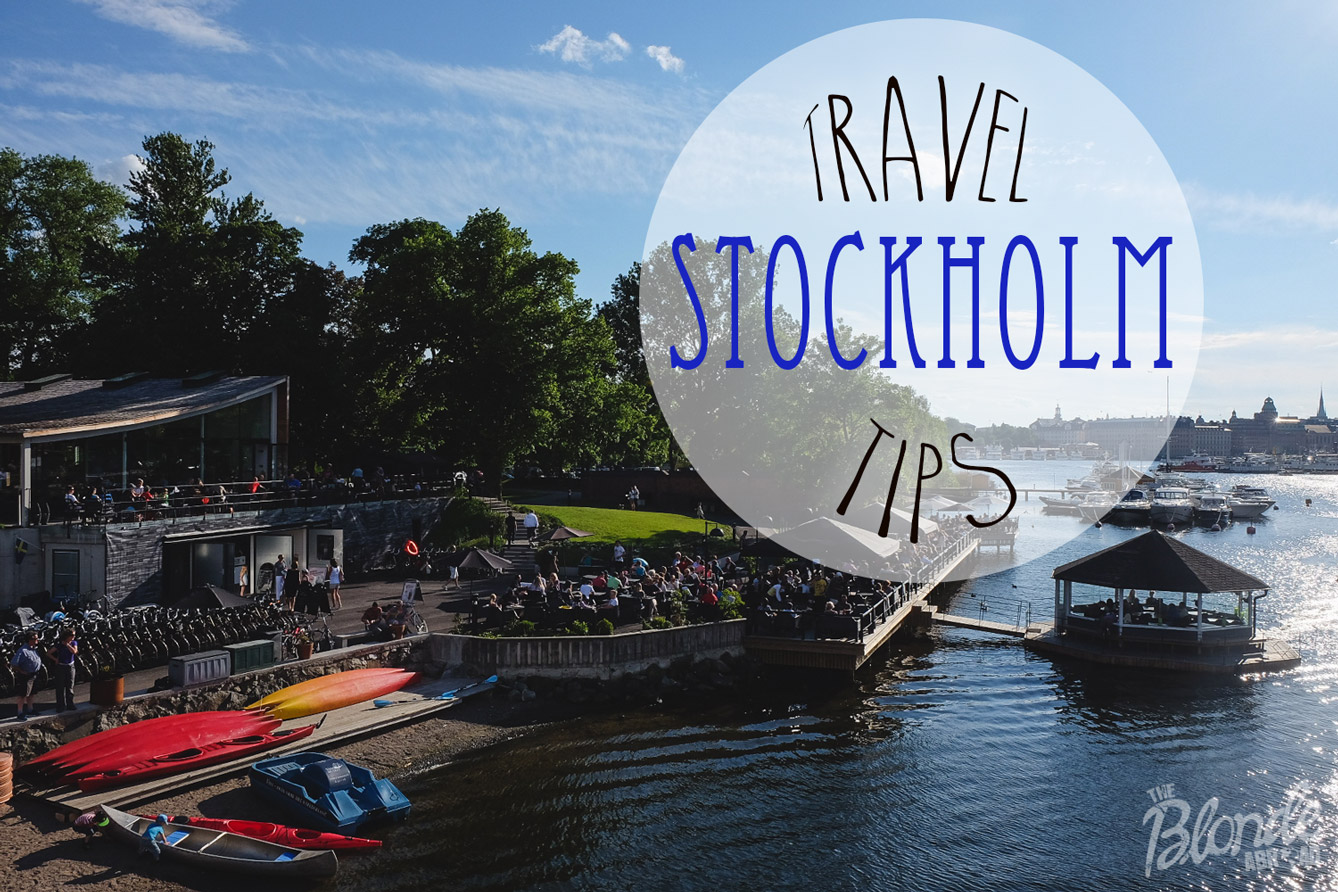 Stockholm is a city that has a long and interesting history and, although it is the largest city in Scandinavia, it retains a peaceful atmosphere with wonderful Swedish architecture and the natural beauty of the surrounding sea.
These tips will help you get the most from your Stockholm trip!
What to Expect in Stockholm
Language: The most widely spoken language is Swedish, but around nine out of ten people do speak English.

Currency: Sweden has rejected the Euro and continues to use Swedish Krona as the national currency.

Credit Cards and Banks: ATMs can be found in many places around the city, while most retailers accept Visa and Mastercard, although they may ask for ID or a Passport when paying by card.

Climate: Stockholm is quite a mild city in the summer, with the sunshine providing warm but not unpleasant temperatures. Night temperatures in the winter can drop below freezing.
Warm season: The best temperatures are experienced between June and August, with average daily highs of over twenty degrees Celsius.
Helpful Tip:
Typically, there can be significant weather differences in parts of Stockholm because of the city's seaside location. Even on a sunny day, things can get chilly! Your best bet is to always carry a jacket, no matter what season.
Getting Around in Stockholm
Stockholm is separated into many different districts and neighborhoods; each offering a unique flavor of the city!
The most popular communities worth visiting are:
Norrmalm: This is the commercial heart of Stockholm with many of the main business centers, the city's main railway station, the Royal Opera House and a wide range of shopping areas.

Djugården: This attractive island is home to several parks and the Rosendal Palace, while also being home to the Grona Lund amusement park and several museums, including one dedicated to Sweden's most famous export, ABBA.

Östermalm: This area is a posh residential neighborhood and is one of the most populous districts in Stockholm. This is the major shopping hub of Stockholm with many bars, pubs and even clubs.

Gamla Stan: A historic island where there are many cobbled streets and quaint old buildings showing the city's heritage, including the Royal Palace and the Swedish Parliament, meaning it is a busy working area as well as being wonderfully scenic.

Södermalm: Reflecting the modern architecture alongside historic buildings, this pleasant area is home to the bohemian SoFo district with bars, restaurants and some wonderful designer shopping.
Helpful Tip:
Like many aspects of life in Stockholm, traveling by taxi gets expensive very quickly, so save money and take the local transport system.
 Where to Stay in Stockholm
Stockholm certainly isn't the cheapest place to stay, but there is a range of accommodation to suit different budgets.
Budget Accommodation in Stockholm
Best Western Kom Hotel/Hostel (Best Hostel): Central location, Good Restaurant, Nice Rooms

. This hotel offers visitors a good location that is within reach of the transport system, with compact rooms at an affordable price making the

Best Western Kom Hotel

a good choice.

Rygerfjord (Hotel on a Ship): Sodermalm Location, Sea Views, Dorm Beds.

Offering hostel and hotel accommodation on the

Rygerfjord

's three ships moored near the city center, with the option of a buffet breakfast and a range of rooms available.

Jumbo Stay (Hotel in an Airplane): Rooms in an Airplane, Dorms and Private Rooms, Convenient Airport Location

. The

Jumbo Stay

hotel is well located near the airport, and guests stay in specially converted rooms on a real jumbo jet, with good prices and access to breakfast available.
The Best of Stockholm Accommodation
Grand Hôtel (Best of the Best)

: The

Grand Hotel

is a truly luxurious hotel that combines the best of excellent service and traditional luxury with a beautiful location, including views over Gamla Stan and a wonderful Nordic Spa and Fitness Club for guest.

Berns Hotel (Best Boutique)

: A stylish and quiet hotel that has a central location but just away from the busy area, the

Berns Hotel

offers a wonderful combination of beautifully decorated rooms, great food and a VIP wristband for those interested the city's nightlife.

Stallmästaregården (Best Historic)

: Located in a charming area overlooking the water in the Royal Haga Park, the

Stallmastaregarden Hotel

offers lovely comfortable rooms and a wonderful restaurant serving great Swedish food.
What to Do in Stockholm
Stockholm has plenty to do and some great areas to visit!
Vasa Museum: Sweden is a country that is built on its maritime tradition, and this museum is where the best example of a seventeenth century warship is housed, along with a range of other historic ships from the country's great tradition.

Nordic Museet: This grand and impressive museum is located on the island of Djurgarden, and is one of the most impressive in Stockholm, with a wonderful collection of items looking at the cultural and ethnographic history of Sweden and other Scandinavian countries.

Fotografiska: This is an ideal destination for those with a passion for images and artistic photography, as this gallery has a rotating schedule of exhibitions and displays by some local and international photographers, with English tours available if booked in advance.

Gröna Lund: For those looking for an adrenaline thrill or a more relaxed ride, this city center amusement park has a range of roller coasters and other rides, and is also known for hosting rock and pop concerts on a regular basis during the summer months.

Ice Bar: While Stockholm itself may not have the ice cold climate of the far north of the country, a visit to the Ice Bar, where the furniture and glasses are all made of ice is an interesting experience, and has some great drinks on offer.

Gamla Stan: Exploring this historic island is a great way to spend a day or two, with several historic churches, museums and the Royal Palace, which is open to the public for most of the year, except when official ceremonies are being held.

Archipelago Boat Tour: There are a series of islands that help to make up the territory of Stockholm, and this three hour tour takes visitors around the different areas, and offers great perspectives of some of the most attractive and important buildings in the city.

Djugården Island: For those wanting to spend some time outdoors, exploring Djugården is a great way to enjoy a nice day in the city, with several parks to stroll through, with the Rosendal Gardens very attractive and the open air museum at Skansen offering an interesting look at Swedish traditions and culture.

Rent a Bike and Explore: During the summer months, a bike rental scheme is available in the city, and getting on two wheels and exploring the city is a great way to see the sights and to get around without having to jump on to public transport.
Helpful Tip:
If you plan on exploring several museums and attractions in the city, it may be worth buying a Stockholm card, which combines transport, sightseeing tours and access to 80 museums for one price.
Where to Eat in Stockholm
Traditional Swedish favorites are available alongside the best international cuisine!
Herman's (Vegetarian Buffet): A wonderful combination of great vegetarian dishes, salads and hot meals, served with eco friendly beers and soft drinks, in a great location with stunning views from the garden.

Nosh and Chow (Trendy & Delicious): A stylish and modern restaurant that offers beautifully prepared dishes, including locally caught seafood, with a lovely patio area that is a great location to enjoy one of the tasty cocktails on offer. (Their black truffle gnocchi changed my life.)

Un Poco (Amazing Italian): This Italian restaurant is owned by two of the members of Swedish House Mafia, and the flavor and textures of the Italian dishes are genuinely authentic, with a beautiful setting making for a special dining experience.

Utecompagniet  (Hot Spot for Summer): The location and drinks menu at this restaurant are just as impressive as the Mediterranean menu, but the central location and great patio make this a great place to take a few drinks and hang with the locals.

Riche (Best of the Best): A bustling cafe/restaurant that was inspired by the stylish Parisian cafes, Riche has been serving Swedes for over a century, with a regularly changing seasonal menu and a range of classic French and traditional Swedish dishes.
Helpful Tip
While Swedish cuisine may not be the most famous in the world, it has some very distinctive dishes such as the traditional meatballs with lingon berries, shrimp toast and the modern banana curry pizza are worth trying. Hefty bar prices mean you may also be sober enough to enjoy the traditional Swedish hot dogs served around the city.
Follow Kiersten @TheBlondeAbroad's board Stockholm Travel Tips on Pinterest.


What are your favorite things in Stockholm?