Boasting a reputation as one of the most attractive cities in Europe, Barcelona celebrates its role as the capital of Catalonia. The city's cosmopolitan international vibe makes it a favorite city for many people. Boredom is almost unheard of for visitors to the city, with a range of activities and attractions to enjoy.

This Barcelona travel guide just scrapes the surface of what can be found in the vibrant city!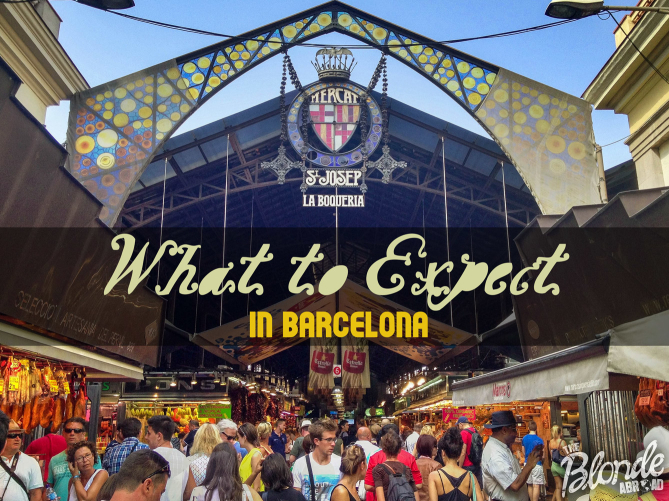 What to Expect in Barcelona
Language: While people in the city do speak Spanish, visitors who go the extra mile and learn a few words of Catalan will certainly be made welcome in this hospitable city.

Currency: The Euro is used throughout Spain and in seventeen other European countries.

Credit Cards and Banks: ATMs are a regular sight throughout the city, while major hotels and restaurants and many smaller retailers will accept Mastercard and Visa.

Climate: The Mediterranean climate means that Barcelona is mild even in winter, while the majority of visitors enjoy the temperatures in the city between May and October.
Cold season: From December to February, the average lows in the city are around five degrees Celsius.
Hot season: June until September, with July enjoying an average of ten hours sunshine every day.
Getting Around in Barcelona
Barcelona is separated into many different districts and neighborhoods; each offering a unique flavor of the city! The most popular communities worth visiting are:
Ciutat Vella: Also known as the Gothic Quarter, this is the oldest part of the city incorporating the popular street of Las Ramblas. Visit the museum exploring the first Roman foundations and enjoy the superb seafront with its boardwalk and beach.

L'Eixample: Outside the original city walls, this area of the city is where many of the best modernist architecture is to be found. It is also home to many of the best bars and clubs in the city.

Gracia: Having once been a Catalan town on the outskirts of the city, the growth of Barcelona has seen the area become a suburb, with a significant student population and the beautiful architecture of Gaudi's Park Guell.

Sants-Montjuic: A nice open area with several lovely parks, this is where many of the Olympic facilities are located and it is also home to the high speed train station with links to the rest of the country.
Where to Stay in Barcelona
Barcelona offers a great range of accommodation, ranging from cheap and cheerful to high-end luxury.
Budget-Friendly Accommodation in Barcelona
Kabul Backpackers (Backpacker Hostel/Great Location): Dorm Rooms, Great Location, Party Atmosphere

. Located in the lovely Gothic Quarter the

Kabul Backpackers Hostel

is a friendly and welcoming place to stay with beds in the dorms available from €24.

St Christopher's Inn (Best Hostel): Las Ramblas location, International Chain, Free Wi-Fi and Breakfast

. Just off the top end of Las Ramblas,

St Christopher's Inn

 has private rooms and dorms with beds from €12.50 per night including a continental breakfast.

The Park Hotel (Rooms under $100): Comfortable Rooms, City Center Location, Air-Con and Satellite TV.

  Offering well priced private rooms from singles up to triple rooms, the great location within reach of the beach makes the

Park Hotel

a great base to explore the city.
The Best of Barcelona Accommodation
"Hotel Omm is a gorgeous and sleek design hotel in Barcelona's central Eixample neighborhood. The location can't be beat, as it's only steps away from Passeig de Gràcia, the city's main shopping street, as well as La Pedrera, one of my favorite Gaudí buildings. The hotel restaurant, Moo, is run by no other than the Roca brothers, owners of the nearby best restaurant in the world!" – Lauren of Madrid Food Tour

"Hotel Barcelo Raval is located right in the center just a couple blocks of Las Ramblas in the eclectic barrio (neighborhood) Raval, on the top floor is the fabulous outdoor 360º terrace with swimming pool, bar, and spa offering excellent views of the city." – Brain of The Travel Vlogger
What to Do in Barcelona
With great architecture, historic sites and a vibrant culture, Barcelona is a traveler's dream.
Stroll Las Ramblas: The most famous street in the city is a pedestrianized tree lined boulevard that has many green areas, restaurants and bars, with a range of market stalls and street traders.

Hit the Beach: Voted the best city beach in the world, this stretch of golden sand faces on to the Mediterranean and is a great place to top up your tan and to meet friends. It's not a beach for those looking for a quiet spot as good weather draws in some major crowds.

Watch the sunset at Turo dela Rovira viewpoint: Offering some of the best views over the city, this site was once a military installation protecting the city, but now visitors and locals gather to enjoy the view and see the sun setting over the Mediterranean.

"Watch the sunset at Turo dela Rovira viewpoint – This is the best place to see breathtaking panoramic views of Barcelona and it is not known by tourists." – DJ of Dream Euro Trip

Tablao Cordobes Flamenco Show: 

Combining an excellent meal with a look at the traditional Flamenco dancing, this experience offers a great insight into Catalan culture and the passionate dancing which has been taking place here for over forty years.

Take a guided tour with Context Tours: Offering a variety of different tours based on interest, these small group tours offer a real insight into the culture and can include the main architectural sights or take visitors on a tastebud-tingling tour of Catalan cuisine. I loved the Farm to Fork and Gaudi in Context walking tours!

Visit the Montjuïc cemetery: The design of the monuments here is truly impressive, while the steep slopes and winding paths between each terrace makes for an interesting place to visit.

"For those who like to get off the beaten path, visit to Barcelona's Montjuïc cemetery is a must. Many of the fanciest tombs were made by well-known local artists. There are free guided visits (only in Spanish and Catalan), but there are a couple of routes that can be done independently with the aid of QR codes which display the info in English as well." – Bianca of nomadbiba

Discover the Gothic Quarter: 

This lovely area has a range of attractions including the wonderful Picasso Museum and the Placa Reial. The area also has several churches and the amazing modernist architecture of the Palau de la Musica Catalana, a World Heritage Site.

Explore Gaudí and Modernism: Barcelona's architecture is almost synonymous with Antoni Gaudi's name and, while the spectacular Sagrada Familia is his most famous legacy, sites around the city including Parc Guell, Casa Mila and Casa Batilo are well worth visiting.

FC Barcelona Camp Nou Experience: The spectacular stadium of Barcelona FC is well worth visiting for a game. The tour takes visitors to areas of the stadium rarely seen, including the away changing rooms, dugouts, and also to a great museum tracking the club's history.

"The Camp Nou experience is something that cannot be missed if you're a fan of FC Barcelona or simply global soccer or football in general. Camp Nou is the famous football ground for FC Barcelona, one of the greatest soccer teams in Europe. The Camp Nou experience even gets you into the locker room and on the field." – Lee Abbamonte

Day/Weekend Trip to Costa Brava: Within easy reach of the city either by train or car is the region of Costa Brava. Highlights include the Salvador Dali Museum in Figueres and the superb white buildings and traditional atmosphere in Cadaques. Both are well worth visiting.
Helpful Tip
While Barcelona is a great place to visit, it also draws its fair share of pickpockets. I had my iPhone snatched right out of my hand while walking down the street! Las Ramblas is a particular hotspot because of high tourist foot traffic.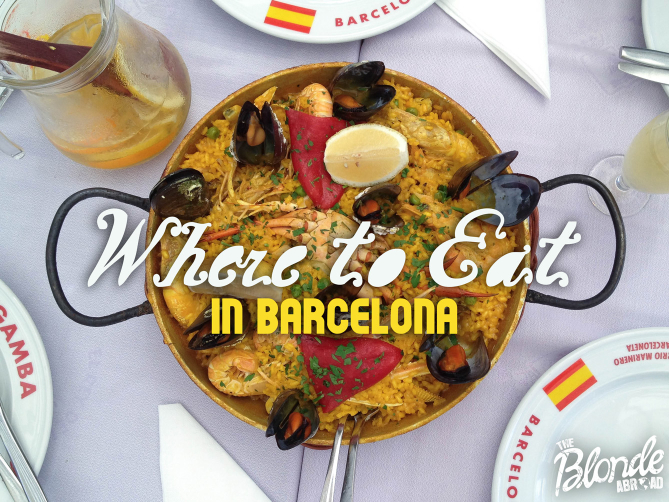 Where to Eat in Barcelona
Fresh seafood and tapas abound in the restaurants of the city.
La Boqueria (Popular Market): 

This market has the best fresh food that the region has to offer, with stalls serving fresh oysters, wonderful varieties of olives and the superb cured meats that are a staple of many meals in Catalonia.

Cal Pep (Great Seafood): A small but charming restaurant in the city center, Cal Pep is home to fresh seafood and a vibrant atmosphere.

"One of the best places to eat in Barcelona is a restaurant called Cal Pep. They have very unique opening times, so make sure to check their website to see when they are open, and make sure to arrive at least 30 minutes before opening time to get a seat quickly!" – Chanel of La Viajera Morena

La Granja M. Viader for Cacaolat (Oldest Milk Bar): Nestled in a quiet alley behind Las Ramblas, this historic cafe has been serving good food, coffee and superb cacaolat (basically, Spanish Yoo-hoo) for many years.

Asador Casa Juaco (For Calcots): A short distance outside the city center, this lovely rustic restaurant has beautiful views back over the city, and the calcots with dip have to be tried.

"Calçots are a type of sweet spring onion found in the southern part of Catalonia. They are typically grilled and served in a a type of clay dish to preserve their heat. Once you get them, you dip them in a tasty tomato-almond sauce. Trust me, it's amazing. Calçots are always in high demand, but especially when they're in-season. So if you get a chance, head over to Asador Casa Juaco. It's a bit of a drive away and tables book days in advance, but if you plan for it, you will not be disappointed." – Eric Ruiz

Tapas 24 (Best Tapas): This casual and pleasant tapas restaurant is often busy, particularly in the evening when the locals tend to dine, but the food is tasty and served promptly. The rabbit ribs are a particular highlight on the menu.

Madame Jasmine (Hipster Bar): This small but stylish bar is a great place to visit on the Ramblas del Raval. It features a great cocktail menu enjoyed by a younger crowd, while the open kitchen shows visitors where the great sandwiches are made.

"Madame Jasmine is a cool hipster bar with quirky things hanging from the ceiling and an eclectic design. Drinks are cheap here and the crowds are lively. If you're looking for something funky rather than über-trendy, Madame Jasmine is the place to find it. When I last visited the bar, there was a mannequin wearing a life vest in the corner. You won't find that in the clubs down by the beach which require fancy shoes and dress!" – Adam of Travels of Adam

La Xampaneria (Chaotic and Charming):

 Offering great food at a good price, diners eat at a counter where meat tapas are plentiful and full flavored and served with Cava. The bar atmosphere offers a great experience with visitors mixing with the locals.

Espit Chupitos (Fun Bar): With a menu listing over two hundred shots, this is definitely the place to get the night started.
"Go to Espit Chupitos, a bar with over 200 different types of shots written in chalk on the bar's wall. Each alcohol shot costs around 2 euros and has a specific and unique name, such as The Monica Lewinksy" "One Night Stand" and/or "The Harry Potter." Each order also comes with a show as the bartenders usually light the bar on fire or hand out things like gummy bears or marshmallows. It's a lot of fun and quite the production!" – Yvonne of Under the Yew Tree
Helpful Tip
Historic sites in Barcelona are marked with bronze plaques that highlight places of interest. For those looking for well established traditional places to eat, the restaurants and cafes marked with these plaques are a very good place to start.
Shop my favorite Barcelona-inspired items!
Follow Kiersten @TheBlondeAbroad's board 24 Hours in Barcelona on Pinterest.