Jordan is a country that offers a gentle introduction for those who are new to the Middle East, providing a nice balance between the traditional and cultural aspects of the region with the modern atmosphere of the West. Amman is a great example of this, providing many modern luxuries while still retaining its uniquely Jordanian and Middle Eastern culture.
These travel tips will help you plan an exciting and unforgettable trip to Amman!
What to Expect in Amman
Language: The most widely spoken language is Arabic, but most people in Amman will have a basic knowledge of English that should allow most people to get by.

Currency: The Jordanian Dinar (JOD) is pegged to the US Dollar at 1.41 dollars per dinar.

Credit Cards and Banks: ATMs can be found in many places around the city, while major hotels and restaurants will accept Mastercard and Visa.

Climate

: Amman is warm throughout the year, even during winter, and the best time to visit is between March and May, and from September to early November, when the daytime temperatures are pleasant but not excessively hot.

Cold season

: Even between December and February, daytime temperatures average highs above 10 degrees Celsius

Hot season: June until September

[/li_item]
Helpful Tip:
Most of Amman is much more lax on women's clothing compared to other places in the Middle East. In the downtown and traditional areas of the city, it is best for women to dress more conservatively. An example of a conservative but casual outfit might be: a loose fitting t-shirt and jeans. Don't wear something too tight or too revealing and no shorts or short skirts. In the uptown districts, and particularly in the vibrant area of Abdoun, the dress code is more relaxed- shorts and sleeveless shirts are acceptable.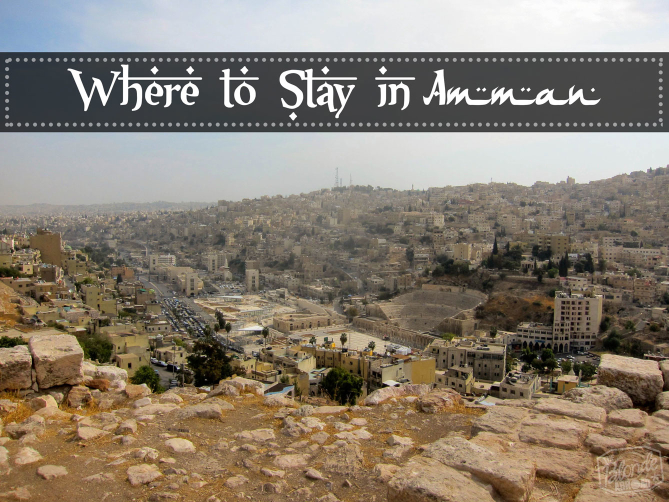 Where to Stay in Amman
Amman offers a great range of accommodation, from basic and affordable to sumptuously decorated luxury hotels.
Budget-Friendly Accommodation
Farah Hotel

:

Dorms, Downtown Location, Free Breakfast.

Dorm beds are available from 9JOD per night up to 25JOD for a private room with en suite facilities. Breakfast is included in the price and all guests at the

Farah Hotel

also enjoy free internet access, air conditioning and a secure baggage store.

Jordan Tower Hotel

: A

ir conditioning, Dorms, Location Near Roman Amphitheater.

Prices from 13JOD to 28JOD per person per night. The communal lounge at the

Jordan Tower Hotel

has a large TV screen with satellite channels. It also has a lovely rooftop terrace and Wi-Fi internet access.

Amman Palace Hotel

:

Air Conditioning, Satellite Television, Laundry Services.

Rooms are available between 18JOD and 30JOD. The 

Amman Palace Hotel

is a budget-stay located just off King Faisal Street.
The Best of Amman Accommodation
Four Seasons Amman

: The stunning

Four Seasons Amman

is certainly one of the top luxury hotels in the city. It is in a great location in the city center and offers a wonderful (but slightly expensive) brunch. Part of the brunch includes fantastic food and a mini-tour of the kitchen- I'd say it's well worth the cost!

Grand Hyatt Amman

: With its own spa, indoor and outdoor swimming pools and even its own gallery showcasing Jordanian art, the

Grand Hyatt Amman

makes for a lovely stay. It is known for serving great food in the selection of on-site restaurants.

Intercontinental Amman

: With a prominent location on one of the seven hills of Amman, the

Intercontinental Amman

is a great choice with sumptuously decorated rooms and lovely indoor and outdoor swimming pools.
Helpful Tip:
Amman is separated into many different districts and neighborhoods; each offering a unique flavor of the city! The most popular communities worth visiting are:
Rainbow Street/First Circle: Named for the old Rainbow Cinema that has sadly closed down, it is still a popular and modern area that has cobbled streets and a series of cafes and bars, while also being home to several embassies and impressive residences.

El-Weibdeh: A historic district of Amman that has been rejuvenated with new restaurants and modern bars, El-Weibdeh is a relaxed and modern part of the city.

Abdoun: One of the most affluent parts of the city, Abdoun has some of the city's most expensive homes along with its most popular bars, restaurants and nightclubs. The Taj Mall is a also a good place to go shopping.

The Al Hussein Public Park: A lovely part of the city in which to relax, the public park is home to many leisure facilities including tennis courts and football and basketball facilities, along with the Children's Museum and the Royal Automobile Museum.

Downtown Amman: Also referred to locally as al-Balad, the historic center is home to the old citadel and the Roman Amphitheater, along with a series of souqs and markets that are great for shopping.
What to Do in Amman
Amman is a treasure trove of historic sites and cultural activities!
See the Citadel:

At the heart of the downtown area of Amman, this

historic citadel

is a wonderful place to visit, and combines the ancient history of the city with a great location offering spectacular views over the city.

Horse Riding: Horses hold an important position in Jordanian culture, and the opportunity to ride a thoroughbred Arabian at the Arabian Horse Club of Amman is one of the highlights of a visit to the city.

Create Your Own Scent: Perfume has long been one of the most popular items produced in Jordan, and there are shops in Amman's downtown area that offer the chance to bottle up your own brand!
Take an Arabic Cooking Lesson: The Beit Sitti Cooking School gives you the chance to learn how to make the iconic dishes of Jordan. It's a fun introduction to Arabic cooking. Plus, the view of the Citadel from your chopping board is pretty incredible!

Beat the Heat with Sugar Cane Juice: Sugar cane is a wonderfully refreshing drink available from street vendors across the city. It's freshly squeezed before your eyes!

Relax at a Turkish Bath: Enjoy a jacuzzi, sauna and a body scrub that leave your skin tingly clean. Don't worry! Men and women have different rooms in these traditional turkish baths.

Explore the Spice Shops: With both shops and market stalls selling spices in Amman, the streets are infused with an exotic aroma. Stop in to explore the spices of different colors and smells.
See Cars and Motorbikes at The Royal Automobile Museum: Check out the spectacular collection of historic cars and motorbikes collected by the late King Hussein at the Royal Automobile Museum. There are both historic and modern vehicles on display.

Relax With an Authentic Arabic Coffee: There are coffee shops across the city and, while it is served in small cups, the waiter will refill the cup until your caffeine craving is completely curbed.

Indulge in the Tastes of Mezze: Mezze is a series of small dishes that are shared among diners before the main meal. Somewhat like the Arabic version of Spanish Tapas. These wonderful dishes offer a variety of vegetarian tastes, including fattoush, hummus and baba ganoush.
Helpful Tip:
A great app (for those who travel with their smart-phones) is Jeeran, which is great for finding restaurants, bars and areas to visit. It takes the best features of Foursquare and applies them to the wonderful city of Amman.
Where to Eat in Amman
From felafel and traditional favorites to the best international cuisine!
Hashem's downtown (Best falafel): Identified by the crowds of locals at all hours, Hashem's serves a meal of Felafel, hummus, bread and tea for a very reasonable 1.5JOD from its location on King Faisal Street.

Al Quds Falafel (Local's Legend): Serving great felafel sandwiches from a small booth on Rainbow Street, make sure you go to the Al Quds Falafel (not to be confused with Al Quds downtown). It's the oldest falafel vendor in Amman!

Fakhr El-Din (Best of the Best):

Offering a superb taste of Lebanese and Middle Eastern cuisine,

Fakhr El-Din

 has wonder atmosphere that makes for a wonderful dining location- especially in the evenings. They also offer an excellent range of local wine.
"If you go to Fakhr El-Din, you have to order Kibbeh Nayyeh, as they're the best at it. It's basically raw meat and cracked wheat, served with garlic paste. Eat with freshly made pita bread. Divine!" – Reine Gamoh
Sufra (Elegant & Authentic): Sufra

was my favorite dining spot in Amman, with a lovely indoor terrace that provided a relaxed but stylish atmosphere. Don't forget to try the traditional Jordanian dish, Mansaf!

Beit Sitti (Authentic Cooking School):

Literally translated,

Beit Sitti

means 'My Grandmother's House.' Beit Sitti offers a hands-on experience to Arabic Cooking, as well as the chance to try many of the country's most popular dishes.

Habibah (Sweet Tooth): Habibah is the ultimate destination in Amman for those who love their desserts and sweets. The traditional Knafeh is a unique sweet to savor. The pastry is filled with cheese, dipped in a lovely sugar syrup and topped with pistachios. Yum!
Helpful Tip:
"One of the best restaurants in Jordan is Haret Jdoudna, but it's just slightly outside of Amman in Madaba. You can easily get there quickly by car (or cheap bus), and you can squeeze in a visit to the mosaic map at St. George's church. The food there is heavenly, and the atmosphere is equally so, as it is set in an old house, with trees and authentic decoration everywhere. They also serve you with freshly made pita straight out of the oven. Salivating just thinking about it!" – Reine Gamoh
Related Travel Articles