While traveling solo in Southeast Asia, I created an itinerary for Vietnam that included some of the best things to see and do in the country. I only had about 2 weeks to explore on my own, but was determined to experience a homestay tour in Sapa.
Sapa has become a popular tourism destination for travelers around the world who come to trek trails between and around the highland villages of the Hmong, Zao, Ta Van, Lao Chai and Y Linh Ho people.
The little mountain town sits in the North of Vietnam. Mist fills the sky and lush green rice fields spread for miles in all directions. You honestly won't be surprised if a unicorn and rainbow appears in the distance.
I arrived via night train from Hanoi in the town of Lao Cai where I took a bus about an hour up into the mountains to Sapa. I had prearranged a 3-day homestay tour in Sapa led by a woman named Hong who I was referred to by a girl I met in Bangkok.
– Day 1 in Sapa –
Hong picked me up directly from my bus transfer and took me to a little hotel where I would spend my first night. We didn't waste any time. I showered, dropped off some clothes to be laundered, and then Hong and I hit the road on her motorbike!
But, not before a long line at the gas station…
Our first stop was down the mountain to a little village called Ta Phin where the local Red Zao people live. The women wear traditional clothing and are distinguished by their red scarf headpieces. Hong had arranged for me to visit a family and their home.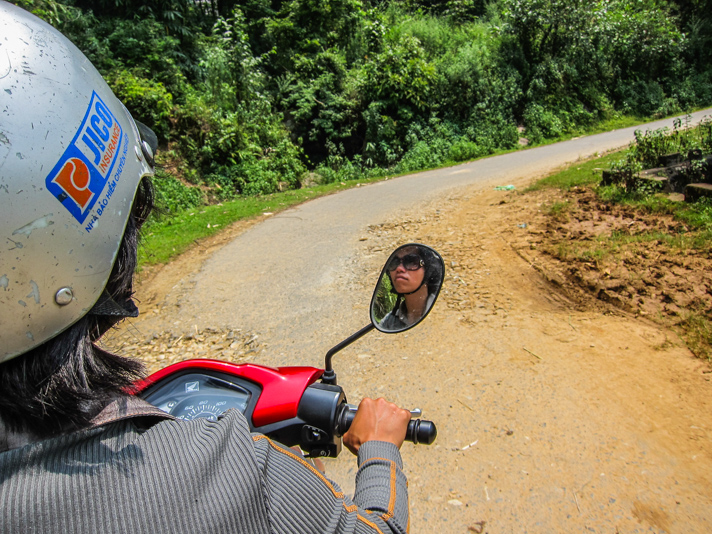 The woman, her husband, and her three children shared their home with five other women. The Zao are known for their extremely intricate embroidered handiwork. They showed me their little craft area and I bought one of their traditional headscarves from them after they fully dressed me in one of their own outfits.
After leaving Ta Phin, we rode for almost an hour up the mountain to see a few of the amazing waterfalls in Sapa. We made it up to a huge waterfall surging over the cliff of one side of a mountain called Silver Waterfall.
We trekked up until we reached a bridge that splits it at the middle. It was so beautiful! After hanging out in the splash zone for a while, we got back on the road.
We drove another 20 minutes up the mountain to Heaven Gate where you could see a trench in the mountains that seemed to go on forever until it vanished in the distant haze. Another few minutes down the mountain and we reached another waterfall, Love Waterfall.
We trekked about 2 km to reach it.
The waterfall came down over the edge of a mossy stone edge of the mountain and into an ice cold pool. I took my shoes off and let the cold water run over my feet while I gazed up at nature's incredible creation.
Hong dropped me back off at my hotel once we got back to town and I spent the evening walking around the cute little streets. Sapa town has a lot of French influence and the buildings are all brightly painted with European style balconies and clay tiled rooftops.
There is even a beautiful lake in the center if town where there are flower beds, cute little lampposts and park benches, and even swan boats available for rent. It almost felt like I was in a romantic little European mountain town.
– Day 2 in Sapa –
Hong picked me up at 9:30 am to get our day started early. We were staying with a local family that night after visiting a few other villages throughout the day.
I had noodles and coffee for breakfast- a typical Vietnamese breakfast!
We first stopped at the local market to shop for food to prepare lunch and dinner at our home stay. Then we were off for two days of trekking and adventure! We drove by motorbike to Ta Van village and trekked through the Lao Chai and Y Linh Ho villages where the Hmong people live.
The Hmong people dress in all black and use indigo to dye the fabric they make by hand. In many homes there were big vats of the indigo concoction and big wooden looms.
They also are pretty resourceful in building machines to peel the grain of rice from its little shell. It's a sort if teeter totter thing and when one side fills with water running from the stream and then gets heavy and empties, the other side comes smashing down into a tub of rice.
We visited the school in each little village and made lunch with a Zay family in Ta Van. They were making rice wine in a giant barrel when we arrived. If I had time two stay two months I would've been able to taste it!
As I helped make lunch with the family, the kids were definitely intrigued by me being there. They shyly watched me and giggled as I chopped vegetables and helped prepare the meal over the open fire.
After eating, we drove all the way to Ban Ho village at the base of the mountain. Hong arranged a home stay with a family that lived in a beautiful old wooden home. The entire area around Ban Ho was absolutely stunning.
Rice fields in shades of yellow and green covered the earth as far as the eye could see.
After some exploring around the village, and we arrived back at our family home, we started the long process of preparing dinner. Hong arranged for us to have vegetable spring rolls with homemade sweet chili sauce, steamed rice, veggie soup, steamed pumpkin, and fried river fish.
After a full day of adventure, and a HUGE meal, we called it an early night in anticipation for our last day of the tour in the morning.
– Day 3 in Sapa –
This morning, we started our day off with (you guessed it) noodles! On our way back to Sapa we stopped for one final trek in Giang Ta Chai Village. We walked about 2 miles over a river to the other side of the mountain which I hadn't been to yet.
We also ran into a bunch of insects, critters and animals!
We got back to Sapa Town around 11 am where I bid farewell to Hong. It was in unforgettable few days in Sapa full of adventure and cultural experiences. If you ever, and I highly advise you do, come to Sapa you absolutely 100% need to have Hong show you around.
– About my Guide Hong –
While being guided around Sapa by Hong, she informed me that she was the first woman in Sapa to start her own tours and has been helping her other female friends by teaching them English and how to give guided tours. You go girl!
She also informed me of the difficulties of life here in Vietnam. Women do most of the work in Sapa and a lot of husbands are known to be drunks and abusive. She said her husband is an exception and that he does work, but it's difficult for him to give tours because he doesn't know English.
Her two and five year old children live with their grandmother because she has to work so much. Her oldest daughter has just started school and it costs 4,000,000 dong (almost $200) each year to send her to school. College is a whole different animal but something incredibly valued in their society. While it was a sad to hear, she was dedicated to working hard to create a better life for herself and for her children.
It was an honor to have such an amazing woman as my guide!
If you'd like to reach out for a stay or more information, you can find her contact information on my
Reader Updates:
Hi Kiersten, Thank you for the information. I did a tour in Sapa with her and she was amazing, always smiling and joking, giving a lot of information about the life in Vietnam… (but the weather was really bad). She has two daughters now, diverced from her previous husband and is now married with a man from Holland. They seem really happy together. She opened a café few weeks ago and does the tour guide just for people like me who heard about her. Here's a picture of her. Have a nice day, Aline
Hey Kiersten! I had to write you and thank you so much for Hong's contact information. She was nothing short of amazing. Our experience was also unforgettable 🙂 She's doing great and thanks to you she has had more people come through and never needs any form of advertising. She has remarried in the last 2 years and looks like she is in a perfect place. Thanks again so much for sharing 🙂 Best of luck on all your travels and I will keep following your adventures for advice in case I go there as well.
Hey Kiersten! I just wanted to let

you

know that I did take the tour with Hong, and it was definitely the highlight of my trip. I had two new friends with me that I met while travelling and we all had an amazing time. I had a really good talk with Hong about her childhood and how she managed to build an amazing tour business and cafe even when her life circumstances were not ideal.

She and her new Dutch husband, whose name is Art, took us out for a BBQ dinner under a tarpaulin cover in the rain. We got the chance to ask some questions about Vietnamese life and culture from both a Vietnamese perspective and from the perspective of a foreigner living in Vietnam. That was especially helpful for me hearing those things while I begin living in Hanoi.

Thanks again for sharing her information Kiersten, it was a truly unforgettable experience.
From Georgia
Just wanted to let you know we ended up spending 3 days and 2 nights with Hong as our guide. You were right, she's absolutely fantastic. We loved getting to spend time with her and her husband (he was equally as great). They have a little café now that served as our base and a great place to hang out and chat with them. At the moment only her 8-year-old is living with them, but in a couple of days her 6-year-old will permanently be moving in and Hong is so happy to have the family together. She is so strong and hard working… and hilarious. Thanks again for her info and the recommendation.
Would you like to do a homestay in Sapa?