While me and two of my girlfriends were on a getaway in Punta de Mita, Mexico, we decided to take the 45 minute trip into Puerto Vallarta for a day trip. We had no idea that the day would lead to a bikini photo shoot, a "Real Enchilada" of a zip-line tour, an intimate encounter with Marmosets or a near-death experience with a Burmese Python.
Our day started off with a stop at the Villa del Palmar Flamingos Resort for poolside cocktails. The three of us were sipping on our tropical blends of frozen strawberry and pineapple deliciousness when a photo crew frantically came up to us with an inquiry. The resort was shooting photos for their in-room televisions and were wondering if we would volunteer our bikini clad bodies in exchange for a day tour of our choice. The three of us exchanged a laugh and decided, "Why not?"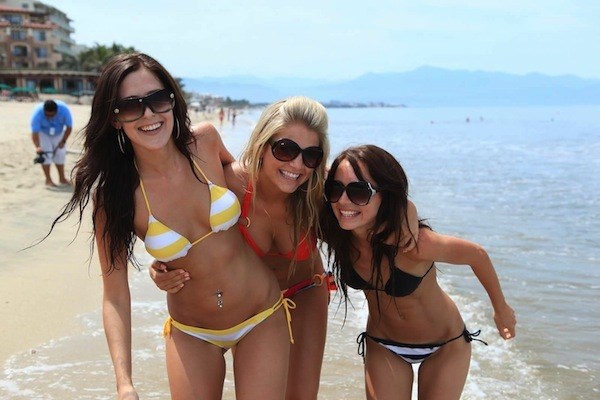 The photo shoot went on innocently enough with plenty of big fake smiles, lots of splashing around in the pool and the three of us merrily skipping down the sandy beach hand in hand. As cheesy as it was, we ended up having a ton of fun and scored some professional BFF pics. Plus, how often does something like that happen?! Never. (Update: We have received reports, more than a few times, by unsuspecting friends that our pictures are still circulating around the resort. How embarrassing!)
In exchange for our photos we got to choose between a handful activities and we decided on a zip-line tour with Los Veranos Canopy Tours. The tour company picked us up and we drove along the coastline and high up into the rainforest. Once we arrived at the tour center, we equipped ourselves with fluorescent yellow helmets, not-so-fresh gloves, and utility belts. It felt more like we were ready for a day on a construction site than an adventure tour. We got a quick briefing and then it was the Three Amigas vs. The Zip Line!
The tour guides were HILARIOUS and had us cracking up the entire time. They referred to the act of hooking ourselves on the cable, by lifting one leg up and jumping to suspend ourselves, as "The Sexy Leg." You could say it was anything but sexy. For about four hours we went speeding through the rainforest on over 2 miles of cables! The longest cable, called "The Real Enchilada" was over 1100 ft long! Our amazing guides had something special planned for us on the last cable… we were hooked up to the cable UPSIDE DOWN. I could hardly think over my own screaming as I flew across the Orquideas River hanging from a simple cable harness.
Our adrenaline was raging after we finished the tour so we grabbed a shot at the Tequila Bar at Los Veranos base camp. After we calmed our nerves we were directed to a really cool surprise. A small Animal Sanctuary at Los Veranos is home to a family of Marmosets and tons of creepy crawlers. I skipped having an African Cave-Dwelling Spider crawl on my face. Maybe you've seen one on Fear Factor or in Harry Potter and The Goblet of Fire? The massive scorpion-like spiders with wirey-legs and claws like lobsters? Ya. No thanks.
On a happier note, the Marmosets might be the coolest little critters I've ever met. They are incredibly friendly and had no problem getting up close and personal. They remind me of a cross between an Ewok and a Gremlin. Incredibly cute! We were wrapping up our visit when one of the animal handlers came over with a GIANT Burmese Python. Unlike spiders, I have no problem with snakes. My friends on the other hand were not as excited to get cozy with the serpent.
My friends agreed to take a picture with the Python as long as we did it together. After the awkward family photo, I convinced them to get solo shots with our new friend. I don't really know what happened, or if the Python did get a little excited, but my friend got a tighter hug than expected. She may or may not have freaked out a little bit. Just a little bit.
So needless to say, our day ended up to be one of the craziest days of our entire trip down to Mexico! To read about the rest of our (more relaxing) time in Mexico, read my post on Punta de Mita & Sayulita, Mexico >>
Want to see more photos from our trip to Mexico?
The fun continues! Mexico Photo Album >>