We've all heard of it before: Australia's vast and red-hued "Outback" that everything from kangaroos to camels to dingos call home. I've spent a lot of time exploring Australia's east coast; from Cairns in the north to Melbourne in the south, but had yet to venture into the great Red Centre.
On my most recent trip to Australia, I joined G Adventure's "The Rock, Rail and Kakadu" tour. I would begin in the south of the Red Centre in Alice Springs and travel all the way to the tropical Top End in Darwin over the course of an 8-day tour.
After a stunning flight over endless red earth, I arrived in Alice Springs to begin my grand adventure. The town is quiet and has a bit of a rustic feel, almost like something out of America's "Wild, Wild, West." I stocked up on bug spray, a fly-net and a traditional Akubra-style hat.
I was ready for The Outback!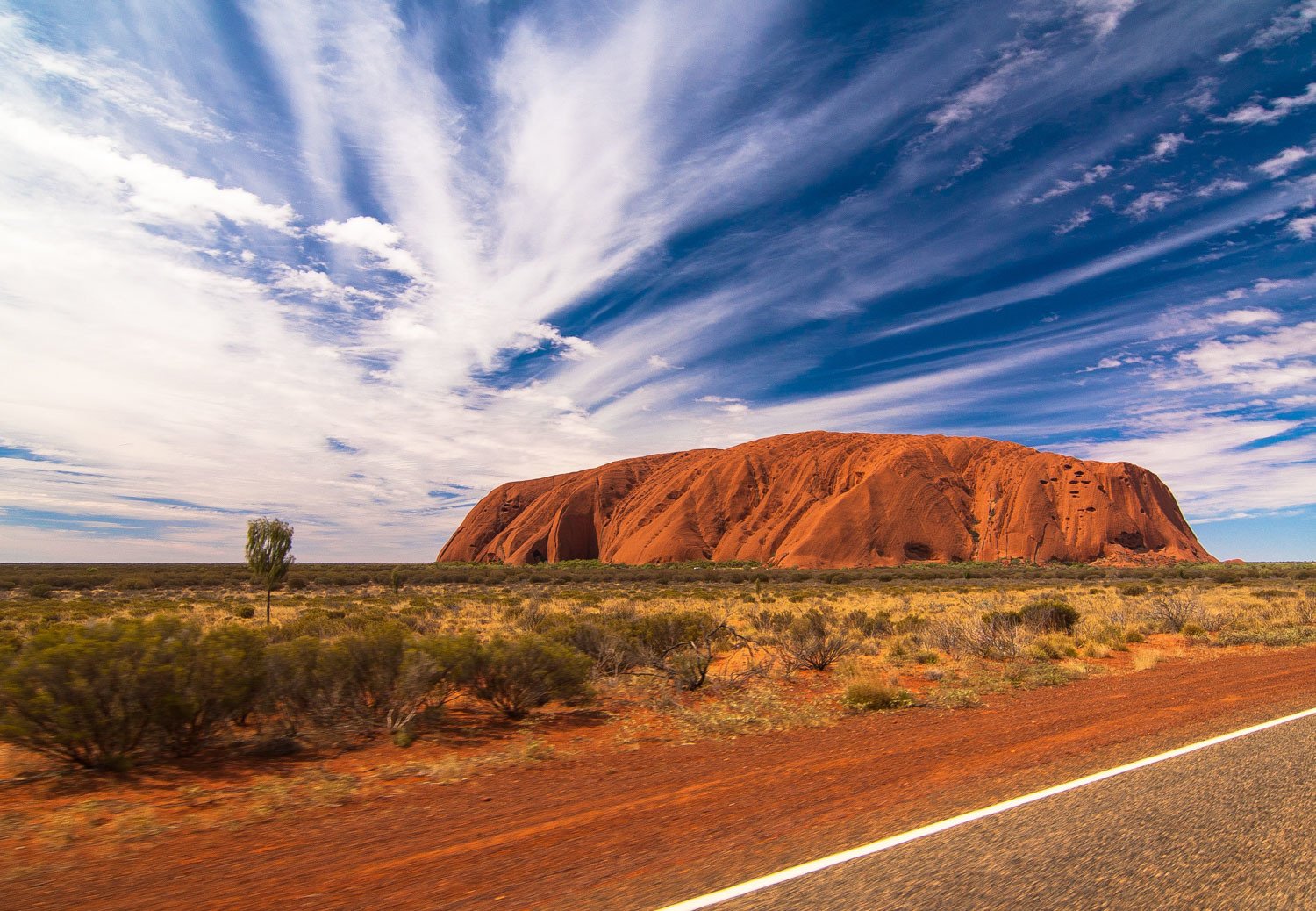 Uluru / Ayers Rock
After some 5 hour drive from Alice Springs, we spotted the unmistakable Uluru, also known as Ayers Rock. This massive sandstone rock formation is incredibly sacred to the Aboriginal people of Australia. So, as visitors, there is a lot to learn about the historical significance of Uluru to the Anangu people (the native people of the area).
There are three very important Aboriginal requests of visitors to Uluru:
Climbing Uluru is a very controversial issue. While it is allowed by law, the Aboriginal people hold Uluru to be incredibly sacred and ask you to please be respectful and not climb it. They feel personally responsible if someone is hurt and, with around 35 deaths from hiking Uluru, you can imagine the distress it causes them.
While there are plenty of photo opportunities around the rock, you may come across a sign that requests no photos or videos of that area. Also, do not snap photos of the native people as, aside from it being rude, it is not acceptable in their culture.
The Aboriginal people ask that you do not take rocks from Uluru. Inside the Visitor's Center, you'll find a huge book of letters from people mailing back rocks from Uluru. Each letter includes chilling tales of bad luck and misfortune brought to those who took the rocks.
We spent most of our first day of the tour trekking around the base of Uluru.
I was taken aback by the sheer massiveness of the rock as well as the beauty of the striking red colors contrasted against the green bush growing all around it. I didn't think our time at Uluru could have been more perfect… until we drove to a beautiful vantage point for sunset.
As we waited for dusk to fall,, our guide unloaded an array of goodies for us to share. We indulged in cheeses and spreads with crackers as well as lots of champagne as we watched the sun set upon the rock in the distance.
The rock transformed from its natural red-orange state to a flaming bright orange as day turned into night.

Exploring Kata Tjuta
After a sound sleep under the stars, we began our day at sunrise and watched Uluru from another vantage point a bit farther away. Instead of the fiery orange color it took on at sunset, the rock became a mere silhouette against an incredible display of pink clouds and blue sky.
Our next stop was the nearby Kata Tjuta.
Upon arrival, I felt like I had been transported back into a prehistoric time. It came as no surprise when we were told that Kata Tjuta was formed approximately 600 million years ago! The landscape was made up of giant rock formations, not very dissimilar to Uluru. Beautiful trees and shrubs surrounded the area and hiking trails led us through some of the 36 domes that make up Kata Tjuta.
One of the most spectacular moments during our hike was upon arriving at a split between two of the rock formations called Karingana Lookout. Steep wall faces opened up to showcase distant rock domes while the valley below was splattered with brush. The sight of the red rocks and green plant life against the bright blue skies was absolutely picturesque.
After a 7 km/4.3 mile hike, we loaded back into our Outback-mobile to continue on our journey to camp. Little did we know our guide had a bit of a surprise for us. We pulled over along our drive to hunt our dinner! (Well, not really, more of a small appetizer to share.) Our guide grabbed a shovel and we began foraging around the roots of Acacia trees for witchetty grubs.
Witchetty grubs are an important staple in the Aboriginal diet as they are incredibly high in protein. After successfully finding our grubs, we were ready for a proper grub barbecue! Back at camp, we started a big fire and set aside ashes for cooking the creatures we'd dug up.
While I am anything but a fan of eating the weird and creepy crawlers of our Earth, I decided to give it a go. I would describe the flavor as something between a hard boiled egg white and popcorn. (Weird, I know.) It didn't taste bad, but I had a really hard time convincing myself I wasn't munching down on a grub!
Aside from our grub starter, we were introduced to an Outback-inspired barbecue of kangaroo, crocodile and camel. After dinner, our bellies were full, our bodies were tired and nothing could have been better than snuggling up in our swags for a sleep under the open Outback sky.
We slowly drifted off to sleep counting shooting stars instead of sheep.

My adventure around the south of Northern Territory highlighted some of the most incredible natural beauty I've ever seen. I realized, first hand, that Australia's Outback is so much more than a big red desert. I learned about the natural history of the area and about the importance of Aboriginal customs. It was an exciting trip full of cultural discovery and Australian exploration.
Many thanks to G Adventures and Australia's Outback Northern Territory for hosting me on this trip. All opinions, as always, are my own.