Spring snowboard season is still going strong and there's plenty of time to get your shred on. Check out some of my Spring snowboard style for women favorites below!
I recently got this jacket (in white) and wore it on my last snowboarding trip in Whistler. I am in love! It is so plush and warm you'd think it was stuffed with down feathers. I also have a pretty long torso so jackets are never long enough on me, but this is the perfect length and even tapers at the waist so you still look like you have a figure.
I also got these pants (in black) and they're seriously the best fit of any snowboarding pants I've ever owned. If you're familiar with the typical "drop crotch" look of snowboarding pants, you'll know they're comfortable but not exactly flattering. These are a stretch fit bell bottom style, so they fit perfectly outside of your boots but fit snug along your legs.
Tall girl BONUS: They're also available in a long length!
I wear a Berkeley helmet by Bern (in white) which features a removable lining so that you can wear it for both bike and snow sports. It's the perfect fit with or without a thin beanie (in case you need extra warmth)!
My Gordini gloves (in white) are by far the warmest and best snowboarding gloves I've ever found. They're not too bulky and also fit my long fingers!
Anon are my favorite brand of snowboarding googles. They come in an array of different frame and lens colors and feature a magnetic-based interchangeable lens system so you can swap lenses easily.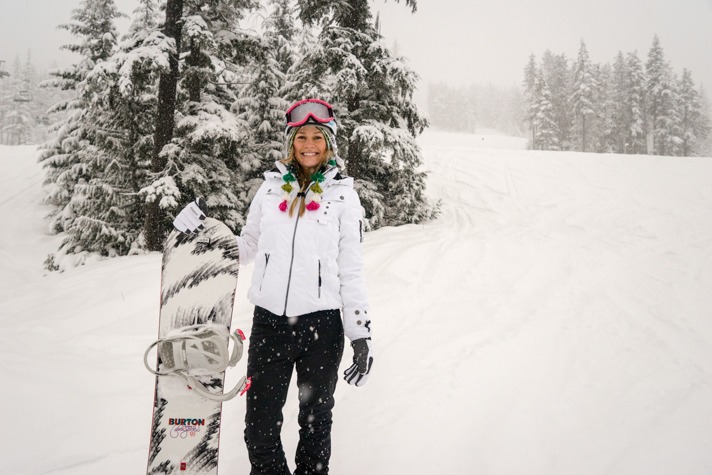 Thermal Underwear: Cuddl Duds
Depending on the weather conditions, you're definitely going to want to pack some thermal underwear. I love the Cuddl Duds brand because they are super warm but not bulky.
Burton is my go-to brand for all things board and boots related. I've been wearing Burton boots since I first started snowboarding at 12 years old, and love their newest line of Felix BOA boots. Super comfortable and make for a great ride!
I've also been riding Burton snowboards since I first started riding. At home, I have a Burton Featherlight, but I was able to rent a Flying V in Whistler and fell in love. It's super light and handles like a dream!
My snowboard style is always completed with a cute beanie, whether I wear it under my helmet or stuff it in a pocket to wear during an Après session. Nobody likes helmet hair!
Shop Spring Snowboard Style for Women