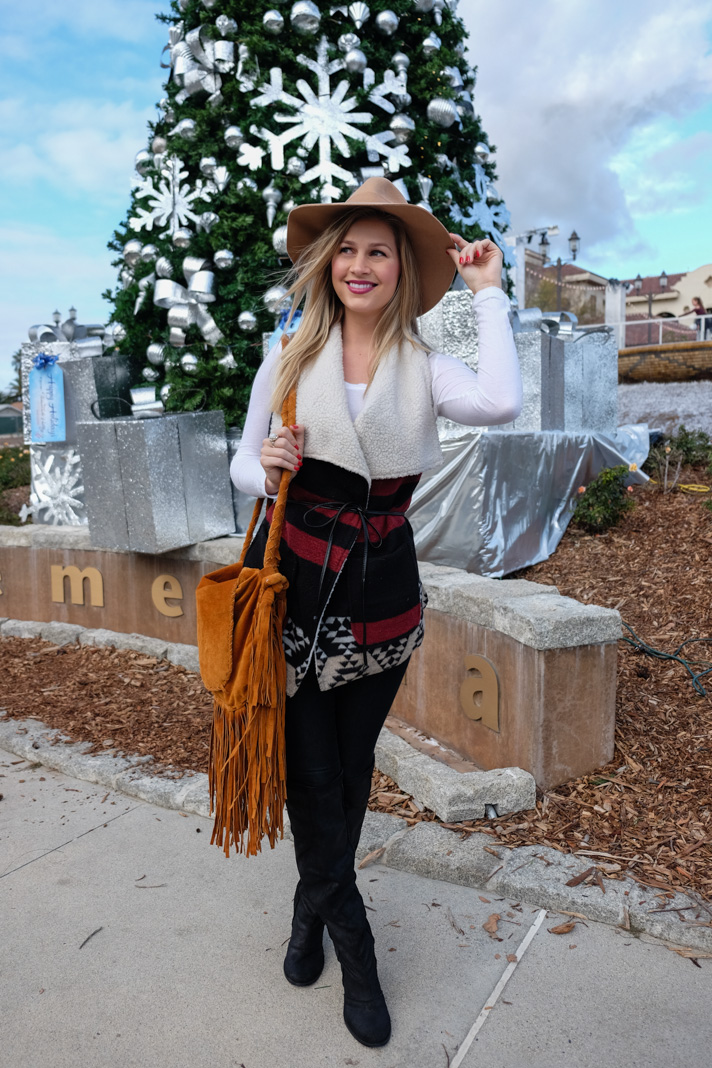 Boho Holiday Travel Style
One of my tips for traveling in style is packing a few great accessories. The base layers of this outfit are essentially a basic white long-sleeve shirt and black skinny jeans, which I always pack for trips in colder destinations.
A fringe bag and knee-high suede boots are great accessories for the perfect holiday travel outfit. I'm currently obsessing over this sherpa vest.
It's so cozy and cute!
You could swap the base layers of this outfit to warmer pieces like a thick sweater and fleece thermals to make it a bit warmer. I'm heading to Whistler in a couple of weeks and am planning on bringing the vest to use as a layer under one of my heavier winter coats.
I also love wearing a deep red lip colour in the winter and MAC's Hang Up is my all-time favorite. I included the first picture in this post of me before I put the lipstick on so you could see how the outfit looks completely different.
Without lipstick, it's definitely a bit more casual. With the lipstick, it makes the outfit look more chic. That's why lipstick is such a great travel beauty hack– you can literally transform an outfit with the right lip color!
This year, I'm spending the holidays at home with my family so a lightweight winter outfit is perfect for a California Christmas!
Sherpa Vest (Wearing Size M) | Fringe Cross-Body Bag | Ring | Knee-High Suede Boots | Hat: Similar Here | MAC Hang Up Lipstick | Black Skinny Jeans: Similar Here | White Top: Similar Here