My friends and I would be joining The Yacht Week in the British Virgin Islands for a week of fun in the sun. Between the sea, the sand and the sailing, chances of technological survival on a week-long sailing trip with 9 girls are pretty slim.
Enter: LifeProof. The waterproof, dirtproof, snowproof and shockproof cases for your iPhone and iPad are the most travel-proof product I have ever found.
But how would LifeProof hold up against
The Yacht Week?
My friends and I tested just how "Proof" LifeProof cases really were…
While spending the day on the beach at White Bay, we hit up the Soggy Dollar Bar for their famous Painkiller cocktails. You have to carry what you can and swim to shore from your boat because of the shore break (hence the name "Soggy Dollar Bar").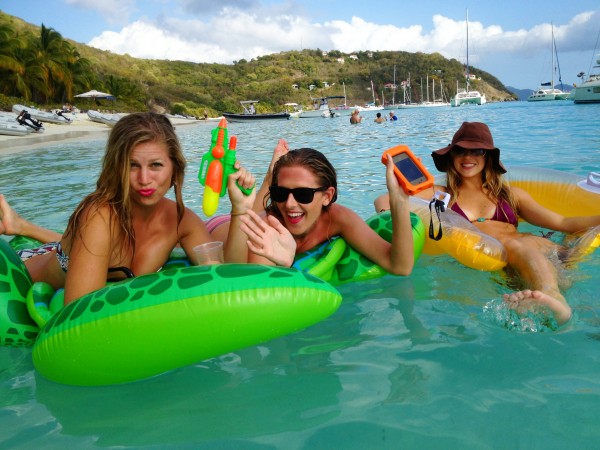 One of the most beautiful destinations in the British Virgin Islands are The Baths on Virgin Gorda. We explored the caves formed by giant boulders and discovered beautiful grottos and pools.
"Missed the Moment" Proof
Because of the constantly in-the-water nature of this trip, we were hardly ever able to use our cameras. Luckily, we never missed a moment. Even those moments we'd like to forget!
We spent the week on a 40′ Footloose Catamaran. The front of the yacht featured an awesome net for sunbathing and relaxing. We never had to worry about our phones slipping through the net or falling off the boat thanks to our LifeJackets that kept our phones afloat.
One of the funnest parts of our trip was squeezing ourselves onto a dinghy to get from boat to shore. We'd fill up the dinghy with our inflatable friends, grab cocktails to-go and enjoy the ride!
There's nothing I love more than soaking up the sun while sitting in the sand and letting the tide wash over me. Paradise found!
While visiting Jost Van Dyke and Anegada Island, lobster is a must! We indulged in fresh caught lobsters at Harris' Place in Little Harbour and got a little carried away playing with the shells. Things got pretty messy!
(On a side note: Be sure to get a Bushwacker cocktail at Harris' Place from Cynthia. Not only are the ice blended drinks delicious, Cynthia will have you laughing until you can't breathe. She's a riot!)
After our lobster dinner, we hit up Sidney's Peace and Love for their self-serve bar. That's right. Pay one price, pour it like you like it.
My kind of bar!
You should have seen the owner's face when a drink accidentally spilled all over one of our cocktail-proof phones while us girls stayed perfectly calm. I've already sacrificed one iPhone to the party gods and I don't plan on doing it ever again!
After sailing through Sir Francis Drake Channel, we made it to Norman Island or "Treasure Island" as pirates once referred to it. While looking for buried treasure sounded fun, we took the dinghy out instead and spent the day snorkeling at "The Caves."
"Blog Birthday on a Boat" Proof
Our trip came to an end on my blog's one year birthday. We celebrated The Blonde Abroad's big day the only way we really could… on a boat… with a LifeProof'd iPad cyber cake!
No oven? No problem!
I think it's safe to say that The Yacht Week
British Virgin Islands is officially LifeProof!
Check out the complete adventure on YouTube!
And now for the best part…
WIN your very own LifeProof iPhone case AND LifeProof accessory of your choice!
Contest has Ended
This month, one of my lucky newsletter subscribers will win my all-time favorite travel accessory! As a subscriber, you'll get my monthly newsletter with exclusive travel deals, destination guides and travel tips. Plus, you'll be automatically entered to win a new giveaway each month.